Ill. PD to expand program 'deputizing' feral cats to contain city's rat population
The department is in the process of searching for "host families" to keep cat deputies across the city
---
By Richard Requena
Chicago Tribune
NILES, Ill. — Police in Niles, Illinois -- a suburb of Chicago -- expressed satisfaction with a pilot program begun in August to "deputize" five feral cats to control the rat population, a police official told Pioneer Press. Now, the department says it is looking to extend the program.
The cats have lived around the 7800 block of Nordica Avenue for about three years under the care of a resident. The Niles police department recruited the cats because they are a natural deterrent to rats, according to Niles Police.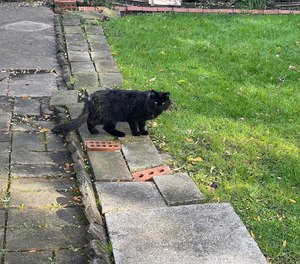 Earlier in the year, Niles officials passed a wildlife ordinance to curb rat problems in the village. According to the village's website, the Community Development Department tracks and investigates rat complaints and inspects alleys and properties. The department gives out free rat traps to residential properties.
Niles Police Sergeant Dan Borkowski told Pioneer Press through email that the department reviewed complaint data from the Development Department and resident feedback and decided to continue and expand the feral cat program. Borkowski said the department had yet to determine where the cats will be placed because it's contingent on cat availability and host families to take care of the cats.
Borkowski said they would keep the cats in a more defined territory. The village's animal control officer gave Sarwat Hakim, the resident who has been watching over the feral cats, three makeshift, tarped shelters for the felines.
A Pioneer Press analysis of rat complaints revealed that two months before the pilot program began there were only two rat complaints within 1,500 feet of the cats' homes. After the pilot program began, there were no more complaints within the area.
Hakim said the cats usually stay in the neighborhood or head off into the forest preserves, where they hunt for rats.
Hakim said before the cats were in the neighborhood, she used to see a lot of rats and rat traps. She hasn't seen a rat trap in the neighborhood for about a year, which she is a fan of because she worries about kids potentially playing with them.
Hakim said she started caring for one feral cat three years ago when it kept returning for food. The cat gave birth to 15 cats, most of which were put up for adoption, with four of the cats staying behind.
"They're so united you wouldn't believe it," said Hakim.
Hakim said she and her daughter-in-law feed the cats chicken in the morning, canned tuna for lunch and dinner, with cat food, both dried and canned, served as a snack. The cats also like to drink milk, she said.
"I hope nobody harms them and lets them stay because they're benefiting us getting rid of the rats," she said.
___
©2023 Chicago Tribune. Visit at chicagotribune.com.
Distributed by Tribune Content Agency, LLC.
McClatchy-Tribune News Service