From 100 to 75: Fewer police calls before, during and after Bills-Raiders game
Police calls have topped out at 100 during previous games this season when the weather is warm and sunny
---
The Buffalo News, N.Y.
ORCHARD PARK, NY — It was a slightly quieter game day for Orchard Park Police, who reported they responded to more than 75 calls before, during and after the Buffalo Bills-Oakland Raiders football game Sunday, rather than topping 100 calls as they have during previous games this season when the weather was warm and sunny.
Among the minor car crashes, fires, fights and general drunkenness, police also ticketed three men for unlawful solicitation before the game: Jerome Hunter, 55, and Michael Johnson, 54, both of Buffalo, and John Mcadory, 57, of Cheektowaga.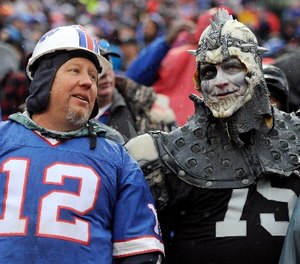 In two unrelated cases, officers found a baggie of cocaine in the parking lot of a stadium-area bar, but no suspects to go with it, and responded to a report of two men snorting cocaine in a vehicle in a private parking lot on Fay Street. The occupants had departed by the time police arrived, but, with evidence in plain view inside, the vehicle was impounded. Shortly afterward, Paul Setlock, 41, and Richard Calteaux, 46, both of Buffalo, were found and charged with criminal possession of a controlled substance, 7th degree, police reported.
During the game, police stopped a vehicle that allegedly had driven over "numerous" traffic cones on Abbott Road. David Powers, 23, of East Amherst Road was charged with moving from lane unsafely and aggravated unlicensed operation.
Much earlier in the day, police also arrested Jonathan R. Edwards, 32, of Buffalo, after he was seen using a cellphone while driving at about 2 a.m. near Abbott Road. Edwards appeared to be intoxicated, police said, and a later test showed a blood alcohol content of 0.16 percent, twice the legal limit of 0.08. He was charged with driving while intoxicated and aggravated unlicensed operation, and released on bail.
———
©2017 The Buffalo News (Buffalo, N.Y.)
McClatchy-Tribune News Service