11 tips to reduce the stress of testifying in court
---
By Mark Bond, professor of criminal justice at American Military University
InPublicSafety
One of the most important aspects of policing tends to receive the least amount of training attention. Testifying in court is not a glamorous part of policing, but it's one of the most important skills to master as a professional law enforcement officer. Officers have reported that testifying in court is one of the most stressful parts of their job, however, historically it ranks among the lowest training priorities.
Practice Before you Testify
Courtroom training does not need to be expensive or time consuming. Setting up a modified "moot-court" to practice delivering meaningful testimony will build confidence for future court appearances. Agencies should coordinate with the prosecutor's office for such training. A good prosecutor is aware of the psychological impact and pressure that can occur when testifying in court and will work to help officers prepare. Many prosecutors will sponsor and conduct training for officers on case preparedness, evidence procedures (new protocols and laws), and testifying. Such collaboration can also build respect, trust and professionalism between officers and prosecutors.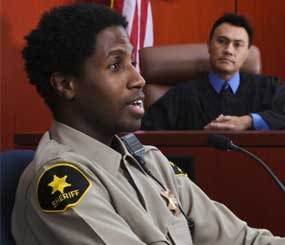 Unique Challenges for Officers in Court
Officers are trained to take command of a situation and control their environment. In court officers are not in control of the direction of the case, which often leads to feelings of frustration, anger, and loss of patience. Combine these emotions with fatigue from just completing a midnight shift and the stress levels rise quickly. The reality is, officers are not always at their peak performance at a vital time in the case when their individual performance is on public display. Fatigue can cause perception and miscommunication issues which can also trigger stress.
Full Story: Tips to Reduce the Stress of Testifying in Court