Brain aneurysm didn't keep NYPD cop down
Sgt. Katarzyna Ganley returned to full duty one month after she suffered two brain aneurysms
---
By Eddie DAnna
Staten Island Advance
STATEN ISLAND, N.Y. — One day last October, NYPD Sgt. Katarzyna Ganley was in her home when she felt searing pain in her head.
She was rushed to the hospital where doctors diagnosed her with a ruptured brain aneurysm.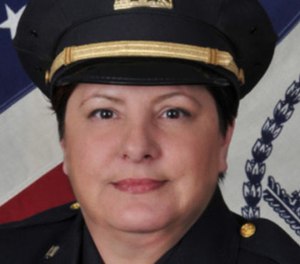 During surgery — where doctors inserted a metal coil with a catheter — another bleeding aneurysm was discovered.
A second procedure was required four days later.
Remarkably, she was back at work in the North Shore's 120th Precinct in April and returned to full duty one month later.
On Tuesday, Ganley was one of four police officers presented with the NYPD's Theodore Roosevelt Award for overcoming severe illness and extensive treatment to return to duty.
"Your personal battles continue and you're still here as an active member of the service," said Police Commissioner James O'Neill. "These officers are here to fulfill our mission, to fight crime and keep the people of New York City safe."
Ganley joined the NYPD in March 2000 and began her career on patrol in the 81st Precinct in Brooklyn.
She also served in the 60th Precinct in Brooklyn, and Police Service Areas 1 and 3.
During her 16-year career, she has made more than 115 arrests, and has been recognized two times for Excellent Police Duty.
She was among those honored by the Council of Jewish Organizations during its Medal Day Ceremony in August.
McClatchy-Tribune News Service