Critical incidents: Healing through seminar and peer support
Described as an experiential workshop for officers who have 'been there,' the Post Critical Incident Seminar is a three-day event for officers who are 'feeling stuck'
---
By Suzie Ziegler
An officer who experiences a critical incident — be it an officer-involved shooting, a coworker's death in the line of duty or another troubling event — may experience symptoms of post-traumatic stress disorder months after the incident without improvement. One solution to this ongoing struggle, according to the South Carolina Law Enforcement Assistance Program (SCLEAP), is a Post Critical Incident Seminar.
What is a Post Critical Incident Seminar (PCIS)?
Described as an experiential workshop for officers who have "been there," SCLEAP's PCIS is a three-day event for law enforcement officers who are struggling with mental health a month or more after a critical incident.
Normally held four times a year, a few dozen officers and their significant others travel to a hotel to partake in peer-led discussions and attend seminars by mental health professionals and law enforcement leaders. Often funded by the officers' own agencies or through grants, participants are encouraged to stay on the premises during the event, which is staffed by two dozen peer support team members, 8 to 10 licensed mental health professionals and a few chaplains.
The PCIS model has since spread to nine other states after it took off in South Carolina, but the idea actually first originated with the FBI.
In 1983, the FBI was looking for a way to formally follow up with their agents who needed crisis intervention, said Rev. Dr. J. Eric Skidmore, program manager for SCLEAP.
"They were searching for a way to support their officers," Skidmore said.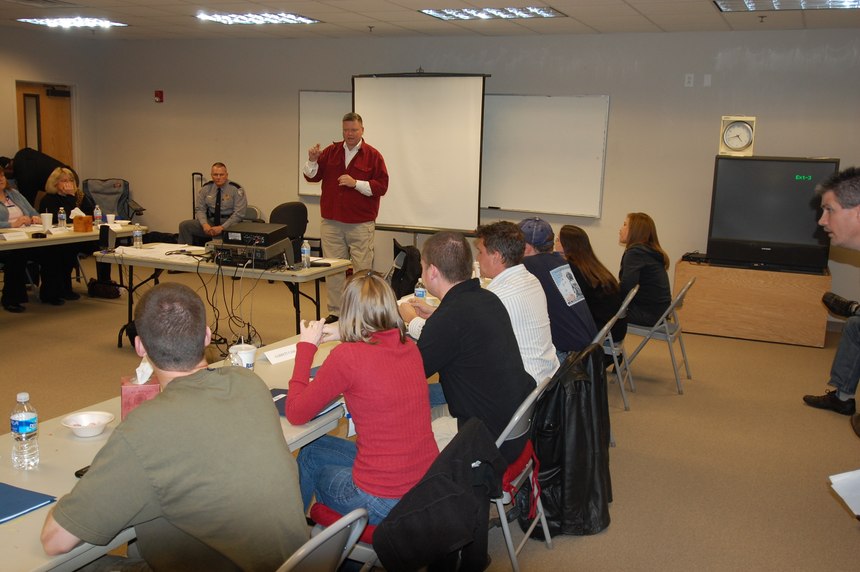 When SCLEAP began in 1997, its founders thought the same thing.
"It became clear to us that officers needed a formal way to follow up after a critical incident," said Skidmore. "Maybe they had a hard time going by the place where the incident happened, or it was showing up in their relationships or thinking of quitting their job."
Why a three-day seminar? Does it work?
The folks at SCLEAP believe it makes a difference.
"We put all of this effort and money into it because we believe it works, based on evidence and anecdotal evidence and evidence from Dr. Cheng," said Skidmore.
Dr. Cheng is a psychiatrist affiliated with SCLEAP. He's made it his work to analyze trends in officers' mental health by checking in on them at regular intervals after they attend a seminar. In this data, he's found some intriguing trends. At formal follow-ups two months and six months after attending PCIS, Cheng says he's seen a decrease in reported severity of symptoms for anxiety, depression and PTSD.
While Skidmore admits more research would need to be done before organizers can claim the seminar is key, he says the data is promising.
Others say the anecdotal evidence is what has them convinced.
Dave Tafaoa, a state police chaplain and retired law enforcement officer of 35 years, says the feedback evidence from attendees has sold him on seminars.
"We hear things like, 'You have saved my life.' Even if it's just one person it's worth it," said Tafaoa. "We hear from spouses, that 'You have saved my marriage.' Some of these people come back as our peer support staff."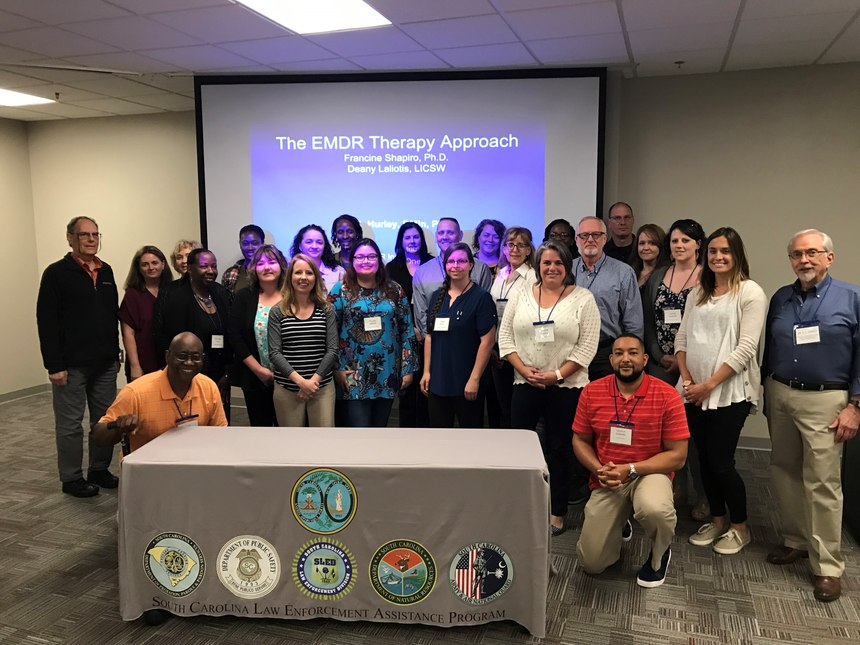 Of course, in the age of COVID-19, a three-day destination seminar attended by dozens of officers and staff is easier said than done.
For now, South Carolina has put its PCIS events on pause, but SCLEAP is actively considering how to host a reduced version that complies with social-distancing regulations. Other states that run similar programs — Arkansas, Virginia, Texas and Kentucky — have resumed in-person versions with appropriate safety measures in place.
Skidmore says it's frustrating, especially because the demand for the seminars hasn't stopped.
SCLEAP has flirted with the idea of having a virtual option but organizers are convinced it wouldn't have the same effect as a face-to-face conversation. However, they do concede it would be better than doing nothing.
"The physical presence of the participants, hearing someone else who has gone through something similar, getting them to realize, 'I didn't realize others were feeling what I'm feeling,' — we can accomplish that on a Zoom call," said Tommy Crosby, the public information officer for SCLEAP. "But it's unmatched when compared to that physical presence."
How can I —  or someone I know — attend a PCIS (assuming the pandemic is not an obstacle)?
It depends.
An officer's trajectory to a PCIS largely depends on their agency's familiarity with the program.
Ten states currently have PCIS programs, Skidmore says. Within those states, PCIS relies mostly on word-of-mouth to reach the officer in need. In that scenario, a command staff member, who is familiar both with PCIS and the relevant critical incident, will reach out to the affected agency or officer. An administrator of that agency would then reach out to a PCIS contact, who would in turn get in touch with the prospective attendee to work out the details.
If the officer lives in a state without a pre-existing PCIS program, the path is less straightforward but still possible.
The biggest challenge is paying for PCIS or taking time off if the officer's agency is unable to cover the costs. Skidmore says this is rare.
"Officers out of state might have to pay for a hotel room, but it happens infrequently. Most of the time, a sheriff or chief will pay for them to come," said Skidmore. When an officer is truly in a financial pinch, SCLEAP does offer scholarships to out-of-state officers on a case-by-case basis.
Moreover, SCLEAP is always trying to spread the word to other states to make it easier for all officers to get the help they need.
Skidmore says it's in the tradition of PCIS to invite "official observers" from out of state.
"We're purposeful in the inclusion of observers because it's been essential in spreading knowledge of the PCIS across the country," said Skidmore.
Those observers, who are crucial to the seminar's propagation, are often representatives from a sheriff's association or a department of mental health.
What critical incidents qualify for attendance?
The two pillars of police stress in 2020 are COVID-19 and civil unrest. Incidents related to both events would qualify officers for PCIS.
"We will welcome officers who were impacted by that. Some will have been physically injured and assaulted in the riots, some will have lost coworkers due to COVID," said Skidmore. "We will [include] those officers who have been impacted by COVID, the protests and cultural reactions to law enforcement."
Already SCLEAP has started to meet requests to help officers impacted by the protests after George Floyd's death.
"The riot situation in our state hasn't only affected the officers but it's also affected their families. We've come up with a way to meet with them at their request in a safe environment and address some of their concerns and equip them with coping mechanisms we use in critical incidents," said Tafaoa.
Here's an example of a PCIS itinerary:
See here for more information about the Post Critical Incident Seminar and SCLEAP.