De Blasio 'very concerned' about NYPD suicides
Mayor Bill de Blasio was "very concerned" that two cops on Staten Island died by suicide in a span of two weeks
---
By Anna Sanders
Staten Island Advance
NEW YORK — Mayor Bill de Blasio was "very concerned" that two cops on Staten Island committed suicide in a span of two weeks last month. 
"I'm very concerned," de Blasio said at an unrelated event on Friday. "The folks who protect us and serve us go through tons of stress, some that you can see and some that you can't even see because it's deep inside them, and we have to support them."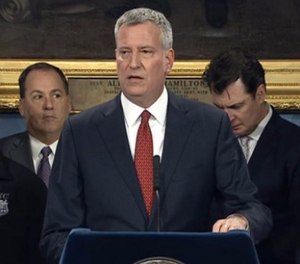 Officer Yong Yun of Annadale died on Jan. 17 of an apparent self-inflicted gunshot wound. Officer Ralph Conde also died of an apparent suicide in his Great Kills home just 13 days later, on Jan. 30. 
De Blasio said the city is trying to increase access to mental health services through NYC Well. Free and confidential support is available by calling 1-888-NYC-WELL, texting WELL to 65173 or going online at nyc.gov/nycwell.
"I know NYPD does a lot to try and provide for anyone who's facing a mental health challenge or a job related stress," the mayor said. 
"The tragic thing when you look at those stories, is there are no signs," de Blasio said. "I can only imagine how much pain their families are in because there were no warning signs." 
The mayor said that the city and NYPD need to do more to make mental health services available to police and other first responders. 
"The thing we have to focus on is relieving the stress that our first responders go through, and so many other people who serve us go through, by constantly making available to them if they need counseling, if they need mental health services, demystifying, destigmatizing and making it readily available," de Blasio said. "I think PD has come a long way in doing that, I think we have to keep doing it even more." 
———
©2017 Staten Island Advance, N.Y.
McClatchy-Tribune News Service