How a nonprofit is on a mission to reduce police suicides, eliminate mental health stigma
Blue H.E.L.P. provides comfort, support and honor to families who have lost an officer to suicide
---
In Harper Lee's classic 1960 novel "To Kill a Mockingbird," she wrote, "You never really know a man until you understand things from his point of view, until you climb into his skin and walk around in it."
But what if someone doesn't want to be understood? What if they want to fly under the radar?
One police officer wanted just that. He showed up to work every day hiding the fact that he was suffering from work trauma, financial problems and marital issues. His colleagues had no idea he had become an alcoholic and homeless.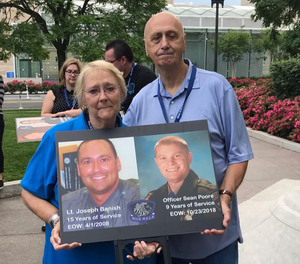 But, how could they? He was shuffled from department to department. With each move, his issues became more and more buried – until he was transferred to a department that recognized his struggles.
The department helped this officer get back up on his feet. Eventually, the officer remarried. He now has two kids and, most of all is happy and sober.
Unlike "To Kill a Mockingbird," this officer's story isn't fictional. His story could have ended differently. For some, it does.
Last year, that same officer's lieutenant died by suicide. A week prior, the lieutenant had attended a suicide prevention class. The lieutenant's death hit the officer hard, especially since he was known for his involvement with Blue H.E.L.P.
Putting a spotlight on officers' mental health
Blue H.E.L.P., a nonprofit organization that collects law enforcement suicide data and supports families of officers who have died by suicide, began in 2016 after Karen Solomon and Jeffrey McGill, two of the organization's founders, wrote a book called, "The Price They Pay."
The book puts a spotlight on what officers don't talk about – the psychological damage that some experience as a result of their law enforcement career.
"When I was writing that book, I realized most officers don't know where to go for help if they need it," said Solomon, president and co-founder of Blue H.E.L.P.
After doing some research, Solomon only found one other organization that was collecting law enforcement suicide data. "They did not collect data year over year, but did it every three or four years," she said. "How can you possibly know what's going on if you're not checking every year to see what's happening?"
That's when Solomon and the rest of the Blue H.E.L.P. team began collecting data.
"We decided to just start doing it – and to also see what we could do to support the officers and the families," she said.
On top of her unpaid, volunteer work with Blue H.E.L.P., Solomon, whose husband is a police officer, works full-time as a supply chain manager. She uses her vacation hours to travel for Blue H.E.L.P.-related events.
"I've never run a nonprofit in my life; I don't have a finance degree; I started reading books and studying. I tried stuff to see what worked and what didn't," she said.
And, they've made a lot of progress in three years.
"People now know who we are and we're here to help as best as we can," she said.
On a typical day, the Blue H.E.L.P. team fields inquiries from families or officers that need assistance and people who want to get involved with the organization.
"We also make sure we've captured the suicides – so that means updating our Honor Wall if someone submits a suicide or checking our Google alerts regularly," Solomon said.
Right now, they're planning their police week dinner for the fall and their first-ever kids bereavement camp.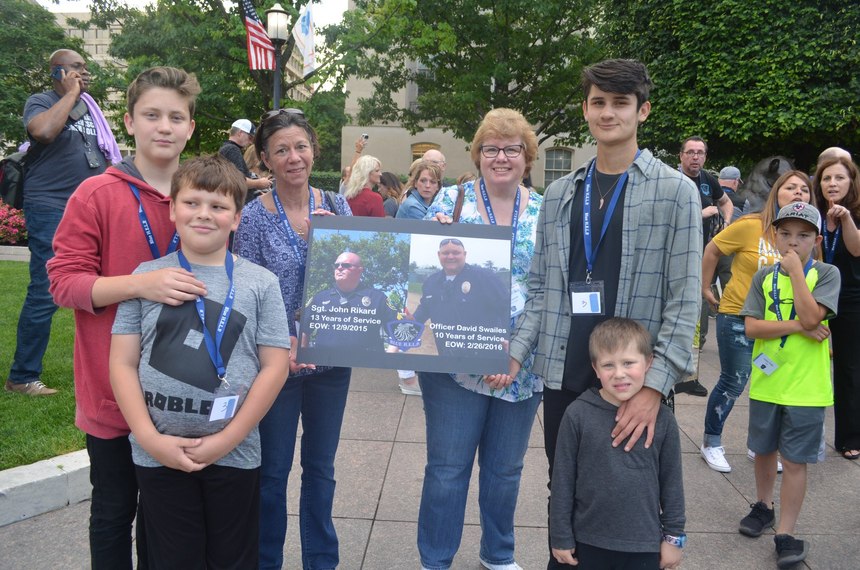 Paying recognition to the fallen
In 1962, President John F. Kennedy proclaimed May 15 as National Peace Officers Memorial Day and the calendar week in which May 15 falls as National Police Week.
National Police Week pays recognition to officers who have lost their lives in the line of duty for the safety and protection of others. (Due to the COVID-19 pandemic, this year's National Peace Officers' Memorial Service in Washington, D.C., has been canceled.)
President Kennedy's proclamation, Solomon says, is often publicized with a handful of key words left out.
President Kennedy's proclamation states:
"NOW, THEREFORE, I, JOHN F. KENNEDY, President of the United States of America, do hereby designate May 15, 1963, and May 15 of each succeeding year, as Peace Officers Memorial Day, in honor of those peace officers who, through their courageous deeds, have lost their lives or have become disabled in the performance of duty."
"President Kennedy says that police week is for those who made the ultimate sacrifice and those who have become disabled," Solomon said. "We said, 'You know what? We're going to bring back the original intent and honor everyone."
Last year, Blue H.E.L.P. brought 40 families together for the first Police Week dinner. The organization paid for all their expenses, including airfare and hotel.
Blue H.E.L.P.'s Police Week dinner, Solomon said, is separate from the one held during the annual National Police Week.
"We had some events for them; we had a nice dinner. We brought injured officers and family members who lost an officer to suicide to recognize their service."
This year's event, which will pay for 50 families to attend the dinner honoring officers lost to suicide, has been postponed until the fall due to COVID-19 concerns.
"The dinner means too much to them to cancel altogether," Solomon said. "We will have some virtual events during Police Week for them."
In June, Blue H.E.L.P. will host their first bereavement camp for children of law enforcement officers and first responders whose parents died by suicide.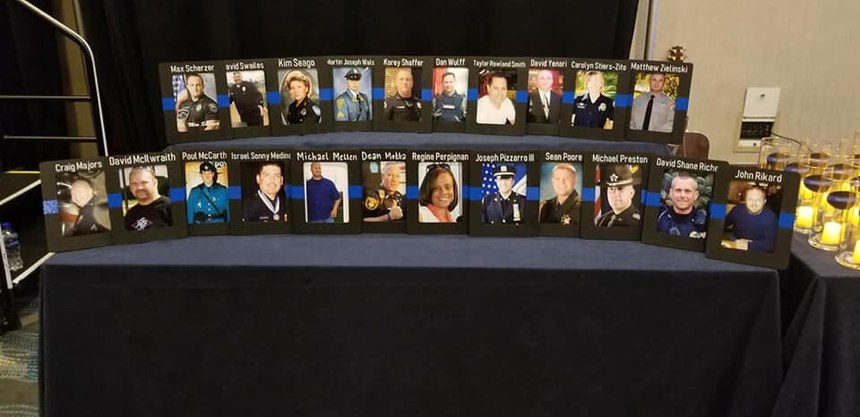 Recognizing there is hope
Camp April, which is named after the widow of Officer Max Scherzer who died by suicide in 2016, was made possible thanks to a grant from the Motorola Solutions Foundation.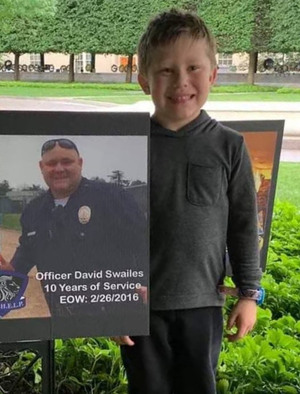 "Since his death, April has been left alone to raise her then four-month-old twins with few financial benefits or support," Blue H.E.L.P.'s website noted. "The significance of April's name should not be lost on anyone – April showers bring May flowers. This camp will help plant the seeds of hope for the children who have been left to deal with this tragedy."
The first Camp April will be held locally in Massachusetts, where the Dartmouth Police Department raised $10,000 to pay travel expenses for the children attending the camp. The second camp will follow this October in California.
"We hope to have four next year," Solomon said. "These kids shouldn't be left behind because an officer died by suicide. It doesn't negate their service."
During the holidays, Blue H.E.L.P. also sends boxes of gifts to families that lost an officer to suicide.
"We asked them to put their wish list on Amazon and we fulfilled it for them," Solomon said. "It was nice being able to help and make them feel like they're not alone."
They also have a handful of suicide awareness walks scheduled for this year, which will help fund additional Blue H.E.L.P. programs.
"We're going to start offering scholarships to kids that lose an officer to suicide for college because they don't get benefits," Solomon said. "They don't get their mortgages paid; they don't get walked to kindergarten or prom; they lose everything and have nothing to fall back on. We're trying to help fill that gap."
Filling the gap, Solomon says, is a balancing act.
"It's a hard balance for us because we want people to recognize the problem by showing them all the suicides," she said. "We also want them to realize that there's hope and there's success."
To achieve an emotional balance, Blue H.E.L.P. started the #IWillListen Campaign. The campaign hopes to erase the stigma tied to mental health in law enforcement.
"We wanted people to know not only are there resources available, but your fellow officers want you to talk to them," Solomon said. "They want to talk about it now so that we're saving lives so that we're not pretending it's not happening anymore."
Recognizing and acknowledging the issue, according to Solomon, is the first step police leaders must address within their organizations.
Starting a conversation
The only way the stigma can be erased, Solomon says, is to stop pretending it doesn't exist.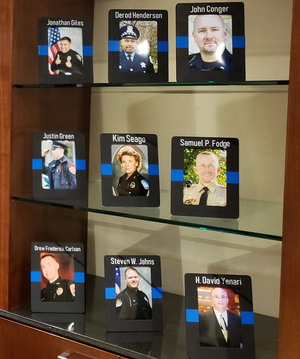 "Every leader has to talk about it – whether it's at your department level or the national level," she said. "And then you have to acknowledge those deaths. Don't focus on what you perceive to be a failure. Accept it, respect their families and their service, and figure out how you can do better next time."
The only way that can be done, she said, is by talking about it and finding out how other officers feel.
"You can't have it both ways; you can't ignore it and hope it goes away because you think if you talk about it, it's going to make it worse. There's a middle ground somewhere and we need to find it."
Police leaders, Solomon says, should also learn from what other departments are doing to help start a conversation about officers' mental health.
"We should be sharing what we're succeeding at and leveraging that," she said.
Taking the first step can be the hardest, but what comes after may give more officers the ability to rewrite their own endings.
If you are in need of help, call the National Suicide Prevention Lifeline at 800-273-8255.