How puppies behind bars are rescuing the rescuers
First responders and veterans suffering from PTSD share how service dogs have changed their lives
---
Content and photos submitted by Puppies Behind Bars
The Puppies Behind Bars program trains prison inmates to raise service dogs for first responders and veterans suffering from PTSD. 
Labrador Retriever puppies enter prison at the age of 8 weeks until they are ready to be placed, which is usually when the dog is between 20 and 28 months of age. When a puppy is matched, final training with the recipient and the dog continues in prison.
Approximately 60 service dogs are currently being raised in four prisons. The dogs learn 82 industry-standard commands (e.g. retrieving objects, turning on and off lights, and opening doors so a wheelchair can pass through), as well as 10 specific commands to assist first responders and veterans with PTSD.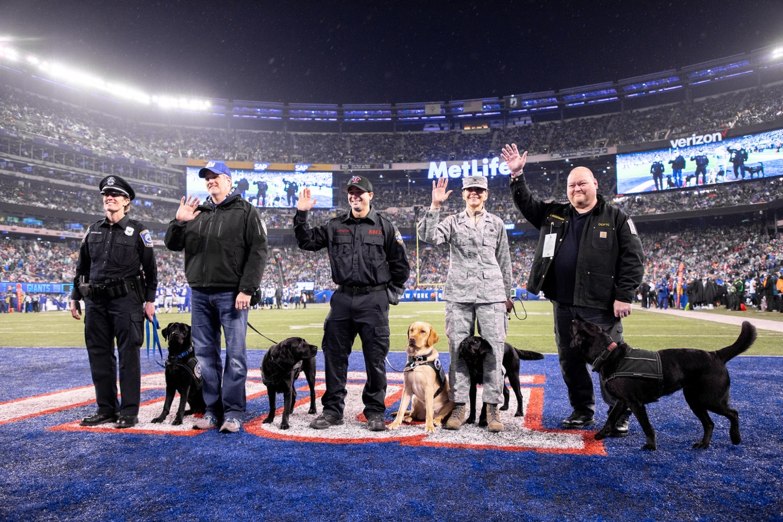 With many veterans, police officers, firefighters and EMS personnel often suffering from PTSD in silence, Puppies Behind Bars is committed to increasing awareness around this issue and sharing how service dogs have changed the lives of not only veterans and first responders, but also their agencies and their families. 
The program currently operates in six correctional facilities throughout New York and New Jersey and since its founding in 1997, it has raised 1,200 dogs to date.
Here are some Puppies Behind Bars success stories:
 Brian Andrews, retired NYPD and Port Authority PD with service dog, Pete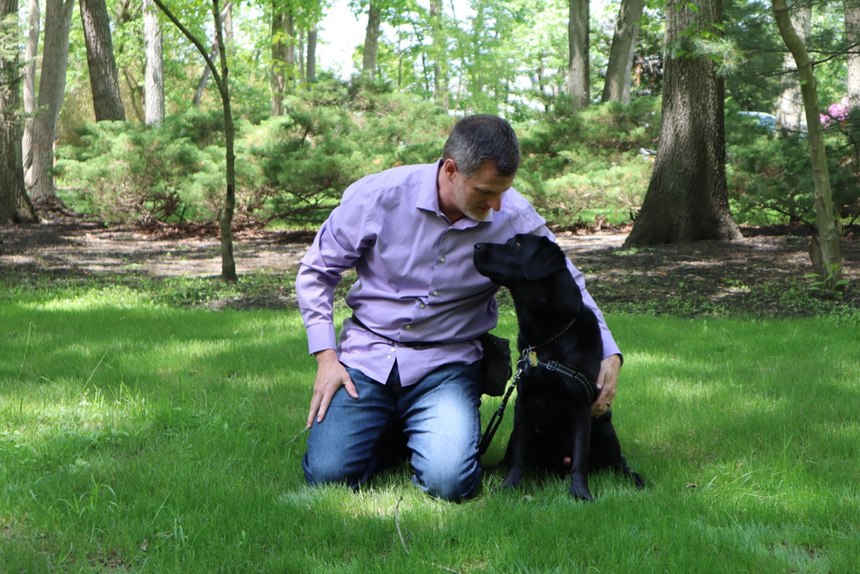 In May 2018, Brian Andrews, a former NYPD officer and 9/11 first responder, was matched with Pete, a black Labrador Retriever who quickly became his anchor through daily struggles with depression and physical injuries after being shot in the line of duty.
Pete was easily integrated into the Andrews family, all of whom are thankful for the wide range of support that he provides every day. When Andrews is hurting, Pete knows exactly what to do. Since Pete has come into the Andrews family, they say that Brian is "even-tempered and more like himself," calling Pete's instincts a true miracle.
Darryl Vandermark, Mechanicstown, New York, firefighter with service dog, Patriot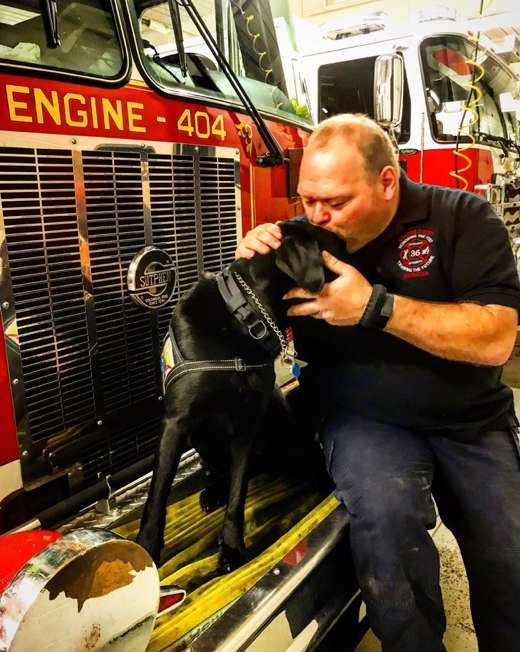 Darryl Vandermark's PTSD has accumulated over his 30 years as a firefighter with the Orange County Fire Department, with a number of previous recovery incidents on the HAZMAT team resulting in life or death rescue mission situations.
Day in and day out, Vandermark would place himself, alongside his team, in harm's way to help those in need. Almost every mile marker on Interstate 84 in New York triggers a memory of one of these situations. The physical and mental aftershocks severely impacted Vandermark's ability to function, who eventually found himself in the hospital.
Alongside his service dog Patriot's 24/7 comforting presence, Vandermark has gained a partner who has changed his life and made him feel safe and grounded, allowing him to keep working no matter what each day brings. He frequently takes calls, emails and texts at all hours to talk to others experiencing PTSD, helping people recognize that they're not weak or broken because of what they're facing, just as he was able to recognize that within himself.
Heather McClelland, Groton Police Officer with service dog, McDonald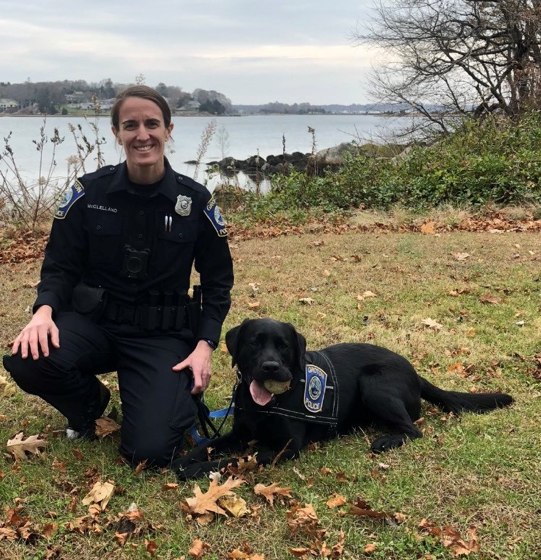 Heather McClelland, an active duty police officer, has worked for seven years for the Groton Police Department as the Community Policing Coordinator, a position through which she teaches DARE (Drug Abuse Resistance Education) in schools and coordinates community events throughout the year. For the first seven years, she worked patrol as a Field Training Officer and Wellness Coordinator. She was previously selected as Groton Town Police Department's Officer of the Year 2015 for her hard work.
McClelland uses service dog McDonald to improve community relations, enhance officer wellness at the police department and provide therapeutic services to the community. McDonald has been fully incorporated into McClelland's daily responsibilities, including DARE classes, visits to local community places such as schools, libraries, senior centers, athletic events and kids' programs. McClelland says the possibilities when serving her fellow officers and the community are endless. 
Ryan Cantatore, Rye Brook (NY) Fire Department with service dog, Matt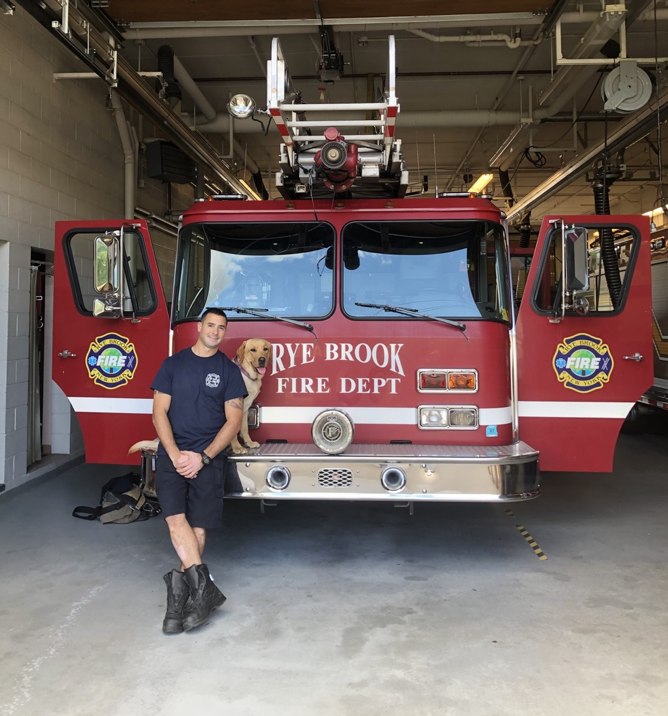 As a veteran and active-duty firefighter, Ryan Cantatore suffered from severe anxiety and PTSD and sought out different programs for support. That's when he found the unique program that is Puppies Behind Bars which led him to his new partner, Matt.
When asked about his service dog, Ryan simply gestured to the sleeping dog nestled next to him, "Even if you're standing in the kitchen doing dishes, he's laying at your feet. He's always right there for you."
Jeanne Meyer, Retired Air Force Colonel with service dog, Angel 
Jeanne Meyer is a retired Air Force Colonel who served 25 years and saw three deployments. Meyer suffered her first trauma during her second deployment in Afghanistan in 2002 when she was assaulted by allied soldiers. By the end of January of that year, she startled by every noise, had lost nearly 10 pounds and couldn't sleep. Meyer was paired with her service dog, Angel in August 2019.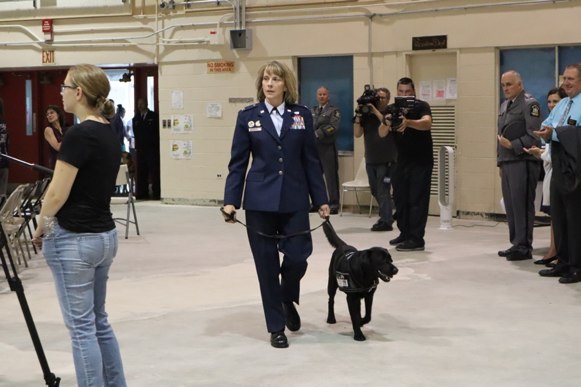 As someone who worked as a deputy staff judge advocate in the Air Force Space Command, Meyer's experience with Puppies Behind Bars changed her perception of prison inmates. She says, "Now, seeing the other side of it, and seeing these women who are committed to making their lives better within the structure they are given and their willingness to give of themselves to strangers they don't know, is amazing.
For more information on Puppies Behind Bars, visit https://www.puppiesbehindbars.com/.