How to launch a successful peer support program
Peer support is not a silver bullet to solve all the problems today's law enforcement officers face, but it is an effective way of getting help to officers in need
---
In March 1989 I was involved in a fatal shootout with a suspect on a street in San Francisco. Within one hour of the shooting, I sat in the main briefing room of the police station awaiting interviews with my sergeant, our homicide detail inspectors and the District Attorney's investigator.
As I sat trying to collect my thoughts on the incident, I was approached by another officer. The officer started slowly in his approach, asking if I was alright and if I needed anything. He then asked about particulars of the shooting, requesting morbid and graphic details of the event.
His line of questions shocked me as if I had done something wrong. I was still feeling the rush of adrenalin and wrestling with the fact I had just taken a life. I looked at him in disbelief, shook my head and walked away, turning to a bulletin board that featured a memorandum announcing the Peer Support Program (PSP) list of PS officers at the station. I saw my name as a peer support member and just below it, I read the name of this officer. I realized that not everyone is suited to be a peer support officer. Over the years, I have come to know the true value a PSP peer support can bring to an agency. Peer support allows officers to talk with someone who understands their line of work and the associated issues that come with it.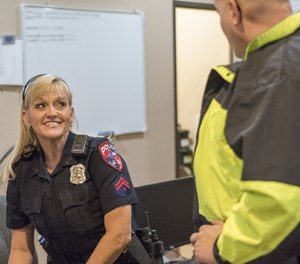 Taking a mental health-centered approach to stress management
I joined the peer support group of officers during the fledgling years in the early 1980s where it was heralded by Lieutenant Al Benner, PhD, a respected and charismatic leader in the San Francisco Police Department (SFPD). Dr. Benner was a pioneer in developing mental health-centered ways for sworn officers to deal with job-related PTSD and other stress-related symptoms.
Until then, officers typically dealt with their stress at the local tavern, but relief by alcohol only added to mounting problems. Dr. Benner did a good job of convincing the leadership that these types of debriefings would manifest into larger problems. He was able to establish the first Behavioral Science Unit to focus on stress-related conditions experienced by officers. To this day, the SFPD maintains a robust Behavioral Science Unit and active Peer Support Program to address problems that may affect sworn and civilian members of the department.
How peer support programs work
Recent research shows two kinds of negative influences affect law enforcement officers: Organizational and environmental. Stress that is allowed to fester unabated may lead to drug abuse, alcoholism, anger, burn-out, depression, misconduct or harm to the individual or others.
Peer support teams were conceived in part to provide an alternative for officers before mounting worry and stress negatively affected them on the job and at home. Officers were trained by mental health care professionals to listen and provide support and practical assistance, with referrals to professional mental health care when needed.
Officers were instructed to wait for an officer or non-sworn member to approach them and not try to solve problems. Retired Lieutenant Lynnette Hogue, who was involved in the development of the Behavioral Science Unit along with Benner, explains this nuance: "It's certainly appropriate to do a 'check-in' with an officer who may seem in some sort of duress, but they cannot be intrusive. The officer who asks about details of an event is wrong to do that, especially in an officer-involved shooting where the peer support officer must be careful not to get involved in information where they may be compelled at some point to testify."
It is essential to have credible and reliable officers who can abide by confidentiality protocols. Officers selected for a peer support program must be approachable and discreet. Training is a key aspect of a successful program. Hogue stresses the need for the chief and command staff to buy into a program and for personnel to take a leap of faith regarding confidentiality issues.
Dr. Ellen Kirschman is a noted psychologist in police mental health programs. She believes that peer supporters are valuable because they have "walked in the other person's shoes." She cautions though that, "Serious mental health concerns, e.g., suicidality, should be referred to a mental health professional."
Kirschman trains police officers in California with the California Peace Officers' Standards and Training (POST) programs. She stresses the importance of the selection process of PSP candidates and the need for them "to be credible to their fellow employees, not struggling with their issues, and able to hold confidentiality." Having a mental health professional (MHP) on hand to work with them, conduct training, answer questions and monitor issues is also important.
The effectiveness of a PSP may vary from agency to agency, based primarily on anecdotal evidence (by design) but may also be gauged by utilization numbers. The International Association of Chiefs' of Police (IACP) Psychological Services Division developed a Peer Support Guidelines policy in 2016 with priorities and standards listed for agencies that are creating new programs, or for those with already established programs (IACP Psychological Services Division, 2016).
Both Hogue and Kirschman agreed that PSPs should track the number of contacts, recurring issues, time spent and the number of referrals made. Each said that despite calls for PSP officers to document the numbers of contacts, most contacts were superficially so casual they were under-reported. Statistics can be misleading and successful interventions are difficult to quantify. It may be virtually impossible to list successes by the number of tragedies averted. Tracking is indeed useful not only in terms of hours devoted to peers, but also to identify emerging issues and trends such as alcohol or drug abuse, family issues, work-related trauma, critical incident responses and so on. Once a trend is identified, it may be used to allocate additional resources or training.
How to create a peer support program
There are five essential pillars to every successful peer support program:
Confidentiality
Confidentiality has been cited as critical to a successful program to build trust and confidence. A break in confidentiality will likely deter those fearing the stigma of reaching out for psychological support. Confidentiality and privacy must be maintained from the peer support officer to the chief or sheriff of the organization.
Administrative support
The adopting agency must have buy-in from the chief, sheriff and command staff. One point of contact should assist in creating policy and general orders, securing funding, training and acquiring personnel. Importance should be placed on securing a credible and competent program director. The director should understand the value of the program as a priority and be able to articulate vicarious liability and responsibility to train, to members of the command staff.
Professional mental health professional (MHP) support and guidance
The MHP is important at all stages of the Peer Support Program from the development of guidelines and policy, to the selection of peer support members, to advising and conducting training and as a conduit to mental health resources and services.
Personnel selection
As Kirschman noted, members of the PSP should be seen as credible, competent and trustworthy. They should be free of their own struggles or issues and adaptable to training. Candidates may apply, be nominated by rank and file, or they may be selected by the PSP director. Members should be regularly assessed throughout training and at regular intervals. There needs to be a mechanism to remove peer supporters who cannot conform to guidelines.
Training and audits
Approved training according to POST standards should be available to each agency within a state. MHPs should be aligned with training to ensure that members are following approved mental health guidelines as well. Pitfalls should be addressed and revisited to ensure PSP members do not over-identify with their peers, do not try to solve problems, do not cover-up criminality, 'fix' things, or advocate for an individual. Training should address active listening, staying neutral, understanding trauma, and watching for signs of suicidality or substance abuse.

As with any policy or program, assessments and reviews are necessary to maintain an effective program. Utilization numbers, training, and monitoring peer members should be evaluated. In-house audits should be supplemented with a neutral outside auditor for objectivity.
Conclusion
Policing today may be more stressful than ever, due in part to the negative scrutiny from social media, politicians and special interest groups. Officers are asked to deal with social issues, such as homelessness, mental illness, drug and alcohol abuse, violence and problems with youth and families. Studies have shown that PSPs are effective in addressing problems and applying resources to help others in their peer group. Peer group participation in behavioral health has shown to "Improve quality of life, improve engagement and satisfaction with services and supports, and improve whole health." In addition to one-on-one peer support, PSPs are useful in after-action debriefings at critical incidents and traumatic events. They have been participants in return to duty procedures, as well as assisting a transition from a critical incident to preparing for duty.
Peer support is not a silver bullet to solve all the problems facing today's law enforcement officers. It is, however, an effective means of getting help to officers in need, from other officers who understand their problems. Police are asked to help strangers with a variety of situations daily and I saw the benefit of joining a program that allowed me to help other officers who I worked with and knew. Despite my rocky start with peer support immediately following my OIS, I was afforded outstanding support by a host of colleagues, including Al Benner, who helped me through the ordeal and back to work.