Missing NYPD detective found dead of suicide at Brooklyn beach
The body of the detective was discovered in bushes with a self-inflicted gunshot wound to the head
---
Thomas Tracy , Rocco Parascandola and Graham Rayman
New York Daily News
NEW YORK — A massive manhunt for a veteran homicide detective who disappeared Thursday ended in tragedy when he was found dead in a suicide at a Brooklyn beach, multiple law enforcement sources said.
The body of Joe Calabrese, 58, was discovered in bushes in Plumb Beach with a self-inflicted gunshot wound to the head, police sources said. The grim discovery came a day after another NYPD officer, Deputy Chief Steven Silks, died by suicide in his car in a Queens parking lot.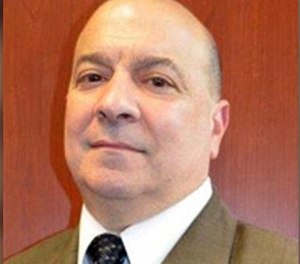 Calabrese, a Brooklyn South homicide squad detective, was a longtime board member and union trustee for the Detectives Endowment Association.
"I am shocked and shattered beyond belief," Michael Palladino, president of the DEA, said in a statement. "Joseph Calabrese was a dedicated detective, union official, husband and father. He was the salt of the earth."
Calabrese was last seen between midnight and 2 a.m. at Maimonides Medical Center, according to sources. His wife had just had a minor surgical procedure and he visited her late Wednesday, just before his disappearance, sources said.
His car was found abandoned at Plumb Beach near the Belt Parkway about 3 a.m. Within a few hours, dozens of officers scoured the Sheepshead Bay area with K-9 dogs, boats and helicopters in the search. As many as 100 police vehicles rushed to the scene, tangling traffic on the parkway.
The search continued into the afternoon until Calabrese's body was found.
Chief of Detectives Dermot Shea said Calabrese was a beloved member of the NYPD.
"Today, we lost a pillar of the Detective Bureau. A gentleman who'd lend a hand to anyone in need. A seasoned homicide investigator determined to find justice for the victim and solace for those left behind. Rest easy, Detective Joe Calabrese. You will be missed tremendously," he said in a statement.
Calabrese joined the NYPD in 1982 and rose to detective first grade, a much-coveted title. He lived in Marine Park close to the area where his car was discovered and has a son in the NYPD, assigned to the 67th Precinct, sources said.
Earlier Thursday, with the NYPD still reeling from Chief Silks' suicide from a self-inflicted gunshot to the head, Chief of Department Terence Monahan released a video urging officers to get mental health counseling if they felt they needed it.
"As cops you do a great job every day of keeping people safe and helping those in need," Monahan says in the brief video. "Your health and well being is extremely important to all of us. We all want to make sure you take care of yourself."
Monahan said the department can provide assistance for cops suffering from stress, depression, relationship issues and other situations.
"Trust me when I say getting some help will not prevent you from having a successful career," Monahan says. "Actually, getting help will lesson the burden you may be carrying. You are never alone."
Police Commissioner James O'Neill also took a moment to remember Chief Silks, one of his personal friends — and to remind officers not to suffer in silence.
"I need you to know that help is available, help is here for you," he said. "What seems unbearable today will be more manageable tomorrow. The first step toward a solution is speaking to someone. To take care of others, first you must take care of yourself."
Silks was just one month away from his 63rd birthday and mandatory retirement from the department when he died.
———
©2019 New York Daily News
McClatchy-Tribune News Service