No spit in this food: 4 great on-duty meals cops can bring from home
With fast-food employees planting everything from drugs and glass to spit and pubic hair in cops' meals, a good tactic is to pair a protein with a slew of vegetables in a small cooler in the trunk of your squad car
---
Article updated October 9, 2018
Most of the headlines we see about officers being refused service or having been served tainted food involve franchise fast-food joints — establishments that generally feature a long list of unhealthy eating options. 
This sort of thing happens way too frequently — a cursory search on Police1 revealed incidents at a Florida Arby's, a Jimmy John's and a Hardee's in Minnesota, and a Noodles & Company in Virginia. A number of Louisville (Ky.) police officers were refused service at a local Taco Bell, according to WHAS-TV News. An employee told colleagues he wasn't taking the officers' order and officers subsequently "heard conversations among other employees regarding 'messing' with their order so they decided not to eat there at all," said FOP President Dave Mutchler in a statement.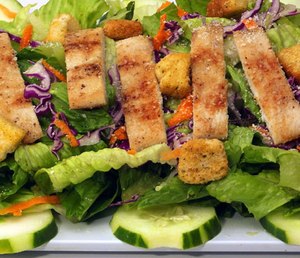 Furthermore, a Subway employee in Utah reportedly put meth and THC in a cop's fountain-dispensed lemonade. Indeed, cops have found everything from drugs and glass to spit and pubic hair intentionally planted in their meals. All these cases underscore that police officers should be very judicious about their choices for on-duty meals. 
Ditch the fast food and bring a bag (or box) lunch
A healthy alternative to fast-food joints is to make your meals at home — pairing a protein with a slew of vegetables. Put your meal in a plastic container that fits with a reusable freezer brick in a small cooler in the trunk of your squad car.
The following are some ideas to consider for a four-day workweek. And for those who say, "But I can't cook!" please remember that if I can prepare these meals, literally anybody can. 
Shift One: On a large whole-wheat lavash, wrap, or tortilla (OK, you can use white instead of whole wheat) place a healthy fistful of fresh sliced turkey, a few slices of cooked bacon (crumbled), some shredded iceberg lettuce, and a couple of scoops of fresh cranberries. Roll that up and wrap in aluminum foil. I call it the Thanksgiving burrito — it's simple to make and simply delicious. Be sure to make two of them — trust me on this one — and pop them in your plastic to-go box. 
Shift Two: Over a bed of fresh mixed greens, lay a large cooked and seasoned chicken breast (prepared the day of, or the day before) and an assortment of green beans, garbanzo beans, chopped onion (optional, if you're not interested in adding that to your breath), and chopped celery. In a small, sealable plastic container (about the size of a shot glass) put the vinaigrette of your choice. It's a three-bean salad with chicken, and it will power you through. 
Shift Three: Again over a bed of fresh greens, put several ice-cream scoops full of browned ground turkey (seasoned with chili powder and a dash of powdered garlic when cooked). Add a can of strained black beans, a diced green bell pepper, a diced tomato, and a handful of crushed tortilla chips. Toss some grated Cheddar cheese on top. The dressing in your shot-glass sized container is your favorite salsa. You'll note that I omitted avocado. I hate avocado, but if that's your thing, go for it. 
Shift Four: It's indulgence day — pasta and meatballs! This one takes a little longer to prepare than the others, but the results are worth it. Cook up some fusilli or rotini pasta and make two or three meatballs (consisting of a combination of ground beef, ground veal, ground pork, eggs, and spices). Let cool and put in your plastic container. On top of that, add a chopped red bell pepper, a nice portion of artichoke hearts, black olives, and some chopped onions (if you so desire). Put into that shot-glass sized plastic container your favorite low-fat Italian dressing and add that before eating. This is probably my favorite of all. 
I've simplified these recipes — do some experimenting or check out sites like All Recipes for specifics. Remember that in all cases, you should supplement your main meal with a variety of power-packing snacks — apples, bananas, almonds, and energy bars (such as Cliff Bar or PowerBar) — that you can eat every couple of hours to keep you going. Make a bottle (reusable if possible) of water your beverage of choice. 
Save money, avoid hassles, and eat better
Once you get rolling with such a program, you'll find creative ideas popping into your head involving a variety of foods. Whether you prepare any/all the above ideas, rely simply on homemade sandwiches, or choose to go with yesterday's leftovers, there's a good chance you're going to end up saving a fair amount of money and eating much better than you would if you patronize the local fast-food place. 
If you do decide to eat at a restaurant in uniform, be sure to look for mom-and-pop establishments which have a much greater tendency to be pro-law enforcement. In fact, those independently and locally owned businesses tend to be thrilled to have cops as patrons. No matter what your patrol area, there's probably one of these places just waiting to serve you. 
If you have a favorite recipe for your on-duty meal, please share it in the comments below. 
Eat well, be well, and stay safe my friends.