NYPD chief dies by suicide month before mandatory retirement
The LEO was found dead from a self-inflicted gunshot wound in his patrol vehicle
---
Rocco Parascandola , Kerry Burke and John Annese
New York Daily News
NEW YORK — A high-ranking NYPD officer fatally shot himself in the head in a car in Queens Wednesday, just one month before he would have turned 63 and faced mandatory retirement from the department, police sources said.
Deputy Chief Steven Silks, the executive officer of Patrol Borough Queens North, parked his department-issued car not far from the 112th Precinct stationhouse, along a lonely stretch of road in the shadow of Forest Hills Stadium on Burns St. near 69th Ave., and shot himself, according to multiple police sources.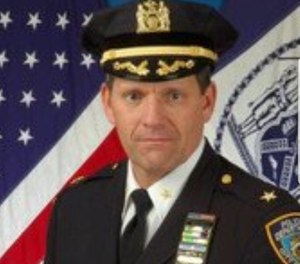 A security guard for the nearby West Side Tennis Club found him at about 6:45 p.m., in civilian clothes, the gun beside him, sources said. Responding officers did not immediately know that he was a police officer, they said.
Silks was rushed to Elmhurst Hospital, but he couldn't be saved, sources said. His family declined to speak about him Wednesday night.
"I am speechless," said Roy Richter, head of the Captains Endowment Association. "Steve was an incredibly dedicated and great guy. He was great at what he does. This is a terrible loss."
Richter recalled that Silks was an avid outdoorsman. "He ran a 3:09 New York Marathon at one point in his life and reached the summit of Mount Everest," Richter told The News. "He coordinated the U.S. Open on a regular basis."
"He was part of the fabric of just about every major police event over the last couple of decades," Richter said.
"He's a reliable guy, he's very friendly. He was a good friend. How do you describe a good friend? He was always someone you could rely on when you needed support."
Sources said Silks showed up at the NYPD pension office on Tuesday and submitted retirement papers after a storied career spanning nearly 39 years, including several years as commander of the NYPD firing range in the Bronx.
He also commanded two Bronx precincts, and was the second-in-command at the Police Academy, the Patrol Services Bureau, Patrol Borough Queens South and Patrol Borough Brooklyn North.
"His family lives out of state. He's not married. He absolutely lived for the NYPD," said a fellow cop and friend of the officer. "He was admired and loved by everybody he worked with. He was aged out. He's the kind of guy who would have served until he died of natural causes."
Police sources said Silks had expressed sadness about his pending retirement.
"It's terrible that he found himself in that place. Say a prayer for his family," one police source said. Another praised the veteran cop, saying, "He was a sweetheart."
Early last year, NYPD Commissioner James O'Neill recorded a YouTube video describing mental health services available to cops in distress, after the department saw three suicides in a span of two months.
"Your job requires that you spend your day helping others. But before you can take care of anyone else, you must first take care of yourself, so please, remember, if you need it, help is here, and help is available," O'Neill said in the March 2018 video.
The NYPD offers a variety of programs and in 2014 launched an "Are You OK?" campaign. The department also works with POPPA, or Police Organization Providing Peer Assistance, a volunteer support network for officers and retirees.
———
©2019 New York Daily News
McClatchy-Tribune News Service