Police health and wellness: 5 myths we must bust
A new book identifies and provides strategies for dealing with the negative effects of working in law enforcement
---
If you are feeling suicidal, help is available. Call the National Suicide Prevention Hotline at 800/273-8255, or visit suicidepreventionlifeline.org.
Police suicide, job burnout, divorce, PTSD and alcoholism are just a few of the negative outcomes of our profession we are warned about before becoming cops. Yet despite these warnings, such problems still plague members of our profession.
Police trainer John Marx, Executive Director of the Law Enforcement Survival Institute and editor of CopsAlive.com, is attempting to change that through his new book, "Armor Your Self: How to Survive a Career in Law Enforcement."
In his book he identifies how this old way of thinking actually adds to the harm. Additionally, he provides new strategies for dealing with the negative effects of working in law enforcement.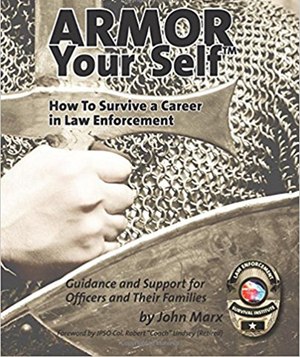 Here are five myths we must change.
Myth 1: Bad guys are the No. 1 enemy
We spend a lot of our day using good tactics and mindset to set us up for success so that we can go home at the end of our shift. Every year, however, more cops die by suicide than are killed by felons. We do not know how many officers suffer from physical, spiritual and emotional trauma as a result of the stresses of this profession.
Marx identifies these negative health effects as "Blue Trauma Syndrome." One of the greatest difficulties and dangers of Blue Trauma Syndrome is you can't see or touch it and, as a result, all too often, you don't even know you have it.  
myth 2: You should only focus on physical threats
Because we can clearly see the effects of physical injury and death, we focus on avoiding obvious dangers. Blue Trauma Syndrome is the cumulative effects of depression, grief and emotional exhaustion created by all the stress we deal with in our careers. If ignored or unrecognized, this can lead to a downward spiral of inappropriate behaviors and coping strategies.
Alcohol and drug abuse are just two of these poor coping strategies. How many officers have you seen fall victim to this? How many officers have you seen ruin their careers, marriages and families as a result?
myth 3: Physical fitness solves everything
Physical fitness is the key for a law enforcement officer to be prepared to do their job. It also helps in reducing stress.
"Armor Your Self" has great tips and ideas to add to your current workout. However, physical exercise cannot deal with all the symptoms of accumulated stress. Your mind is your greatest weapon and tool. In his book, Marx details a number of mental exercises that will aid in increasing memory, language skills, reaction time and problem-solving skills.    
myth 4: Mental health is for victims
This is probably one of the most dangerous beliefs in our profession. It will take far more emotional strength than physical strength to successfully and safely complete your police career. Despite what we like to think, humans, including cops, are emotional creatures.
If an officer is involved in a use-of-force situation with a suspect and broke their arm, who in their right mind would tell them, "Suck it up, buttercup." Yet, too often, that is the response officers receive from their colleagues and administrators when it comes to mental trauma. Because mental trauma is unseen, we tend to minimize or ignore it.
Mental trauma is no different than physical trauma. Yet some see it as a weakness. Would you criticize an officer who broke their arm because they had a weak skeleton? No.  
myth 5: If you succumb to stress or trauma, you shouldn't ask for help
Would you work with an untreated broken arm? Would your supervisors allow it? Until we change the attitude about coming forward and asking for help in regard to our mental health, too many officers just won't do it. The officer who comes forward and asks for help is not an officer you need to worry about. The officers who don't ask for help are the ones who pose risks.
Marx's book is an owner's manual to a successful career. If you follow the recommendations and adhere to the routine maintenance, you will have a successful police career.