Report: 9/11 first responders show memory problems
Cognitive impairment, long considered a leading risk factor for Alzheimer's and other forms of dementia, has been detected in a significant number of 9/11 first responders
---
By Delthia Ricks and Chau Lam
Newsday
STONY BROOK. N.Y. — Cognitive impairment, long considered a leading risk factor for Alzheimer's and other forms of dementia, has been detected in a significant proportion of people who served as first responders during the 9/11 World Trade Center disaster, Stony Brook University researchers have found.
For years, the lion's share of public attention has been riveted on the cancers and respiratory conditions that have afflicted first responders, but mental-health disorders have been building all along, researchers reported Monday in the journal Alzheimer's & Dementia: Diagnosis, Assessment and Disease Monitoring.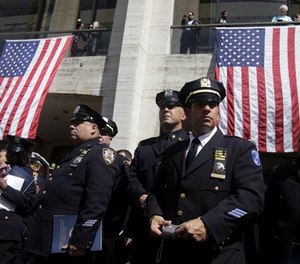 Cognitive impairment refers to poor memory and concentration -- an inability to learn new information. Many people with cognitive impairment have difficulty performing the routine activities of daily living. Those who are severely affected ultimately develop full-blown dementia, experts say.
Virtually all of the first responders in Stony Brook's research -- 818 in all -- reside on Long Island. Nearly 13 percent, or 104, of them had definite evidence of cognitive impairment and 1.2 percent, or 10 people, already had possible dementia, the study showed.
Moreover, responders undergoing mental health testing through the Stony Brook University World Trade Center Wellness Program were exceptionally young for having signs of cognitive impairment, which is most often diagnosed in old age, said Sean A. Clouston, an assistant professor of public health and lead investigator of the new research.
"These numbers are staggering, considering that the average age of responders during the study was 53," Clouston said.
Cognitive impairment can be mild, moderate or severe. Its incidence increases with age and while it can begin in midlife, cognitive impairment most often is diagnosed at older ages, usually in the 70s and above, according to the Cognitive Aging Laboratory at the University of Virginia.
The Stony Brook team found the impairment to be most evident among responders who suffered post-traumatic stress disorder, a condition often diagnosed in veterans who have experienced war tragedies. The disorder is characterized by flashbacks and nightmares, and for those who responded to the terrorist attacks on Sept. 11, 2001, PTSD has been a common repercussion, say researchers who studied the 818 responders treated at Stony Brook's WTC program. The study was conducted from January 2014 to April 2015.
However, PTSD was not the only risk factor for cognitive impairment, according to the research, which found that responders who had a history of major depressive disorder also were at risk of being cognitively impaired.
"We know the PTSD is World Trade Center-related and that it started for most of them in 2002 -- the flashbacks and nightmares," Clouston said.
He said the analysis is the first to examine the association of PTSD and major depressive disorder with cognitive impairment, and to do so in a large group of civilian World Trade Center responders without head trauma. By comparison, many of the veterans in an unrelated 2010 study who suffered from PTSD and went on to develop dementia, had additionally experienced head injuries, Clouston said.
The veterans research, led by scientists at the University of California, San Francisco, also found that those with PTSD had a twofold higher risk of developing dementia compared with veterans who were not affected by a condition that haunts them while asleep and interrupts them while awake with visions of that disastrous day.
Looking at the Stony Brook and California work as a broad picture, at least one scientist said it raises a compelling question.
"We need to start thinking about how PTSD changes the brain," said Dr. Heather Snyder, senior director of medical and scientific operations at the Alzheimer's Association in Chicago.
Experts not connected with the research said it sounds an alarm about the long-lasting impact of PTSD and depression on the brain.
"I think it's valuable that this is being highlighted in a group of individuals who otherwise were very healthy prior to 9/11, but who now are still suffering the aftereffects of their exposure," said Dr. Jacqueline Moline, director of the Queens World Trade Center Health Program in Rego Park, a division of the Northwell Health system.
"This tells us that if you have patients who have PTSD for any reason you should be on the lookout for cognitive impairment," said Moline, the former head of the World Trade Center program at the Mount Sinai Hospital in Manhattan.
John Feal, a Ground Zero worker and leading advocate for 9/11 responders and survivors through his Nesconset-based Feal Good Foundation, said he is not surprised by the latest findings. The study, Feal said, validates what the men and women -- including firefighters, emergency medical technicians and police officers -- have been living with all these years.
"What surprised us is that it took 15 years for the science to catch up to us," he said Monday. "Everything we have said, little by little, it's coming true."
Rep. Jerry Nadler (D-Manhattan), who had early on urged city, state and federal officials to provide protection for first responders, said he, too, is not surprised by the latest discovery.
"We have a moral obligation to continue to support them," Nadler said Monday of first responders.
Clouston vowed Monday to continue his research and the effects the Sept. 11 tragedy is having on responders' mental health.
A problem facing those with mental health concerns is the lack of funding for these conditions under the Zadroga Act, Clouston said.
The act was named after James Zadroga, the first NYPD officer whose death was attributed to his exposure to toxic chemicals at Ground Zero. 
About 800 first responders have died so far of toxins released during the destruction of the Twin Towers of the former World Trade Center.
Outside of the Stony Brook program, an estimated 33,000 responders have enrolled in WTC health programs sponsored by the Centers for Disease Control and Prevention. If the findings of the Stony Brook research turn out to be representative of the entire group of responders, 3,740 to 5,300 people who responded to the worst attack on American soil may be at risk of cognitive impairment. Worse, an estimated 240 to 810 may develop dementia, Clouston said.
The 15th anniversary of the attack will be marked next month.
Dr. Benjamin Luft, director of Stony Brook's WTC Wellness Program, said "the effects of the exposure . . . on the responders may be more pervasive and insidious than previously thought."
Stony Brook research
818 first responders studied
13% (104 people) had definite evidence of cognitive impairment
1.2% (10 people) had possible dementia
240 to 810 WTC responders may develop dementia
McClatchy-Tribune News Service