When military meets civilian law enforcement: PTSD in the police force
Considering how many individuals transition between the military and law enforcement, we can begin to understand the high rates of PTSD among police
---
By Dr. Allan Conkey, Faculty Member, Criminal Justice at American Military University
Civilian law enforcement is among the most sought-after careers for military veterans upon separation from the armed forces. This widely acknowledged trend helps explain why upwards of 20 percent of those working in law enforcement have military experience compared to roughly 6 percent of society at large.
Why Police Agencies Recruit Military Veterans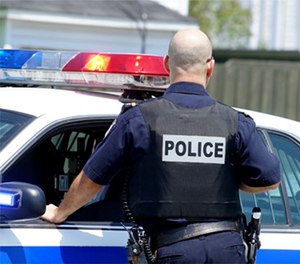 It's not uncommon for police agencies to give priority to those with military service. For example, the requirements to become a New Hampshire State Trooper include two years' experience as a full-time, certified police officer, but two years of honorable military service is also accepted as an equivalent.
Seeking military veterans for civilian law enforcement has historic precedent. After the Vietnam War, many police agencies actively recruited military veterans. That trend continues today. For example, the Denver (Colorado) Police Department's website currently states: "The Denver Police Department actively seeks and recruits veterans of the military." Similar language is used by countless civilian law enforcement agencies.
As a retired officer and a three-time Military Chief of Police, I would be among the last to argue against the benefits of police agencies recruiting veterans. Discipline, integrity, responsibility, the ability to make tough calls under pressure, and many more characteristics that are instilled in military veterans are also qualities desired in police officers. However, hiring military service members can also bring along challenges.
PTSD from Military Service
Military veterans are known for having higher rates of post-traumatic stress disorder (PTSD). It's estimated that upwards of 30 percent of Vietnam veterans and 10 to 20 percent of those who served in the Iraq or Afghanistan wars will suffer from PTSD in their lifetime (Weichselbaum, Schwartzapfel, and Meagher, 2017).
PTSD following war combat isn't restricted to retired military veterans — it also impacts officers who serve in the Reserves or the National Guard and find themselves deployed to a combat theater. During my 25-plus years of active military service—particularly post 9/11—my military police units were frequently augmented with the addition of Reserve troops. Of those, many were full-time civilian law enforcement who, upon completion of their tour of duty, would return back to their civilian role. Unfortunately, for some of these officers, their time with the military left lasting emotional scars.
PTSD in Law Enforcement
War-related PTSD provides additional challenges to law enforcement agencies. Like many military veterans, police officers who bring the war home with them frequently won't talk about it and opt not to receive counseling or other treatment. Although the stigma is changing, many still fear that coming forward will result in losing their job, being looked down upon, or somehow regarded as weak.
Around 7 percent of the U.S. population suffers from some form of PTSD. However, among law enforcement professionals, the rate of PTSD is more than double that, with some estimating that it affects as many as 19 percent (McCanlies, Mnatsakanova, Andrew, Burchfiel, & Violanti, 2014). That percentage brings police into a similar range as military veterans. Research by King's College London identified that PTSD rates are as high as 29 percent among U.S. troops (Dreazen, 2014).
With those percentages in mind, in any medium- to large-size police department, it's almost impossible not to have officers who suffer from PTSD.
PTSD from Policing
As a profession, police officers are already at an increased risk of PTSD. This is based on their increased chances of being exposed to a variety of traumatic events, ranging from traffic fatalities to homicides.
Police officers who have, or are, currently serving in the military (via the Guard or Reserves) have even greater chances of suffering from PTSD. Keep in mind that U.S. veterans are 21 percent more likely to kill themselves than their civilian counterparts, as identified by the U.S. Department of Veterans Affairs in 2016.
In addition, those with military experience who transition into or return to civilian law enforcement face the potential for further stress and exposure to traumatic events. Considering how many individuals transition between the military and law enforcement, we can begin to understand the high rates of PTSD and suicides among police officers.
The Role of Leadership
PTSD in any form (i.e., war-related or derived on the job) is similar in many ways to a physical injury. Whether a broken arm or PTSD, once the problem is identified and treated, the sufferer can return to a highly functioning life.
In order for officers to identify PTSD symptoms and receive treatment, there must be a change in the culture of law enforcement. Agencies must focus on improving the mental fitness of officers because there is no doubt that PTSD affects a large number of them.
Law enforcement leadership must acknowledge the role PTSD-afflicted officers play in broader public service issues. While data on this subject is lacking (based on police departments generally not releasing the number of force complaints for military veterans versus those officers who are not) information collected by The Marshall Project showed that the few cities that did respond to this data request (such as Boston and Miami) reported higher rates of excessive force complaints for veterans versus non-veterans (Weichselbaum et al., 2017).
Ultimately, these are life or death issues (to include officer suicide and excessive use of force), which highlights why it must be a priority for law enforcement leadership. Agencies must provide mental health resources to support both officers and the communities that they serve.
---
About the author 
Dr. Allan Conkey is a retired officer and a decorated veteran of both the first and second Gulf Wars. His career has included being a criminal investigator, confinement officer, senior U.S. customs officer in Japan, and exchange officer with the Japanese National Police Forensics Laboratory in Northern Japan. As Commander of the Air Force's Elite Guard, for two years he commanded plain-clothed security details in support of dozens of world leaders and heads of state to include President Bush and Afghanistan President Hamid Kharzai. He is a three-time Military Chief of Police and member of the National Association of Chiefs of Police. In all, Dr. Conkey has more than 25 years of active service in the law enforcement and security realm. Today, a published author and faculty member forAmerican Military University, Dr. Conkey teaches within the Criminal Justice Department, and holds the academic rank of Full Professor.
References
Dreazen, Y. (2014). Tour of duty. Foreign Policy, (208), 52-59.
McCanlies, E. C., Mnatsakanova, A., Andrew, M. E., Burchfiel, C. M., & Violanti, J. M. (2014). Positive psychological factors are associated with lower PTSD symptoms among police officers: Post Hurricane Katrina. Stress & Health: Journal of The International Society For The Investigation Of Stress, 30(5), 405-415.
Weichselbaum, S., Schwartzapfel, B., and Meagher, T. (2017). Many veterans make careers in policing. Some bring war home. Retrieved from The Marshall Project at https://www.themarshallproject.org/2017/03/30/when-warriors-put-on-the-badge#.MCC3PASwI