Long slide ends in officer's snowplow death
The homeless man charged in death of Toronto police sergeant once imagined that he could be a property tycoon
---
By Jennifer Yang, Dan Robson and Jim Rankin
Guelph Mercury
TORONTO, Canada — He was the last passenger to board the 8 o'clock bus from St. Catharines.
Coach Canada driver Dhimitri Gusho remembers the scruffy-faced man carrying the small backpack. His other passengers were already seated when the man approached and asked him if he was bound for Toronto.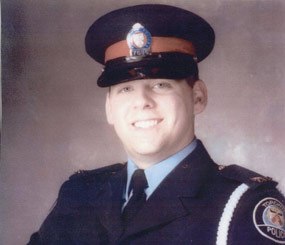 Gusho replied yes and took the man's ticket. He noticed that the passenger was unshaven, with about a day's worth of facial hair. And he also saw something familiar.
"Hi sir," he said. "I know you, I know you."
It was the same man who once took weekly trips to New York state with Gusho, back when he drove the St. Catharines-Buffalo route.
It had been four or five years since Gusho last saw him. And while the driver never learned the man's name, today he knows it to be Richard Kachkar, the 44-year-old accused of killing a Toronto police officer with a snowplow.
And something about the passenger that day, he thought, was off.
Thus far, little is known about Kachkar's history. But an investigation by the Toronto Star has found Kachkar used an inheritance to purchase a string of worthless properties for which he had big plans, none of which ever panned out.
On Friday, Kachkar appeared in a Toronto courtroom on a first-degree murder charge in the death of Sgt. Ryan Russell, a 35-year-old rising star in Toronto's police force. Wearing a white T-shirt and jeans, a hunched Kachkar entered the room with his left arm in a sling. Bandages covered his nose and neck.
He has also been charged with attempting to murder another officer and a taxi driver. He will appear again in court on Jan. 25 by video link.
Police suspect Kachkar travelled to Toronto from St. Catharines on Jan. 6. Gusho believes this was the same day Kachkar rode his 8 o'clock bus.
Homicide investigators are now trying to piece together why Kachkar got on the bus to Toronto and what he did before Jan. 12, when just after 4:15 a.m., a barefooted man jumped into an idling snowplow and embarked upon a three-hour rampage downtown.
A piece of Kachkar's past lies south of the Canada-U.S. border, which he crossed numerous times between 2004 and 2006.
On at least six occasions, Kachkar returned to Canada from New York state a few thousand dollars lighter and with a new property to his name - either vacant lots or dilapidated buildings.
Those who encountered him still remember the odd Canadian fellow who bragged about his Russian mob ties and dreamt foolishly of building a real estate "empire" in the crumbling, recession-battered towns of America.
It was a dream that would never be realized.
Today, the only property Kachkar has is a tiny old tailor's shop in St. Catharines, one he kept vacant for years even while periodically sleeping in homeless shelters.
Kachkar's dream was one that started with a death. On Oct. 15, 2004, retired telephone engineer Esber Kachkar died of cancer.
Shortly before his death, he sold his West Vancouver home for half a million dollars and gave lump sums to various children and a niece. Richard got the most - $120,000.
Richard Esber Kachkar was born in Edmonton on June 22, 1966, the son of Armenian immigrants from Syria. He married an Iranian woman named Maro. The couple has two children: a son, Berj, now in his early 20s, and a daughter, Ashley, now 18.
According to a copy of his resum, Kachkar received his post-secondary education in Armenia, studying linguistics at the American University of Armenia. He went on to become certified as an architectural technician, and in the mid-'90s, he moved to B.C., where he trained as a tool and die maker while working part time at Sears.
From 1999 to 2001, Kachkar worked for an Edmonton-based company called Miza Pharmaceuticals, according to his resum. The company is linked to Kachkar's cousin, Dr. Jack Kachkar, a colourful and wealthy businessperson who once made headlines in France over a proposed plan to purchase a football team for 115 million euros.
It is unclear how close Jack Kachkar was to Richard. Despite numerous attempts this week, Jack Kachkar could not be reached.
But according to his resum, Richard worked for Toronto-based Inyx Pharmaceuticals from 2001 to 2004, another company connected to Jack Kachkar.
In Toronto, Kachkar lived just minutes away from Inyx's Yonge Street headquarters in a modest two-storey residence on Bangor Road, just off Sheppard Avenue. His former landlord, Vince Zak, said Kachkar's father visited him there.
But when the elder Kachkar drew up his will in 2000, four years before his death, he created a trust fund that named only his three daughters as trustees.
Nonetheless, Kachkar had already pocketed the $120,000 his father gave him while he was still alive.
But at least half of it was already gone.
In the five months following his father's death, Kachkar went on a real estate spending spree, picking up at least six properties in New York state. He paid $1 for the first one, a decaying home in Buffalo; the most expensive one was $14,000. Altogether, he poured more than $62,500 into vacant lots or ruinous homes.
He boasted about his plans to turn one dilapidated bar into a Niagara Falls hot spot that would offer illicit massages upstairs.
But like so many of Kachkar's plans, nothing ever happened.
Municipal officials in New York state have also been pursuing Kachkar, who repeatedly failed to pay property taxes. All six of his New York properties have been seized and auctioned off or sold. In 2006, Kachkar was fined $19,500 for violating New York maintenance codes.
The empire was coming apart. In early 2005 or early 2006, Kachkar took his final trip along Gusho's American route. He was stopped at the border, the driver recalled.
Two hours later, Gusho picked him up on his swing back to Canada. Kachkar was swearing, yelling and railing against one of his sisters, claiming she had taken more money from their parents than she deserved. Kachkar would later tell Heisner he believed his sisters had a hand in blocking his border crossing.
When Gusho asked the border guards what happened, they said Kachkar was doing renovation work in the U.S. without a permit.
Gusho brought up the past with Kachkar when he boarded the bus to Toronto a few weeks ago. This time, his passenger had little to say about his investments. "It didn't work out," he told the bus driver.
Kachkar claimed he now had properties in St. Catharines. But in fact, Kachkar only has the one - the skinny little tailor's shop on Geneva Street, a rundown building he purchased in 2005 for $29,500.
By several accounts, Kachkar's family life has also been unravelling for some time. He separated from his wife five years ago but according to a neighbour, Kachkar was apparently still living with her a few years ago in a St. Catharines apartment.
Trevor Weller frequently saw Kachkar coming and going from the unit across the hall. He also often heard the couple fighting through the walls.
"I couldn't really hear, but he'd be yelling about something," Weller said. "It was often. She was quiet."
Maro Kachkar, described as low-key and reserved, has refused several interview requests.
She and her children have been devastated by the recent events, according to a close friend.
Det.-Sgt. Dan Nielsen, the lead investigator in Russell's death, said Kachkar last saw his estranged wife at 5:30 p.m. on Jan. 6, when he briefly dropped by for an unannounced visit. She told police she did not know he was going to Toronto.
Hours later, Kachkar sat on Gusho's bus, bound for Toronto.
On the evening of Tuesday, Jan. 11, Toronto was bracing for a coming snowstorm. It would cover the city with a cold, white blanket by morning.
Richard Kachkar checked into the Good Shepherd shelter on Queen Street East at around 5:30 p.m. At some time in the evening, he slipped out.
Around 4 a.m., two employees with Tolias Landscaping and Plowing parked their blue and white snowplow across from a Tim Hortons on Cole Street, a few blocks from the Good Shepherd. They left the keys in the ignition.
While they were waiting for coffee, an agitated man - barefoot in the freezing cold - stared from just inside the doorway. Then he bolted toward their truck.
Daniel da Silva, a Tolias snowplow driver, later identified the man from a photo as Kachkar.
The snowplow spent the next few hours careening down more than 70 city streets, smashing into parked cars and at least one taxi.
At about 6 a.m. Sgt. Ryan Russell found himself on the same snow-covered street as Kachkar. What unfolded in those next fatal moments remains unclear, but Russell was dead.
The snowplow continued northwest and was finally cornered by police near Keele Street and Humberside Avenue. The rampage came to an end when Kachkar was shot several times.
He was taken to St. Michael's Hospital, treated for injuries and charged with first-degree murder.
Copyright 2011 Metroland Media Group Ltd