Why we need to leave police policymaking to the police
While police leaders should be encouraged to widen the scope of voices they hear, inviting hostile and unqualified persons to implement policy is another matter
---
Law enforcement leaders are facing increased outside pressure to release internal control of their own policy and procedure making. Police unions and leaders' concerns used to be centered on the creation of civilian review boards dealing with allegations of officer misconduct. Now we have legislators attempting to dictate local policy through state law as in California, and groups traditionally hostile to law enforcement seeking a seat at the policymaking table for the Chicago Police Department. One group is pushing back.
The National Police Association, a law enforcement advocacy group, is demanding information on Chicago Mayor Rahm Emanual's decision to invite the ACLU and Black Lives Matter Chicago to oversee policy making for the Chicago Police Department. The NPA's actions reflect the dismay of many in the law enforcement community over this move.
City of Chicago signs agreement in principle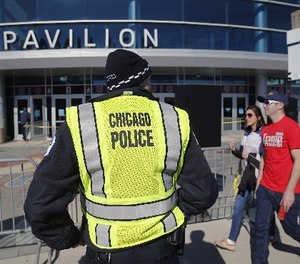 In July 2017, the City of Chicago and representatives of the U.S. Department of Justice signed an Agreement in Principle in response to a federal investigation of police practices in the city.
The agreement forestalls any further federal action on the promise that Illinois' Attorney General, the city and the U.S. District Court will negotiate a consent decree to address deficiencies noted in the federal report that found "reasonable cause to believe that CPD engages in a pattern or practice of unconstitutional use of force."
The agreement requires "participation of community members, including officers, in the implementation of the reform process." The NPA questions that this mandate includes allowing oversight from groups like the ACLU and Black Lives Matter that have shown hostility to law enforcement.
The ACLU was part of two lawsuits calling for federal intervention despite the Trump administration's opposition to such measures and calling for a more collaborative approach. The DOJ investigations under the Obama administration were ordered reviewed under Trump. U.S. Attorney General Jeff Sessions has called federal investigations of law enforcement "dangerous," saying that federal intervention "can reduce morale of the police officers."
The ACLU Illinois website quotes representatives of activist groups as having "watchdog" authority and "the right to enforce" the consent decree.
The NPA press release announcing its Freedom of Information request about the action states, "The ACLU has represented unrepentant cop killer Mumia Abu Jamal, while Black Lives Matter Chicago advocates entirely de-funding the police on its website. The consent decree will among other things establish and govern the Chicago Police Department's use of force policies, directing officers in when and how they are allowed to defend themselves." 
The FOIA request specifically seeks to know the qualifications of anyone who may be establishing policy and procedure for Chicago police officers.
The value of multiple perspectives
In the storm of multiple lawsuits, investigations, public scrutiny and – not least of all – politics, the mandate for reform in Chicago is strong. The link between sky high murder rates and police oversight isn't clear, as the Ferguson effect is still being debated, but the irony of investigating the crime fighters in the middle of hundreds of unsolved homicides is not lost on rank and file police officers.
Historian Doris Kearns famously examined President Lincoln's strategy of including rivals among his advisors in the aptly title biography "Team of Rivals: The Political Genius of Abraham Lincoln." Akin to the adage of keeping your friends close and your enemies closer, there is great merit to opening discussion to include widely varying perspectives. Some leaders have a practice of appointing at least one person on any decision-making committee to speak up against any idea brought forth in order to avoid blind consensus.
Police leaders and their governing executives should be encouraged to widen the scope of voices that they hear. This will necessarily include uncomfortable and oppositional messages. It is that area of discomfort where nuggets of truth can be found that could positively inform policing practices. Everyone tends toward making routine decisions within the comfort zone of their own experience. Getting fresh eyes on a situation can be invaluable when developing mission statements, policy and procedure. Even if oppositional positions are predictably refuted, the exercise of defending the status quo can be instructive.
Seeking advice and input is constructive, while inviting hostile and unqualified persons to actually implement policy is another matter. The NPA request is understandable. Collaboration is a necessary skill in police leadership, but allowing coercive influences that serve interest groups over public safety deserves its own high level of scrutiny. Without a strong voice for self-governance, local law enforcement faces an increasing loss of its professional autonomy in decision-making.