LODD: Texas officer killed in wrong-way crash
Officer Yarbrough died in the crash; a second officer sustained serious injuries
Duty Death: Sheena Yarbrough-Powell - [Beaumont, Texas]
End of Service: 08/09/2020
---
By Chris Moore
Beaumont Enterprise, Texas
BEAUMONT, Texas — A 23-year-old Beaumont officer died in crash caused by a wrong-way driver, according to police chief Jim Singletary. The crash left an unnamed officer in critical, but stable condition.
The chief said two-year officer Sheena Yarbrough, of Lumberton, died in the crash.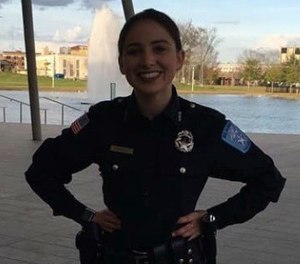 "It's a sad day for the Beaumont Police Department and the community," Singletary said at a press conference Sunday.
Singletary said the Yarbrough was hired by BPD as a cadet in August of 2018, before being sworn in that December. She had been married for 10 months, Singletary said.
"There is no doubt that it is an extremely difficult time to be a police officer," he said. "It is also an extremely important time to be a police officer. Our officers and dispatch have done a remarkable job, but today we are hurting. The next few days, weeks, months and years will be difficult for Sheena's family, both blood and blue, but we will get through this together."
The crash occurred at 2:30 a.m. Sunday on Highway 69 near the Twin City Highway overpass.
"One officer was transported to a local hospital in serious but stable condition," an earlier news release said. "The second officer was pronounced deceased on the scene. State Troopers from the Texas Department of Public Safety have been called in to investigate the crash. The sole occupant of the Mustang was transported to a hospital."
Singletary said the other officer underwent surgery early Sunday morning.
"He has a long road to recovery ahead of him, but we will be with him every step of the way," he said.
Beaumont Mayor Becky Ames released a statement on the crash.
"My thoughts and prayers go to the family and friends left behind after such a needless tragedy," she said in the statement. "There are no words that can comfort grieving at a time like this, but my hope is you know how many people in our city grieve with you. Our entire city hurts when we lose a first responder. Praying for you. As mayor, I've dealt with hurricanes, floods and tropical storms, but the loss of a first responder has to be the toughest."
The mayor also sent condolences to the department and thanked them for the work they do.
The department did not give an update on the condition of the wrong-way driver. The Department of Public Safety are in charge of the investigation.
©2020 the Beaumont Enterprise (Beaumont, Texas)
McClatchy-Tribune News Service