Memphis officer dies from wounds in library shooting
Officer Geoffrey Redd died from wounds sustained more than two weeks ago when he was shot while responding to a confrontation at a library
Duty Death: Geoffrey Redd - [Memphis, Tennessee]
End of Service: 02/18/2023
---
Associated Press
MEMPHIS, Tenn. — A Memphis police officer died Saturday from wounds sustained more than two weeks ago when he was shot while responding to a confrontation at a library, authorities said.
Officer Geoffrey Redd was critically wounded Feb. 2 at the Poplar-White Station Library. Redd, 49, was transported to Regional One Health, where he died "despite the best efforts" by the hospital staff, Memphis police said.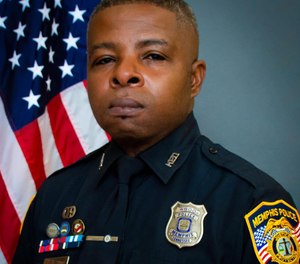 "Rest easy, Officer Redd. You will be missed," the department said in announcing his death.
Redd served in the U.S. Marine Corps before joining the police department in 2008. He also served as director of security at his church.
Mayor Jim Strickland offered his "deepest condolences" to the slain officer's family and also "his Memphis police family."
"He served with honor his country as a marine and his city as a police officer, and we lift up his dedicated public service to the City of Memphis for over 15 years," the mayor said in a statement.
In the library incident, officers responded after a man started the confrontation with another person. When officers attempted to talk with him, he pulled out a weapon and fired, the Tennessee Bureau of Investigation has said. Redd was hit.
His partner returned fire, killing the suspect.
Employees and patrons were in the library at the time, but no one else was hurt, according to the TBI.
#UPDATE from #Memphis Police: Officer Geoffrey Redd has passed away.

Her served our country & our city with dignity, pride, honor and courage.

This is a devastating loss for his loved ones & for MPD. Please keep them in your prayers.

Thank you for your service, Officer Redd🇺🇸 https://t.co/WIOcOht9zC

— Joyce Peterson (@MemphoNewsLady) February 18, 2023
The bureau often investigates shootings around the state when officers are involved and worked on this case at the request of the Shelby County prosecutor.
Redd's death is the latest turmoil involving Memphis police.
Five former officers have been charged with second-degree murder and other counts in the violent arrest and death of Tyre Nichols last month.