Mich. deputy dies after being shot during pursuit
Deputy Ryan Proxmire, a nine-year veteran of the Kalamazoo County Sheriff's Office, leaves behind his wife and four kids
Duty Death: Ryan Proxmire - [Galesburg, Michigan]
End of Service: 08/15/2021
---
By Kate Feldman
New York Daily News
GALESBURG, Mich. — A Michigan sheriff's deputy who was shot by a suspect during a pursuit died Sunday.
Deputy Ryan Proxmire, a nine-year veteran of the Kalamazoo County Sheriff's Office, responded to a Galesburg gas station Saturday with a group of other officers trying to take a suspect into custody after he evaded police earlier in the day, police said in a statement.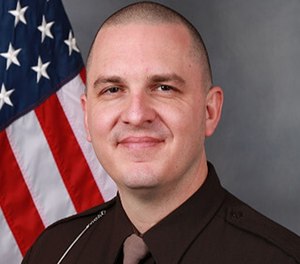 As deputies approached, the suspect fled in his car and fired at the officers.
Proxmire, 40, was hit and his car spun off the road.
A witness stopped and called 911. Proxmire was hospitalized in critical condition and succumbed to his injuries Sunday.
The other deputies continued the pursuit for another four miles, eventually engaging in a shootout with the suspect, who was killed.
"Deputy Proxmire's death earlier today from wounds suffered in a shooting last night should remind us of the danger law enforcement officers face every single day on the job," Michigan Attorney General Dana Nessel said in a statement Sunday.
"Like his colleagues in uniform, Deputy Proxmire pledged to protect and serve his community. Today he paid that commitment with his life – the ultimate sacrifice. His family and friends must live with that sacrifice for the rest of their lives. Deputy Proxmire served his community with honor and dignity and will always be remembered for his courage."
Proxmire is survived by his wife, four children, and parents.
©2021 New York Daily News. Visit nydailynews.com. Distributed by Tribune Content Agency, LLC.
McClatchy-Tribune News Service