Miss. officer killed laying spike strips
Capt. John Wayne Haddock was struck by a car
Duty Death: John Wayne Haddock - [Grenada, Mississippi]
---
By Holbrook Mohr and Emily Wagster Pettus
Associated Press
JACKSON, Miss. — A Mississippi police officer was hit and killed Friday while trying to stop a car carrying two church burglary suspects as the vehicle sped toward a busy intersection.
Grenada Mayor Billy Collins said Capt. John Wayne Haddock, 50, was hit by the car while trying to put out a spike strip to pop its tires, and he died at the scene on a state highway near the town. Police said that Haddock was thrown about 200 feet by the impact.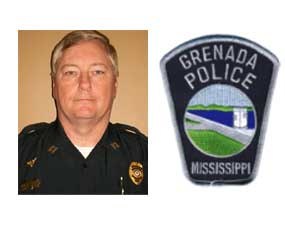 "It's a terrible situation," Collins told The Associated Press by phone from the scene. "He was a captain, the next thing to assistant chief. John had a young family. He was really proficient when it came to weapons. He trained a lot of our young officers. He was just one of those with all the experience that is hard to replace."
The officer was preparing to put out the spike strip when the vehicle appeared to lose control and plowed into him, the mayor said, citing a witness account. One person in the car was airlifted to a Tennessee hospital in critical condition and the other was taken to a local hospital by ambulance.
Haddock had been with the department for at least 20 years and talked about retiring in a few years.
Grenada Police Capt. James Carver said it appears the vehicle was stolen out of Tennessee, and the men inside were suspected of burglarizing a church in Grenada County, Miss. He did not release the suspects' names.
Mississippi Department of Public Safety spokesman Jon Kalahar said Haddock was ahead of the chase and had pulled his patrol car into the roadway and gotten out when he was struck.
Collins said estimates are that the car was traveling more than 100 mph at times during the chase. He said Haddock gave his life to protect others. The car was headed into Grenada, where it would have approached a busy intersection and traffic light at a deadly speed.
"He gave his life to stop this vehicle. He gave his life in the line of duty to save others," Collins said.
State Rep. Sidney Bondurant, R-Grenada, is a former reserve deputy sheriff and keeps a police scanner in his medical office. He listened to the scanner traffic Friday morning as deputies communicated about pursuing a possibly stolen vehicle that was speeding eastward into Grenada.
Bondurant said deputies discussed the possibility that the vehicle might turn onto Interstate 55. Instead, the vehicle headed into the city limits of Grenada, and deputies called for backup from the city police department.
Bondurant said he heard the chief deputy sheriff, Johnny Grantham, on the scanner.
"I got a grip in my stomach when I heard Johnny Grantham's voice, when I heard him say, `Have the sheriff call me ASAP,'" Bondurant told AP. "I've known these guys 25 years. You know the tone of voice. You know something bad has happened."
Grenada is a town of about 13,000 about halfway between Jackson, Miss., and Memphis, Tenn.
Copyright 2011 Associated Press