Seattle officer struck, killed after stopping to help at prior crash
Officer Alexandra Harris, who had just finished her shift, was remembered as compassionate and dedicated
Duty Death: Alexandra "Lexi" Harris - [Seattle, Washington]
End of Service: 06/13/2021
---
The Seattle Times
SEATTLE — A Seattle police officer who had just finished a shift was killed early Sunday while attempting to render assistance at a three-car collision on Interstate 5 just south of downtown Seattle.
Assistant Chief Tom Mahaffey of the Seattle Police Department said the officer's family and the entire department are devastated by the loss. The officer was 38-year-old Alexandra Brenneman Harris, who went by Lexi, her father Laird Harris said Sunday. She had served with SPD for five years.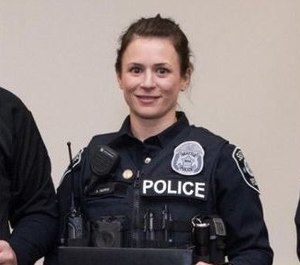 The Washington State Patrol is looking for an individual involved in the collision who subsequently stole Harris' private vehicle, WSP Capt. Ron Mead said. That vehicle was found abandoned Sunday morning and is being held for evidence, according to a WSP news release.
"It really speaks to where we are as a society, where we have such callousness when it comes to loss of life," Mead said at a news conference in Bellevue on Sunday afternoon.
Harris, a Seattle native, grew up in Wallingford and attended Nova High School, her father said. She studied human kinetics at University of British Columbia in Vancouver, and worked in the personal fitness industry for years after college. She managed a 24 Hour Fitness in Las Vegas, but lived in Seattle for most of her adult life.
About six years ago friends suggested Harris check out an SPD recruiting event, and she liked the way the department approached policing, her father said. Her first patrol was in Queen Anne, and she later spent two years on bike patrol downtown, on the overnight watch.
"She would stop on the streets and talk to the homeless people," her father said, treating everyone with compassion.
While at SPD Harris became involved in the department's wellness unit, which focused on officers' physical and mental health. She also started a side venture and helped create a podcast called "The Leaderist," which is about "improving the relationship between law enforcement and the communities they serve."
"It was typical Lexi," Laird said of how she died. "It was in her nature. I'm sure her major thought was getting people out of danger."
The driver who struck the officer remained at the scene and is cooperating with WSP, which is leading the investigation, Mead said. Anyone with information is asked to call 425-401-7742.
The three-car collision occurred at about 1:18 a.m. in the HOV lane of southbound I-5, in the backup of an earlier 10- to 13-car collision. That incident, which resulted in no injuries, happened at about 11:43 p.m. Saturday on I-5 south near Spokane Street.
First responders and public officials throughout the region expressed grief Sunday.
"Our heart goes out today to the family & friends of the officer tragically killed while trying to help others following a collision," Mayor Jenny Durkan wrote on Twitter. "The officer's service to our community went beyond their shift & we can never repay this officer for putting the life of others ahead of their own."
"This is devastating. Our hearts are with the officer's family and our brothers and sisters at SPD," the Bellevue Police Department wrote on Twitter.
(c)2021 The Seattle Times
McClatchy-Tribune News Service