Suspended LEO keeps certification after detailing police 'prank'
Sgt. Michael Verrocchi still faces criminal charges stemming from the high-speed, off-duty pursuit in 2012
---
By Mark Hayward
The New Hampshire Union Leader, Manchester
SALEM, N.H. — Suspended Salem police Sgt. Michael Verrocchi has kept his certification for police work, after convincing a certification board that a high-speed chase in 2012 was a mere prank that veteran Salem police officers play on rookies.
Verrocchi, the blunt-speaking former police union president, still faces criminal charges stemming from the high-speed, off-duty chase that took place in Salem on Route 28.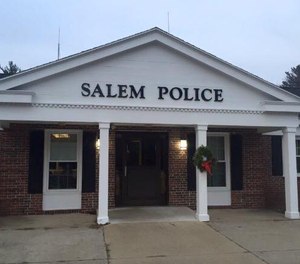 But his defense strategy prevailed and became clear in September, when he appeared before the Police Standards and Training Council in Concord for a hearing on whether to suspend his certification.
Verrocchi, 42, asked for the hearing to be open. Six current or retired Salem police officials, some implicated in the ongoing saga involving the department, testified.
"Older officers would pull a prank on younger officers and try to get an officer to chase them, then pull over, then kind of laugh like it was a joke," retired Deputy Police Chief Shawn Patten testified. The hearing was detailed in recently posted minutes.
Patten fell victim to the prank when he was a rookie, and he testified that he "probably" pulled the stunt once he rose in the ranks.
After hearing the testimony, the council voted unanimously with two abstentions not to suspend Verrocchi's certification.
Attorney General Gordon MacDonald, who is heading a criminal investigation into the Salem Police Department and sits on the council, was on hand for the testimony during the teleconference meeting.
He departed shortly before the vote, according to the Sept. 22 minutes.
MacDonald will not comment on the council's decision, Justice Department spokesman Kate Giaquinto said.
"That's because it's an ongoing criminal case and ongoing investigation," Giaquinto said.
In November 2018, an audit reported a host of issues with the Salem Police Department, including mismanaging internal investigations and violations of department policies.
Paul Donovan resigned as Salem police chief shortly afterward. MacDonald's office launched an investigation in early 2019, and Verrocchi was one of two people eventually charged with crimes. One of the targets in the investigation, former deputy police chief Robert Morin, has never been charged.
Former police captain Michael Wagner faces federal tax evasion charges stemming from an alleged firearms trafficking scheme.
When allegations first surfaced about Salem police, Verrocchi took to social media to defend his department. The president of the local union representing Salem officers called the audit a waste of money and a "complete and utter pile of (expletive)."
He also wrote: "Wolves don't lose sleep over the opinion of sheep."
Indictments allege Verrocchi drove at a high speed for more than two miles while pursued by rookie Officer Sean York. He ran a red light and avoided a spike strip. He faces a felony charge of reckless conduct with a deadly weapon and disobeying a police officer, a misdemeanor.
According to the Police Standards and Training Council minutes, Verrocchi admitted to the prank in 2012 when confronted by his superiors. He received a one-day suspension.
His lawyers have gone as far as writing his side of the story in documents filed in the criminal case, but that document has been sealed, according to the court system.
"No part of this case is a surprise to anyone," said his criminal defense lawyer, Andrew Cotrupi of Hampton. "He told people in 2012 what he did and told investigators. If he has to tell a jury, he will."
Cotrupi has tried to get the case thrown out, arguing it exceeds the statute of limitations. He has also sought any instructions that prosecutors gave to the grand jury on the legal issues involving the case. A judge has rejected the requests.
The decision by the council means that Verrocchi will be cleared to get a job in law enforcement if he is found eventually innocent or prosecutors drop the charges.
"He fully plans to return to law enforcement. It's his life's work," Cotrupi said. He now works at his family's restaurant because of the case.
Meanwhile, Wagner has had his case transferred from a federal court in Massachusetts to U.S. District Court in Concord. His lawyers argued he just had a kidney transplant and is immunocompromised and at a greater risk of contracting the coronavirus in Boston than in Concord.
The case was transferred in September and District Court Judge Joseph Laplante, a former homicide prosecutor, quickly recused himself. The case rests with Judge Paul Barbadoro.
McClatchy-Tribune News Service