Fullerton cops receive death threats
DA won't release Fullerton officers' names
---
By Police1 Staff

SANTA ANA, Calif. — Prosecutors have pointed to at least 18 examples of threats made to Fullerton police officers after the death of homeless man Kelly Thomas.
Out of concern for officer safety, the district attorney's office declined to release the names of the six police officers involved in the July encounter, which sparked criticism of police when the videotape circulated online.
Threats against officers include menacing letters and several calls to dispatchers, according to the Los Angeles Times. Some callers named specific weapons they planned to use to hurt officers.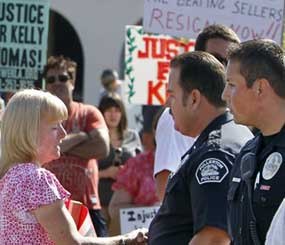 "One of these days, sooner than you think, we're going to pull out the M16s, the AK47s and all the other little fancy weapons we've been storing away for years... and we're going to turn them loose on you ... cops," one caller reportedly stated. Another caller allegedly asked the police department to send "officers they don't want" to his home.
Fullerton police spokesman Sgt. Andrew Goodrich says the department has also received voicemail pressing for the release of information about the case.
If charges are brought against the officers - who are currently on administrative leave - their names will be released, the DA's office said.