Hundreds gather at Colo. church to remember deputy killed in ambush
"I will do everything in my power, Zack Parrish, to honor you," Gracie Parrish, Officer Parrish's wife, said
---
By John Ingold
The Denver Post
LITTLETON, Colo. — The ventilation system whooshed inside the cavernous church sanctuary, and the deputy's widow stepped to the front. Gracie Parrish let out a long breath.
"Thank you for coming," she began. "I am overwhelmed by the love and support of the community and the nation. Never in my world would I have imagined this."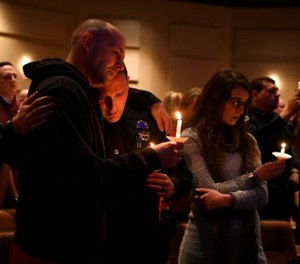 Thirty-six hours after her husband, Douglas County sheriff's Deputy Zackari Parrish, was shot and killed responding to a call, this was her first time speaking publicly in remembrance of him.
Hundreds gathered inside Mission Hills Church in Littleton on Monday night to listen to her words. Earlier, volunteers carried armfuls of tissue boxes to set in the rows. Each person walked in holding an unlit candle, to be used later in the evening's closing vigil.
But as Gracie Parrish spoke of her husband — holding the youngest of their two daughters in her arms — the church stilled.
"I will do everything in my power, Zack Parrish, to honor you," she said in a choked voice, "and I will raise these girls to love you."
Parrish, 29, was killed Sunday morning after responding to a call at the Copper Canyon Apartments on East County Line Road in Highlands Ranch. Four other law enforcement officers and two residents of the apartment complex were wounded before the gunman was killed, and the shock of the tragedy was evident in the church.
Large men gave each other hugs with thunderous slaps on the back, and the wives of deputies greeted each other with tears.
Parrish was an active member of the Mission Hills community, and the church's pastor asked mourners to grieve for Parrish but also to know that he is in heaven.
The pastor invited those in attendance to share stories. And, for more than an hour, they did.
His father-in-law remembered Parrish for his "bear-sized love" and the equally enormous hugs. His sister-in-law told of checking on Gracie the night before, only to find her looking up at the ceiling and talking to Zack.
His fellow law-enforcement officers — Parrish was a police officer in Castle Rock before becoming a Douglas County deputy last year — told stories of a deputy who cared about the community he served, relished the challenge of chasing bad guys, stayed late to make one more check on patrol and had a knack for finding things other cops missed.
There were stories about his impressions — Borat was a favorite. And his geeky passions — such as hunting for the best Christmas lights while patrolling neighborhoods.
And there were stories about his final moments.
Douglas County Sheriff Tony Spurlock told of listening to the audio from Parrish's body camera of the fatal encounter. Spurlock said it was apparent that the man who shot Parrish was troubled. He said he could hear empathy in Parrish's voice as he spoke to the man.
"He went to the call to help someone who killed him," Spurlock said. "He went there to help that guy … a guy who was troubled. And Zack knew that."
Parrish's sergent remembered Parrish's last words in the conversation where deputies planned how to approach the call.
"OK, let's go," Parrish had said positively.
And Michael Doyle, one of the deputies wounded on the call, remembered Parrish's courage to place himself in a dangerous situation. He watched Parrish walk first through the door, and Doyle said he followed.
"I would do it again without hesitation because that's the kind of influence he had on everyone around him," said Doyle, who spoke with a cast on his left arm.
More people rose to speak.
There were stories about how devoted Parrish was to his family — how much he talked, proudly, about his wife and daughters. There were remembrances of first meetings, hikes to Hanging Lake, notes of encouragement he left in his patrol car for the morning-shift deputy he shared the car with.
Among the speakers was a Douglas County corporal, Aaron Coleman, who worked with Parrish on the graveyard shift they called Graves B. Coleman told a story about the time he was training Parrish, and he let Parrish pick the music. The dial landed on the summer pop hit "Despacito," and the two uniformed officers turned their patrol-car radio as loud as it could go, rolled down the windows and sang along as they drove down Highlands Ranch Parkway.
"So, for any citizens of Douglas County who may have witnessed that, you're welcome," Coleman said.
Then he turned to Gracie and made a solemn promise: Parrish's fellow officers will watch over her family as their own.
"You are part of the Graves B team for life," he vowed.
As she had done with every other speaker, Gracie Parrish rose to embrace her husband's friend. And the only sounds in the church were the whoosh of the ventilation system and the gasps of the deputy's widow, as she caught her breath between sobs.
©2018 The Denver Post
McClatchy-Tribune News Service