Pa. trooper slain in ambush eulogized as impeccable officer
Police are still searching for 31-year-old Eric Frein, who is charged with killing Cpl. Bryon Dickson and wounding another trooper
---
By Michael Rubinkam
Associated Press
SCRANTON, Pa. — Cpl. Bryon Dickson was an impeccable officer who put his family first, friends and colleagues said Thursday at the slain state police trooper's funeral, hours before his suspected killer was added to the FBI's most wanted list.
Dickson "was no ordinary trooper," police Commissioner Frank Noonan told hundreds of mourners gathered at St. Peter's Cathedral in Scranton.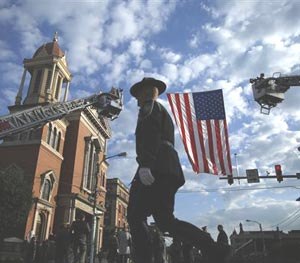 Dickson, 38, was gunned down late Friday outside his rural barracks in the Pocono Mountains. The days since have been "a whirlwind ... fueled by stress and gallons of coffee," Noonan said.
Police are still searching for 31-year-old Eric Frein, who is charged with killing Dickson and wounding another trooper in an ambush that authorities said was likely fueled by his hatred of law enforcement. Schools near the Blooming Grove barracks shut down a second day Thursday even as police said it's likely law enforcement, not the public, would be the target of any further violence.
Mourners attending Dickson's funeral Mass gathered "in sorrow, disbelief and anger," the Rev. Thomas Muldowney said, but he asked them to focus on the positive impact that Dickson made during his life.
Dickson, a Marine Corps veteran who joined the state police in 2007, had worked as a patrol unit supervisor in the barracks since June.
The word that best describes Dickson is "impeccable," Cpl. Derek Felsman said during his eulogy. Felsman said his best friend took perfect care of his wife, crafted flawless wood toys for his two sons and always wore a crisp and spotless uniform with gleaming leather boots and belt.
He regularly worked past quitting time to take drunken drivers off the street, Felsman said. But he also had a sense of humor.
Working the midnight shift in Philadelphia and unable to spend last Valentine's Day with his wife, Dickson agreed to eat dinner with Felsman. They walked into a candle-lit Italian restaurant and found it packed with couples.
"At first, he couldn't believe we were actually getting a bite to eat surrounded in an atmosphere of mushiness and romance. He quickly overcame those thoughts, and then jokingly asked me to ask to sit on the same side of the booth as him," Felsman said, drawing laughter.
Thousands of law enforcement officers from around the country came to Scranton to pay their respects, lining up 10 deep for the funeral procession under a brilliant blue sky. A single bell tolled for more than 20 minutes before the casket arrived, and the sea of uniformed officers stood at attention in silence.
As Dickson was being laid to rest, the hunt went on for a man police described as a self-taught survivalist who had expressed anti-law enforcement and anti-government feelings. Frein has also been charged federally with unlawful flight to avoid prosecution.
Police said Frein was involved with a military simulation group from eastern Pennsylvania whose members portray soldiers from eastern Europe. His FBI most wanted posted said Frein "claims to have fought with Serbians in Africa, and he has studied Russian and Serbian languages."
At a news conference after the funeral, police said they believe Frein is hiding somewhere in the area, though they wouldn't say how they came to that conclusion. Adding Frein to the FBI's most wanted list allows the agency to use more resources to find him and to offer a $100,000 reward, in addition to a $75,000 reward offered by a private group, Pennsylvania Crime Stoppers.
"We have now made the world where he could hide a very, very small place," said Edward Hanko, special agent in charge of the FBI's Philadelphia office.
Police found Frein's abandoned SUV a couple miles from the barracks.
State police have warned the public that Frein, of Canadensis, is dangerous, saying he has talked about committing mass murder. They are urging residents to be alert and cautious, but Lt. Col. George Bivens has said he believes Frein will stay focused on a "personal battle with law enforcement."
The suspect's 18-year-old sister, Tiffany Frein, told NBC News her brother "did something messed up" but is "not a psycho."
"We're not trying to protect him. He has to suffer the consequences. But he's still our family," she said.
Copyright 2014 The Associated Press