Woman starts police training after brother dies in line of duty
After graduation she'll get badge number 4637 – the same one her brother had worn
---
By Suzie Ziegler
PATERSON, N.J. – Bavennia Franklin was a young teenager when her brother, Tyron, was killed in the line of duty. He'd been with the Paterson Police Department for eight months. 
Now, Bavennia Franklin is 27 and set to follow in her brother's footsteps of becoming a cop. According to Northjersey.com, Franklin started training this month for her own career as a Paterson police officer.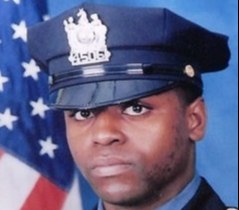 "I'm a ball of emotions," she told reporters. "I feel nervous, excited, confident and curious. All those things and more. My brother made the sacrifice. I want to carry what he did forward." 
Those who know both siblings say Tyron would be just as proud for her as she was for him when he became a Paterson officer in 2006. 
Franklin's husband, Daniel Marks, knew her brother years ago. 
"He would be ecstatic," Marks said. 
Paterson Public Safety Director Jerry Speziale called them "a special family." 
"I've been in law enforcement three decades and I never heard of anything like this," Speziale said. "When you have a kid on the job, you worry about their safety every minute. Here's a family that lost their son, and now they have this daughter who's going to follow in his footsteps." 
After graduating from college with a major in criminal justice, Franklin landed a civilian position in the criminal records office at the Paterson Police Department. Franklin told reporters that working in the same police headquarters where her brother had served was strange at first. She saw pictures of him in the hallways, framed newspaper clippings about his death and his name engraved on a memorial outside the building. 
Eventually, Franklin decided she wanted to be more than a civilian member of the department. 
She remembered how proud she was when her big brother completed training and became an officer. 
"I had so much respect and admiration for him," Franklin told reporters. 
She took the oath of office on July 13 with 19 other recruits, according to Northjersey.com. After graduation she'll get badge number 4637 – the same one her brother had worn.