News typo stirs concerns over alleged police 'UFO'
The timing of the typo was unfortunate, coming just weeks after the department quelled rumors that drones were being added to the force
---
Editor's Note: Before you start writing any angry emails, please note the date of publication - April 1. We hope you enjoyed all of our April Fool's coverage. You can check them all out, here.
ROSWELL COUNTY, Texas — An unfortunate case of transposed letters in a news article on the local police department's 'UFO training' has left anxiety at an all-time high among the already suspicious citizens of West Hysteria.
The mistake appeared in a Sheep's View Sentinel article covering new departmental training on force guidelines for undocumented aliens. The timing of the typo was unfortunate, coming just weeks after the department quelled rumors that drones were being added to the force for deeper surveillance of the once-sleepy farming town.
"I knew they went ahead and bought them damn surveillance bugs. Let's see how much snoopin' they get done after I tinfoil my yard," said Bo Bixby Jr., a potato farmer who says he believes the Sentinel's redacted report is "just more cover-up."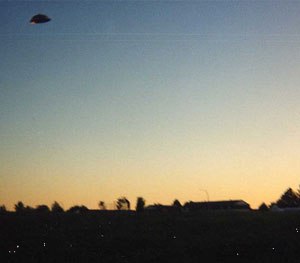 The department's PIO immediately issued a statement to address the error and put rumors to rest, but some local residents have been hesitant to take the department at its word. Some officials believe the fact that TASERs already look like 'Star Trek' phaser guns hasn't helped matters.
"I shouldn't be surprised that the members of this community inferred 'UFO' training was somehow admission by the department that we're training for the use of drones," said Sgt. Howard Crull. "Just like I shouldn't be surprised that these people, who know we're toting around radios from 1996, think we're able to fund drones."
Sentinel staff writer Mel Owens, who is responsible for the typo that set off the dustup, is in no rush to put the issue to rest.
"You know, even I thought it was a clumsy mistake at first but, since it was released I've heard so many stories of suspicious flying objects around here, I'm thinking it was like a subconscious hunch or something," said Mel Owens. 
This is the second slip Owens has made when covering police topics. Last September she reported that the town's taxes were increasing in order to purchase an armored vehicle and high-powered weapons for the department's new SWAG unit.