3 ways a 3D laser scanner can benefit your agency
Scan crime and crash scenes quickly and accurately for reconstruction, analysis and courtroom presentation
---
Sponsored by FARO Technologies
By Police1 BrandFocus staff
Painstakingly measuring and documenting the scenes of crimes and traffic accidents can be a tedious undertaking, but gathering this information is crucial to the investigative process. New technology offers a way to both accelerate and enhance the accuracy of these scene investigations.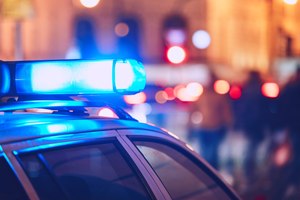 Laser scanners, such as the FARO Focus or Freestyle series, can quickly and accurately collect millions of measurable data points at a crime or accident scene. These measurements are stored for later analysis, and the data can be transformed into a model of the scene exactly as it was at the time of capture.
Here are three ways a 3D laser scanner can help your agency process scenes more effectively and efficiently.
1. Capture a comprehensive record
A 3D laser scanner can greatly enhance the accuracy of evidence gathering because the entire scene is captured in millions of data points at the scene. Everything the laser can "see" is recorded, and the data points are called a 3D point cloud.
All details of the scene are captured, which provides an accurate representation of the evidence, including blood spatter, the location of artifacts, skid marks, and vehicle positions or charring patterns. You can use this point cloud later to digitally take measurements, create diagrams, animate scenes and present "walk-throughs" for courtroom presentations.
2. Save time, preserve evidence
Investigators can document all evidence at the scene with a laser scanner in far less time than what is required by traditional, manual methods. This is especially helpful when you need to clear the road, and unlike a dynamic crime or crash scene, the recorded point cloud never changes.
Because the data is stored for analysis when your agency is ready, you never have to return to the scene to take more measurements. Investigators and forensics specialists can use the 3D point cloud after the fact to create a model of the scene and measure locations, evaluate points of view and explore scenarios.
3. Recreate the scene for court
Law enforcement agencies can use the point cloud to create diagrams and animations to recreate the scene to provide visually compelling testimony in court. Prosecutors can then walk the judge or jury through the scene using a 3D model created from the point cloud to show exactly how it looked at the time of the incident.
FARO 3D laser scanners
FARO provides lightweight, portable and easy-to-use laser scanning tools to capture exterior and interior scenes. FARO scanners can record millions of measurements in seconds, within 1mm of accuracy. 
FARO FocusS series scanners capture color images for both interior and exterior scenes, in bright sunlight or in complete darkness. They are portable and weigh less than 10 pounds, including the battery.
The handheld FARO Freestyle3D is particularly useful for capturing small details in hard-to-reach spaces at indoor scenes and outside in low-light situations.
How one agency is using laser scanners
In his 30-year career as a crash reconstructionist, Bobby Jones, assistant chief deputy of the Knox County, Tennessee, Sheriff's Office, has captured scenes with tape measures, total stations and now a FARO Focus laser scanner. Jones appreciates the amount of time using the scanner saves when documenting crash scenes.
"Scanners are going to become a way of life for all of us investigators," Jones said. "They're accurate, reliable, efficient – and now they are affordable."
Jones estimates 33 minutes to scan the scene and 70 minutes from the time arrived on scene until completion of the final diagram and analysis. He uses FARO software applications to obtain critical measurements from the captured data, to analyze the crash and to create compelling exhibits for courtroom presentations.

Request information from FARO Technologies
Thank You!