Case study: How one crime investigations unit cracked open a crime network and increased multijurisdictional collaboration
One DA's office leveraged a tool considered the 'Google for law enforcement' to use a torrent of data to its advantage
---
Due to the sensitive nature of the investigations handled by the district attorney's office, we have changed the names of individuals mentioned in this case study.
Sponsored by Forensic Logic
By Police1 BrandFocus Staff
There's nothing new about law enforcement's use of data. In fact, it's a centuries-old practice to stitch together bits of information to make sense of what happened and who was involved, but today's explosion of digital data has officers facing the new opportunities and challenges that come with analyzing a sea of information.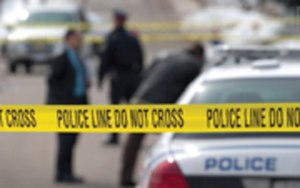 Former cop turned Harvard professor Malcolm Sparrow, in "New Perspectives in Policing," underscored that understanding "the structure of the knot" of crime, or the bigger pattern, can help agencies develop a tailor-made strategy to address those crimes.
Having access to all relevant data points is a key part of any investigation, yet that information has been traditionally been hard to view and use. For instance, it's been pretty common for investigators to log into multiple databases requiring separate logins to view all of the evidence tied to a specific case. It's a problem for many detectives, especially since precious time that could be sent on analyzing crimes instead is wasted on compiling disparate pieces of information into one place.
Recent technological advantages have also made it easier for criminals to take increasingly sophisticated measures to commit crime. That's why investigators can miss out big time if they're not leveraging the right technological tools that can help them improve their investigations.
One law enforcement agency in California formed a strategic investigations unit designed to tackle some of the city's biggest public safety concerns. With a team of crime analysts and investigators, the agency of about 20 staffers handles around 150 or more cases per year. As the strategic crimes arm of a high-profile district attorney's office, the agency wanted to adopt a data search tool that put all the information they needed in an investigation on one screen.
The challenge: Breaking down information silos
Soon after the strategic investigative agency was formed, it needed to find a relational database tool that helped combine evidence from different sources into one place. After all, the agency's goal was to collaborate and help law enforcement agencies understand who and what is driving crime. Soon after its inception, the agency quickly rolled out Forensic Logic's LEAP Search, a law enforcement information portal that functions as a search engine for investigators.
The decision to adopt LEAP Search was a no-brainer, says Joanna Smith, the agency's lead analyst.
"The mission of the unit was to be data-driven, and as the principal analyst I wanted to get my hands on as much data as possible," she said. "The user interface and [the platform's] ease of use was a huge selling point – there's a treasure trove of information that keeps growing exponentially every year."  
Law enforcement databases often lack search functionalities, so gathering needed evidence can take up a lot of time, often involving back-and-forth phone calls and faxes and delays while waiting for responses.
The solution: LEAP Search helps investigators see the big picture
Once the agency started using LEAP, which works just like any online search engine, they were able to easily access critical information through its network of billions of documents that include court, evidence and lab data, NIBIN shell casing reports, arrest records, parole and probation records, warrants, body camera footage and more.
All investigators needed to do was enter search terms that related to the case. For instance, analysts could enter what they knew about the case, such as a suspect's name, driver's license number, phone number or home address and be able to pull up information from various systems and databases across multiple law enforcement agencies.
With this new tool, the agency was able to effectively piece together disparate pieces of information across agencies of various jurisdictions and collaborate more efficiently with other police departments.
One of many cases LEAP helped shed light on involved a string of robberies that cost a major drug store chain and other drug stores in a major metropolitan area over $120,000. The investigators on the case used LEAP to see if there were cases with similar M.O.s that matched with robberies in other jurisdictions. Using the search engine platform, they were able to find similar occurrences reported to other law enforcement agencies and match the cases to a much larger robbery series that turned out to be a massive fencing operation that turned into a federal case.
LEAP Search also aids in human and sex trafficking cases. For instance, investigators were able to identify minors in trafficking ads by inputting the phone number on these illicit advertisements. In several cases, the victims were able to get help through an intervention thanks to information uncovered from LEAP.
The Results: Increased inter-agency collaboration and diminished data silos
After leveraging LEAP as the go-to investigative tool for officers on the strategic crimes team, the agency found that the platform was key to increased collaboration among agencies.
"Through our close collaboration, we've built a lot of trust and good will among our agency partners, and that has lead them to also embrace LEAP," said Smith.
Implementing new software often involves lengthy onboarding and training sessions, but what makes LEAP an appealing choice for departments is the minimal training it requires from users.
"A lot of times tools sold to law enforcement agencies have lots of bells and whistles that require a lot of training and instruction manuals, and often because of that they become underutilized because it requires too much effort to use them, even if they ultimately pay dividends," said Smith."The threshold to use LEAP very effectively is very low, so it's a powerful tool that's very easy to use." 
What use are torrents of data if you can't decode them? No industry is immune to the changes and challenges of harnessing an ever-expanding flow of data. That's especially true for law enforcement agencies seeking to use data-driven insights to solve crimes. Data silos decrease the efficacy and speed of any investigation, but harnessing data effectively by using a tool like LEAP can bring about lasting positive change.
"This is why we always shout it from the rooftops about how much we love this tool," she said. "It serves an essential need in our unit, which is to be able to quickly search for pieces of information and then see how those pieces of information can connect and give us a full, complete picture of a given situation." 

Request information from Forensic Logic COPLINK
Thank You!