3 teens rescued after car veers off cliff, lands on girl
Driver suffered only minor injuries because a depression in the roof of the car created a space that enveloped her
---
By Paul Davenport 
Associated Press
YAVAPAI COUNTY, Ariz. — Three teenage girls were rescued after their car careened over a 100-foot cliff in Northern Arizona and landed on top of the 16-year-old driver after she was thrown from the vehicle, officials said Thursday.
The driver suffered only minor injuries because a depression in the roof of the car created a space that enveloped her when the car flipped over and landed.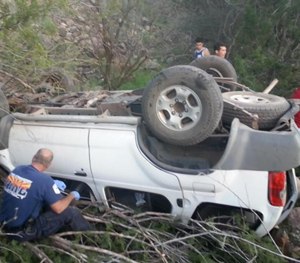 It took dozens of safety personnel from multiple agencies about five hours to extricate the girl late Wednesday in a remote high desert area west of Strawberry.
The teen was listed in good condition Thursday at a Flagstaff hospital while the other two girls, ages 16 and 17, were released, according to Yavapai County sheriff's officials.
No names were immediately released.
Two of the teens had managed to climb up to the road when an ambulance crew responded to a 911 call from a passer-by, said Capt. Paul Voakes of the Pine-Strawberry Fire District.
Rescuers used ropes to go down the cliff or hiked in via a creek bed to reach the upside-down car.
The girl was face-down and responders could see only one hand and a foot until using inflation bags and other gear to lift the car, Voakes said.
"When we first got there, she was pretty excited as I think anybody would be," Voakes said. "We calmed her down."
Voakes and the sheriff's office said the driver apparently lost control after taking a curve too fast. The sheriff's office said there was no sign of alcohol or drug use.
The girls were returning from the popular Fossil Creek outdoor area when the accident occurred near the border of Gila and Yavapai counties.
Responding agencies included the sheriff's office from each county along with firefighters from the Pima-Strawberry and Camp Verde fire districts and the Tonto Rim Search and Rescue Squad.
"We all met our end goals in getting her out of there," Voakes said.
Copyright 2015 The Associated Press

Request product info from top Police Accident Reconstruction companies
Thank You!