5 applications for UAS in law enforcement
From accident reconstruction to search and rescue, drones are a game-changer for law enforcement operations
---

Editor's note: Law enforcement agencies nationwide are adopting unmanned aerial systems (UAS) – also known as drones – for operations as diverse as search and rescue, traffic accident reconstruction and SWAT response. PoliceOne's special coverage series – 2018 Guide to Drones in Law Enforcement – takes an in-depth look at considerations for police departments looking to implement a UAS program.
Unmanned aerial systems (UAS) – more commonly referred to as drones – are poised to transform law enforcement operations at a level not seen since the introduction of body-worn cameras. The technology has exploded in recent years, and the relatively low cost of drones means agencies of all sizes can utilize them. For larger agencies, a drone is an essential addition to an air unit that can significantly reduce operational expenses. For smaller agencies, drones provide an airborne asset that was previously financially out of reach.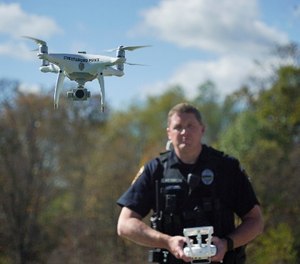 According to an April 2017 report by Bard College, at least 347 U.S. agencies have acquired drones, with law enforcement leading the pack in acquisitions. If your police department doesn't have a UAS, it's likely that the conversation about acquiring one has already started. From accident reconstruction to search and rescue, the utility of the technology cannot be overstated. Here are five applications for drones in law enforcement.
1. Traffic Accident Reconstruction
Quick clearance is one of the most important elements of managing traffic accidents in order to ensure the safety of officers and others on the roadway. But that cannot be done before the scene is documented.
Drones significantly reduce the amount of time (and money) it takes to capture and clear a traffic accident scene, while providing investigators with comprehensive data to determine what happened. Police in Lake County, Illinois, estimate the technology reduces five hours of on-site worktime to three or less, according to the Daily Herald.
Agencies can use the technology to capture an aerial view of the scene and reconstruct it digitally in an easily-accessible 3D model for detailed analysis. Iain Lopata of Northwestern University Center for Public Safety told the Herald that drones are particularly good at locating and capturing fluid trails from crashed vehicles, which can be difficult to spot via other methods of accident reconstruction. And because it's an aerial technology, it's perfectly suited to capture larger-scale accidents given the amount of distance it can cover in a brief period of time.
2. Search and Rescue
Similar to reconstructing crash sites, drones are particularly well-suited for search and rescue because they can cover a lot of ground quickly. Benefits to using this tech in rescue ops include reductions in cost and risk to personnel that come with using manned aircraft.
In May 2013, the Royal Canadian Mounted Police claimed the first known recorded save attributed to the tech. When a helicopter equipped with night vision failed to find an injured man who'd crashed his vehicle in a remote area, the agency flew a UAS outfitted with infrared to the victim's last known location and managed to pick up a heat signature.
From spotting lost hikers to locating missing autistic children, countless examples highlight how law enforcement agencies are successfully finding and rescuing civilians with the help of UAS technology. A mental health advocacy group, Alzheimer's Outreach Group LLC, has even donated drones to police agencies to help locate lost people with Alzheimer's. In November 2017, police in North Carolina used the tech to find a woman with dementia who was hiding in a corn field.
3. Active Shooter Response
Drones can also serve a role in active shooter response. One of the more well-known examples of using UAS to assist in stopping a gunman was during the 2013 Alabama bunker standoff. The FBI used a drone to surveil and ultimately rescue a 5-year-old boy taken hostage by Jimmy Lee Dykes, who was armed and barricaded inside a 6-foot by 8-foot bunker for nearly seven days. Anthony DeMolina, Director of Aeronautical Training at the Los Angeles County Regional Training Center, believes tactical applications are the most significant advantage UAS technology offers police.
"Where we're at right now is in the growing pains phase where we're transitioning over from search and rescue, and crime scene/traffic accident scene documentation uses to a more tactical use of drones," DeMolina told Police1. "The biggest advantage of UAS is it provides officers with situational awareness. If they're using UAS in either point or an overwatch mode, they are provided with a view of what is in front of them."
Drones can gain crucial intelligence on a suspect's location without risking the lives of officers when turning blind corners in a building or attempting to locate an armed suspect who has the high ground, like in the Las Vegas mass shooting last year that left 58 people dead and 851 injured.  
"There are a number of ways to use UAS – it's either at the front of a search team working with K9 or in an overwatch mode," DeMolina said. "In the Las Vegas scenario, possibly drones could have been used to pinpoint the exact location or used on an interior search to try to clear the hallway going toward the suspect."
4. Surveillance and Crowd Monitoring
Whether it's monitoring activity at a drug house before a raid or scanning a crowd for potential terrorist activity, a UAS can serve as a critical surveillance tool. The city of Louisville recently applied to be part of a pilot program that would send automated drones to locations of shootings detected by ShotSpotter – potentially capturing evidence of the incident before police arrive. The intelligence the UAS captures would be streamed directly to local law enforcement. The city believes the program could help future investigations into gun violence.
The Brunswick Police Department in Maine is currently working with the Federal Railroad Administration to use UAS to patrol train tracks to spot trespassers and potentially save lives.
"We can cover a mile in every direction in a fraction of the time (with a drone)," Brunswick Patrol Commander Thomas Garrepy told the Portland Press Herald. "It's more of education and detection. So we're going to detect the violations, and send an officer out to educate them. We're trying to prevent fatalities before they occur."
In Las Vegas, police used drones to spot suspicious packages or unusual activity during New Year's Eve celebrations on the Strip. Just months after the deadliest mass shooting in modern American history, they also used the technology to monitor hotel windows in an effort to thwart any copycat killers.
"The biggest thing is to provide support to our officers and to provide a better aerial view," LVMPD Officer David Martel told the Las Vegas Review-Journal. "It's hard to get the helicopter along the Strip. Drones are a lot smaller, and you're able to get into tighter areas."
5. Crime Scene Analysis
In addition to traffic accident reconstruction, law enforcement agencies can use UAS to create a 3D model of a crime scene that enables investigators to zoom in and out of any part of the scene from any angle. The LVMPD did precisely that in the aftermath of the Las Vegas mass shooting, and that's just one example of a practice that's becoming increasingly widespread among agencies.  In the case of a crime scene on a scale as large as the Vegas incident, a UAS could save investigators hours of time in photographing the scene while providing a detailed visual that can be later used during prosecution.  
SKY'S THE LIMIT
The biggest advantage to UAS in law enforcement is the ability to go where police officers can't go. From hazmat calls, surveying damage from natural disasters and responding to bomb threats, the technology can fundamentally change how police agencies respond to a wide range of incidents and help keep the public safe.
"I expect in the next five years drone use is going to be commonplace," DeMolina said. "As technology evolves, UAS with sensors and sniffers that can analyze possible explosive devices or see if a cloud is toxic down range, is where this technology is really going to pay off."

Request product info from top Police Accident Reconstruction companies
Thank You!