Cops weigh in: The impact of UAS on policing
We asked our readers how their police agencies were using (or planning to use) drones and some of the challenges they've faced along the way
---

Editor's note: Law enforcement agencies nationwide are adopting unmanned aerial systems (UAS) – also known as drones – for operations as diverse as search and rescue, traffic accident reconstruction and SWAT response. PoliceOne's special coverage series – 2018 Guide to Drones in Law Enforcement – takes an in-depth look at considerations for police departments looking to implement a UAS program.
By Police1 Staff
Unmanned aerial systems (UAS) are going to fundamentally change law enforcement operations. According to an April 2017 report by Bard College, at least 347 U.S. government agencies have acquired drones, with law enforcement leading the pack in acquisitions. In all likelihood, the technology will be commonplace in police departments within the next five to 10 years.
As part of our special coverage, 2018 Guide to Drones in Law Enforcement, we asked our readers how their police agencies were using (or planning to use) drones, some of the challenges they've faced, and how they've approached their messaging to the community.
A total of 203 officers from urban (36 percent), rural (30 percent), and suburban (34 percent) agencies weighed in. Take a look at the results below.
1-2. Does your agency currently have a UAS program? If no, why not?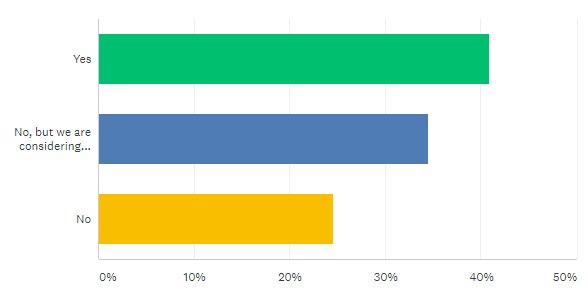 The majority of respondents either already have a UAS program in their agency (41 percent) or it's currently under consideration (34 percent).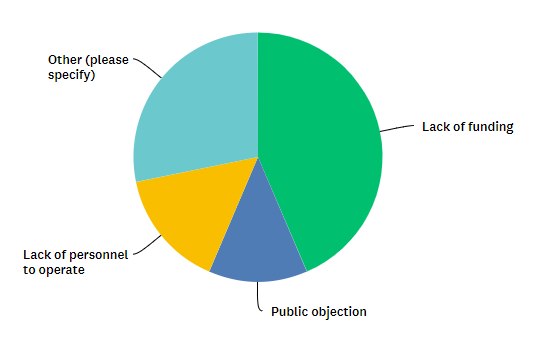 For the 24 percent who said their agency doesn't have a UAS program and isn't considering one, the majority (44 percent) cited funding issues as the primary reason why. A lack of need, fear of lawsuits and absence of interest were the most common responses from those who selected the "other" option (28 percent).
3. Use of Part 107 license and Part 91 COA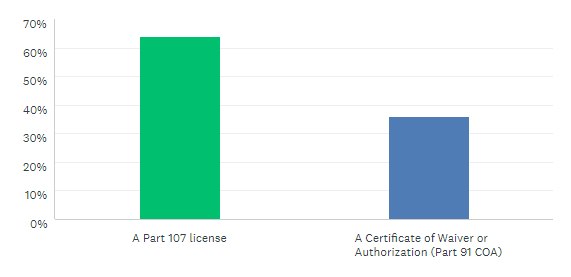 Agencies have two regulatory options for using their UAS. Sixty-four percent of officers who took our survey said their agency has a Part 107 license. Thirty-six percent said their agency uses a Public Operator Certificate of Authorization, commonly referred to as a Part 91 COA. For information that can help you choose the best FAA regulation for your agency, you can find P1 contributor Andy Osantowske's in-depth analysis on the topic here.
4. What type of training has been provided to your UAS operators?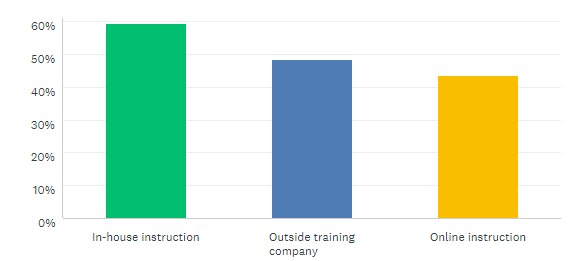 A comprehensive training program is key to successful rollout and deployment of a UAS program. The results from this question were pretty evenly split: 59 percent of agencies use in-house instruction, 48 percent use an outside training company and 44 percent of agencies make use of online instruction.
5. What is your department using (or planning to use) the UAS for?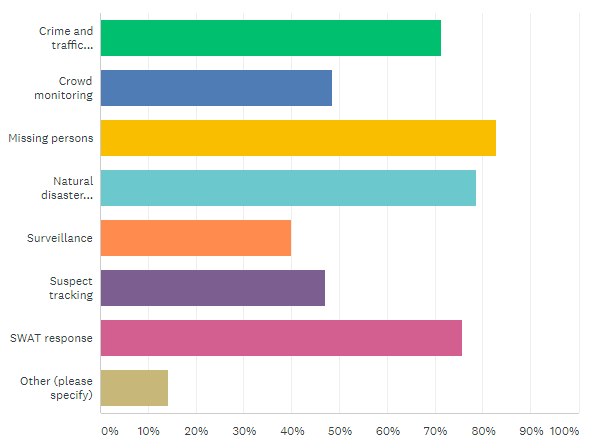 From standoffs to traffic accident reconstruction, the utility of drones cannot be overstated. The most common responses to what police agencies are using the technology for were:
Missing persons (83 percent);
Natural disaster response and assessment (79 percent);
SWAT response (76 percent);
Crime and traffic accident scene analysis (71 percent).
For a breakdown of five LE operations that can be transformed through the use of UAS, click here.
6. How many drones does your department have (or plan to have)?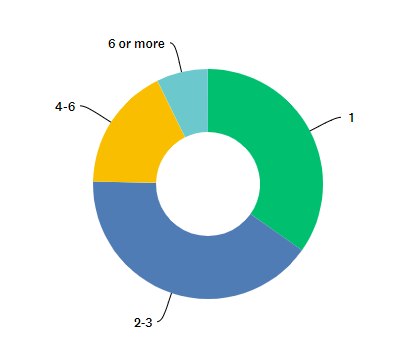 Most respondents (41 percent) said their agency owns or plans to own two to three drones. Thirty-five percent said their agency only plans to own one.
7. What model of UAS does your agency have (or plan to have)?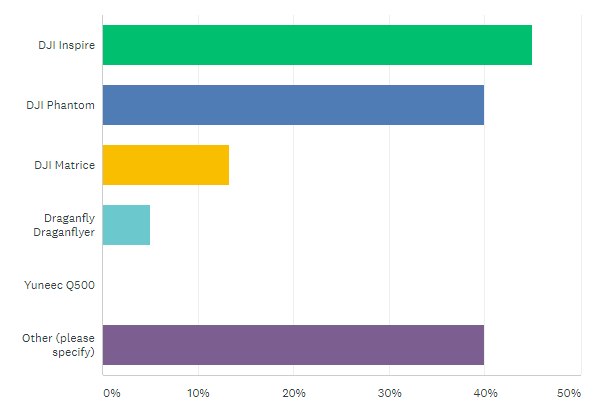 There are many different UAS options on the market. The DJI Inspire and Phantom models, which are popular among civilians, also proved to be the most popular among our respondents (45 percent and 40 percent). Lockheed Martin's Indago and the 3DR Solo got the most mentions in the "other" category. With so many options, it can be difficult to pick the right model for your agency; here are seven factors to consider.
8. Have you experienced any public pushback to the news that your agency acquired (or plans to acquire) a UAS?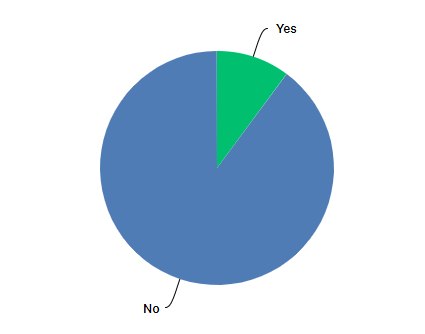 Perhaps surprisingly, the majority of respondents (90 percent) did not experience public pushback against the use of law enforcement drones. But getting the community's approval quickly and easily is not a guarantee. Here's how you can help your community understand how unmanned aerial systems can improve public safety.
9. What steps have you taken to educate the public about your UAS?
Given the "big brother" narrative that usually brews among the public with the introduction of any new video technology in law enforcement, it's important to address community concerns before they balloon.
Our survey respondents reported a number of public awareness initiatives their agencies employed during their UAS program roll out. Among them:
A citizens police academy focused on the technology;
Using National Night Out to introduce the public to drones
Documenting examples of UAS in action (such as searches for missing persons or arrests);
Media Q&As;
"Show and tell" programs.
The common thread in all of these approaches is helping the public understand how the technology keeps them safe; you need to break the Orwellian stigma usually associated with drones. For a more detailed analysis of how your agency can achieve community support for a UAS program, click here.