How a GNSS receiver expedites forensics workflow
Given the time-sensitive nature of the work, many reconstruction specialists have adopted new technology to improve the workflow
---
By Linda Duffy
Sgt. Starrett is assistant district commander of the Iowa State Patrol. He has years of experience collecting forensic data in the field. In the aftermath of a crash or crime, he and his team are responsible for assessing the situation and collecting information for forensic analysis.
Like other law enforcement officials, he works to preserve the evidence before it is lost, so speed and accuracy are a high priority. He must clear crime and crash scenes quickly, while also ensuring public safety and keeping officers safe.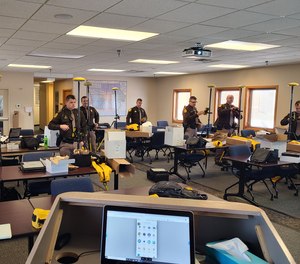 Reconstruction specialists must be equipped with the latest data collection tools to do their job well. Given the time-sensitive nature of the work, many reconstruction specialists have adopted new technology to improve the workflow.
The Iowa State Patrol found that collecting data at a large crime or crash scene was time-intensive when using total stations that must be moved and set up at multiple points to ensure full coverage. After experimenting with drones, they made the switch to drones and Global Navigation Satellite System (GNSS) receivers, which are typically lightweight and attached to a single pole.
A GNSS receiver is an electronic device that receives and processes signals from a navigation satellite, making it easier and more efficient to collect measurements on the ground when combined with images captured from a drone. The receiver tracks signals from GPS, GLONASS and BeiDou satellites. Starrett uses a GNSS solution designed specifically for reconstruction professionals working under time constraints in adverse conditions.
"GNSS can be operated by just one person, with no need to calibrate or level the equipment," explained Starrett. "In a fraction of the time it would take with a total station, we can collect the ground control with the GNSS and collect images of large areas with the drone. The efficiency is a huge advantage when dealing with major highway crashes."
For forensics projects, the Iowa State Patrol has nine GNSS receivers strategically placed throughout the state that are accessible to reconstruction teams. Sgt. Starrett cites one accident when his team responded to a 40-vehicle pile-up on westbound I-80 caused by poor visibility and icy roads. One officer handled the GNSS system to collect the necessary measurements around the crash scene while Sgt. Starrett operated a drone.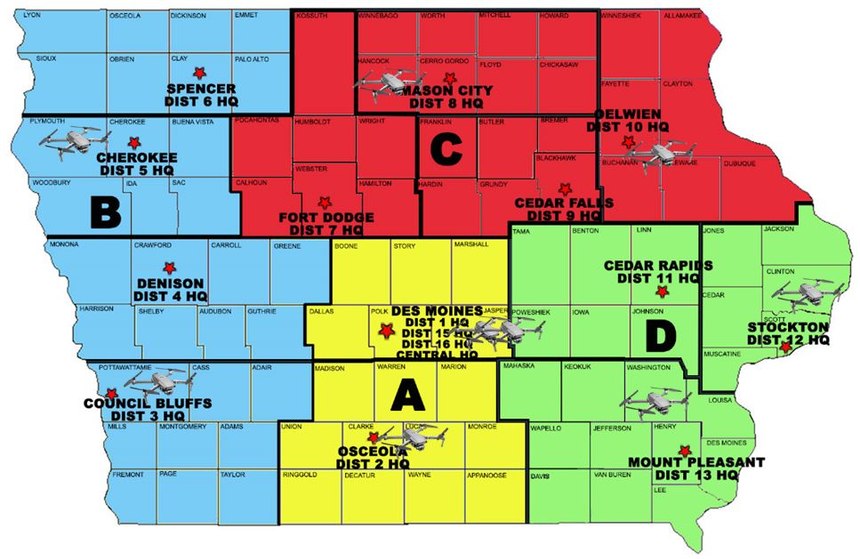 Clearing the scene quickly of damaged vehicles helps prevent secondary accidents that endanger the public and the officers, he said. In about 35 minutes, the team had ground control points and pictures of an area approximately 1,000 feet long and 100 feet wide. The data collection would have taken 5-6 hours with a conventional total station.
High volume, high accuracy
To collect the data, the State Patrol uses a handheld device that stores the points and measurements from the GNSS receiver. The user interface works well when there's pressure to move quickly but still maintain accurate results.
The GNSS creates a 2D bird's-eye view with horizontal, vertical and elevation info (x,y,z). The photos taken by the drone and the measurement points from the GNSS are transferred to the office and a 3D model is created by linking the positional data to the corresponding drone imagery.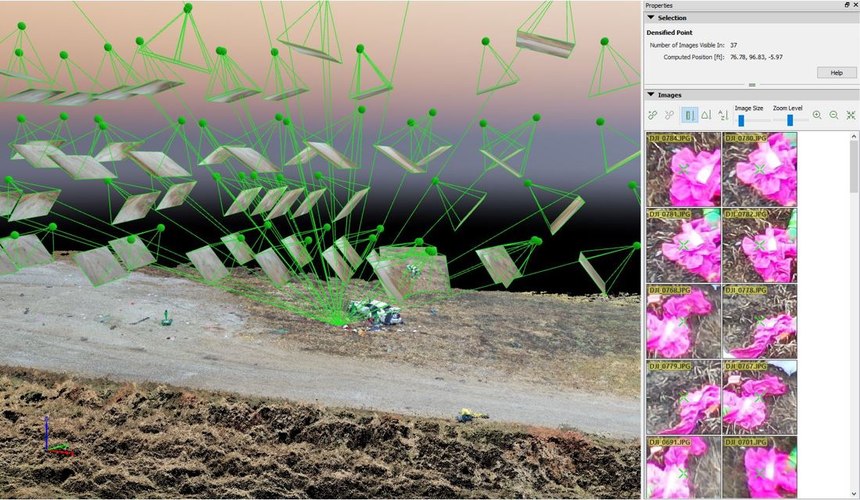 "We are collecting three to four times the amount of evidence with the GNSS and drone compared to the total station," said Starrett. "It's so important to be able to see skid marks, shadowing and gouge marks in the pictures, because we can't go back when evidence is missed."
The resulting information is used to support law enforcement investigations, criminal prosecutions and litigation. Line-of-sight analysis shows the driver's point of view, and time/distance analysis establishes fault in accidents. Graphics, fly-through videos, orthomosaics and animations are used in court to reconstruct the incident and demonstrate the chain of events.
"Since purchasing GNSS, we have received positive feedback from reconstruction staff in the field," said Starrett. "Any law enforcement department trying to improve reconstruction capabilities should add GNSS, not just for the safety but also the time savings."
---

2021 guide to drones in law enforcement (eBook)
It is hard to think of any technology that has seen such rapid and widespread integration into law enforcement operations as drones. The number of agencies using UAS has skyrocketed, as has the number of use cases for police drones. It is the diversity and affordability of this new technology that makes it so invaluable for police departments.
---
About the author
Specializing in geospatial technology, Linda Duffy has worked as a freelance writer and market researcher since 2003.

Request product info from top Police Accident Reconstruction companies
Thank You!