How to find grant funding to purchase 3D laser scanners
Grant dollars are available to support law enforcement technology purchases at the federal and state level and from private foundations
---
Sponsored by FARO Technologies
By Therese Matthews for Police1 BrandFocus
Identifying a funding source within your agency to purchase much-needed equipment is always a challenge. With shrinking budgets, rising personnel costs and competing priorities, public safety agencies are continuously balancing the resources needed to effectively perform their jobs.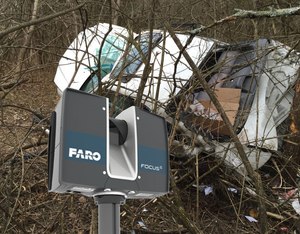 Grants are a perfect solution to secure funding. Federal, state and private foundation grants are available from a variety of sources.
Which grant to apply for may depend on your use of the tools. This grants guide focuses on 3D laser scanners for crime or accident scene analysis and modeling. Some key questions to ask when preparing an application for funding are:
Will the equipment enhance your crime scene analysis to deliver impactful courtroom material?
Will the equipment be used for accident reconstruction to quickly improve traffic safety and minimize congestion?
Will the equipment help you quickly measure and document a potentially toxic environment during arson investigations?
This article covers the most common grants funding sources to consider based on your intended laser scanning equipment use:
For Crime Scene Analysis: JAG, Coverdell and Homeland Security
Justice Assistance Grants (JAG) are one of the largest sources of grant funding to support law enforcement equipment purchases. Technology improvements, forensics and enhancing prosecution are all allowable areas covered by this grant funding source.
Many local municipalities across the country receive a local JAG allocation directly from the federal government based on their share of their state's three-year violent crime average. If your county or city is a local JAG recipient, encourage your grant administrators to earmark a portion of the funding for 3D Laser Scanners.
Each state and U.S. territory also receives an annual JAG award for competitive funding that is available to local and state agencies that don't qualify for the local allocations. Most states hold annual open application periods to solicit proposals that fit into their state criminal justice plan. Reach out to your State Administering Agency (SAA) representative to discuss your needs and inquire about the next application period.
The Paul Coverdell National Forensic Science Improvement Grant Program is another federal funding source specifically focused on improving the quality and timeliness of forensic science and medical examiner/coroner services. This funding must be used for one of six purposes including emerging forensic science technology. Grants are awarded two ways – on a formula basis through your State Administering Agency (SAA), or you may apply directly under the competitive grant opportunity. Competitive grants awards are up to $250,000. State formula grant awards vary based on population size.
Consider applying for Homeland Security Grants if your equipment will be used for analyzing domestic or international terrorism events or other crimes that threaten your community. Most of these federal grants are received through your state's homeland security or emergency management agency, but decisions on the uses of these funds are based on local planning. Grant applications for equipment that will be used as a regional asset may receive more favorable consideration.
Grants awarded through corporate and private foundations are also excellent sources to consider. Big box stores such as Target, Walmart and Sam's Club offer grants to support public safety and community wellness. Sandwich shop chain Firehouse Subs has also provided grants for law enforcement and first responder equipment across the country. National freight railroad companies such as CSX, Union Pacific and BNSF administer grants with a focus on keeping the communities safe where their lines are operating.
Finally, consider reaching out to your local community foundations to see if they offer grants to support your equipment/technology needs. These private foundations focus on supporting agencies that keep our communities safe, vibrant and healthy.
For Accident Reconstruction: NHTSA, Section 402
If you are planning to use the laser scanner equipment for accident reconstruction purposes, then your state's highway traffic safety funds would be the most common source for grants funding. Many states offer grants from legislatively appropriated funds, so reach out to your state transportation department to inquire whether state grant dollars are available.
Federal dollars are also passed down to states through the National Highway Transportation Safety Administration. The Section 402 State and Community Highway Safety Grant Program has numerous focus areas, including improving enforcement of traffic safety laws, reducing accidents and enhancing emergency services. States typically offer grants to local law enforcement agencies through a competitive application process. Again, contact your state transportation department to inquire about how to apply for these funds.
The NHTSA grant guidelines include a requirement that products purchased with the award be made in the USA, which excludes all laser scanners currently on the market. But the program does allow for a waiver under one or more of the following conditions:
If application of the Buy America requirements would be inconsistent with the public interest.
If such materials and products are not produced in the United States in sufficient and reasonably available quantities and of a satisfactory quality.
If the inclusion of domestic material will increase the cost of the overall project contract by more than 25 percent.
Contact your state transportation department to inquire about how to apply for these funds and whether a Buy America waiver will be required.
Some of the nation's largest insurance companies, such as MetLife and State Farm, and automobile manufacturers like Ford and Toyota and rental car companies like Hertz also administer grant programs that may be used to cover the cost of your laser scanner equipment. Your application will be favorably considered if your agency is geographically located within their operating region or your request falls within their current priority focus.
For Arson Investigation: FP&S, AFG
Fire safety grants, offered through your state or the federal government, are the most common and logical sources of funding if your department plans to use a laser scanner for arson investigations. If your state operates a fire services department or division, consider reaching out to them to inquire what grant funding is administered through their agency.
Federal Fire Prevention & Safety Grants (FP&S), a FEMA program, include an allowable project category for fire and arson investigation. This funding source is part of the Assistance to Firefighters Grants Program, which provides equipment, protective gear and training to firefighters and fire academies across the country. If your police and fire department cooperate on arson investigations, this may be available to fund the purchase of a 3D laser scanner to enhance your efforts.
Hundreds of grant opportunities are available each year to support the purchase of laser scanners and other valuable equipment for police and other public safety agencies. Whether you will use this equipment for crime scene analysis, accident reconstruction, arson investigation or other public safety purposes, knowing what funding sources are available to cover your equipment costs is a critical first step.
Following the grant writing tips and other best practices noted in this guide will help ensure that you prepare the most competitive application to capture the interest of these funders. Good luck!

Request information from FARO Technologies
Thank You!