Using drones for documentation missions
UAS offer public safety a tool that can bridge the gap between spaces that are too high to reach with a ladder, and too low for manned aviation to be effective
---
By Major Christian Quinn
Often when we see unmanned aerial systems (UAS) demonstrations or hear about public safety agencies adopting drone technology, the focus is on dynamic operational deployments. Videos of fleeing suspects spotted by a drone overhead, or lost people found by search and rescue teams leveraging UAS technology offer compelling images. While such use cases do occur, they are generally rare in comparison to the opportunities to increase safety and efficiency by leveraging drones for documentation missions.
Documentation missions refer to UAS deployments during non-emergency situations with the objective of preserving information post-event. Examples of documentation missions include: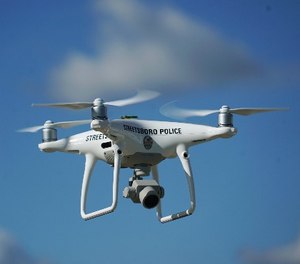 Crash reconstruction;
Crime scene processing;
Fire/explosion investigations;
Documenting natural or man-made circumstances where recovery funds may be requested through insurance and/or the Federal Emergency Management Agency (FEMA).
UAS offer public safety a tool that can bridge the gap between spaces that are too high to reach with a ladder, and too low for manned aviation to be effective, either due to altitude constraints or rotor wash affecting the scene.
UAS systems don't take the place of conventional tools such as photography, video, 3D laser scans or other measurement tools. They offer investigators alternatives in some instances or a means to augment the tools and techniques they are already using.
An aerial viewpoint can provide an enhanced perspective of the scope and scale of scenes. Think of it as the floor plan accompanying photos of a home for sale – it orients you to where the things you're seeing in pictures are located relative to each other. In some instances, the UAS is simply a safer way to put a camera into a location that might otherwise be a challenge to reach or pose a safety hazard for a photographer, such as in structural collapses or investigations involving fatal falls from heights.
Crash reconstruction investigations have historically required personnel to be in the roadway to perform the work of gathering measurements, photographing aspects of the crash and sketching scene details. These investigations inherently coincide with circumstances when crashes are more likely, notably in low light, poor weather and/or on hazardous stretches of road. Investigators assume a degree of risk simply by working in the roadway for prolonged periods of time. Motorists traveling in the vicinity of an investigation are at greater risk of being involved in secondary crashes due to altered traffic patterns while the investigation occurs. Minimizing this time isn't only favorable in terms of convenience; it's a very real safety issue for both investigators and the community.
UAS System Advantages
It's important to note that the time it takes to conduct investigations using a UAS doesn't actually decrease; only the time spent at the scene does. Measurements and diagramming take investigators the same amount of time or more. However, instead of doing all of the work in the field, more of it can be completed on a computer, often with better results. Leveraging software or pairing the UAS with certain peripheral payloads can afford investigators considerably more options to document and preserve the circumstances of a case.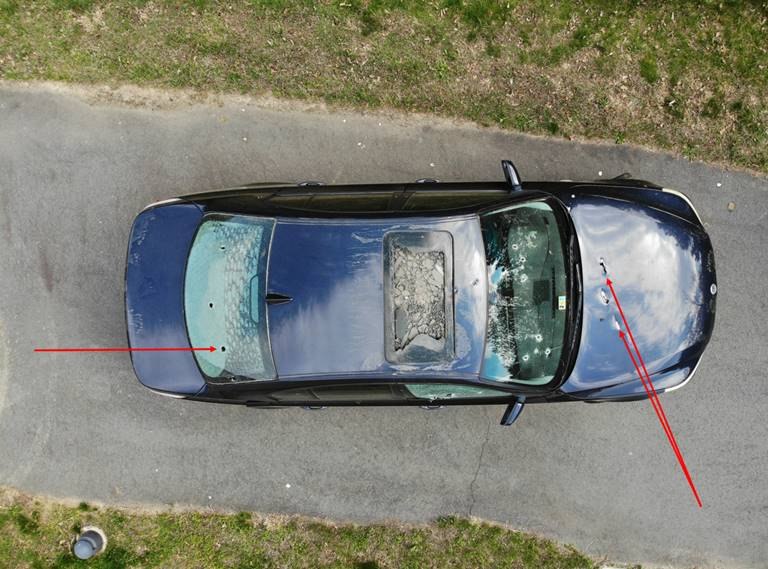 A photograph or video maintains a 2D representation of a scene. A map or diagram might not be to scale but can serve for demonstrative purposes to orient some things in relation to others. Photogrammetry is a science relying on specific spatial calibration to accurately correlate points within an image. Orthophoto is the use of software to digitally stitch images together – multiple images combined into a seamless flat rendering. This can be effective to illustrate expansive scenes. Leveraging specific software and laser scanners with a UAS can yield a model that accurately preserves the scene in a 3D point cloud environment.
Models that provide a 3D rendering of a scene or large evidence items, such as vehicles, complemented by video from an aerial point of view, can allow detectives to verify information obtained later in the course of an investigation. We can imagine a scenario where information is unknown, or a victim is injured to the point of incapacitation at the time of the initial investigation. Detectives may have the opportunity to measure pertinent points days or weeks later with the same accuracy as though the scene was still being actively preserved. These renderings provide best evidence at court and give jurors and judges a more compelling sense of the investigative findings.
---

2021 guide to drones in law enforcement (eBook)
It is hard to think of any technology that has seen such rapid and widespread integration into law enforcement operations as drones. The number of agencies using UAS has skyrocketed, as has the number of use cases for police drones. It is the diversity and affordability of this new technology that makes it so invaluable for police departments.
---
Equipment and Training Considerations
Public safety equipment and training should be selected based on specific needs. UAS technology, including peripheral equipment, is no exception. While not a comprehensive list, the following are some general considerations for agencies considering adopting UAS for documentation missions:
Consider lighting, weather and other environmental conditions that your personnel will most likely be operating in to identify the appropriate aircraft and peripherals for their missions.
Do you need a camera that will orient 90 degrees horizontally or can you accomplish your mission without this option? If you frequently need to shoot video straight up in the air, such as underneath a bridge, aircraft are available, but your options are limited.
Get input from potential end-users to determine how they envision leveraging this technology. They'll likely think of use cases based on their experience that administrators and program managers will not.
UAS training programs must include both flying the UAS and mission-specific skills such as aerial photography and working with certain types of software.
If you're using technical tools such as photogrammetry, pilots need to be able to both testify to the technical merits of this technology and articulate in plain language what exactly it does.
Mapping, 3D rendering software, LIDAR and laser scanners can yield exceptional evidence; however, these data files can be quite large. Have a defined plan as to how your agency will store this virtual evidence.
Look to public safety partners who already have UAS programs for best practices. For example, a UAS in autonomous orbit may be better than a human pilot in respect to speed of accomplishing certain tasks, precision of images obtained and even efficiency of flight.
Balancing Privacy and Public Safety Priorities
Utilizing a UAS over a public roadway to document the circumstances that led to a vehicle crash generally has fewer privacy implications than deploying a drone over a residential neighborhood during an emergency. Introducing a UAS program as a limited documentation tool is likely to be met with less opposition than technology intended to serve as an aerial tool to gain real-time intelligence, even in situations that are justified.
It is advantageous to be transparent in the adoption of technology by proactively working with community members who may be apprehensive about a UAS program. By inviting stakeholders into the conversation early, you can clarify expectations and intentions.
Limiting use cases to documentation missions may assuage privacy concerns and mitigate opposition that could hamper a program before it's even approved. Other strategies to assuage privacy concerns include:
Adopting operational strategies to avoid inadvertently recording images of persons uninvolved in a case such as pointing the camera away from occupied structures that aren't the focus of an investigation or leaving recording features turned off until needed for evidence collection.
Adopting software to archive exactly where a drone was flying, where the camera was pointed and if the camera was activated.
Clearly spelling out data collection and retention policies.
Adopting a media strategy.
Having a multi-pronged public outreach strategy to include community outreach sessions, posting policies and FAQs on your public web page and discussing your proposed program on social media.
Investigators have a solemn obligation to document circumstances when a life is lost, or a person is victimized. Whenever we consider adopting emerging technology, we must ask ourselves: "Are we using the tools available to us to do the best work in the safest manner with a sense of fiscal responsibility, while being sensitive to the wishes of the communities that we serve?" UAS offers detectives a tool to collect best evidence in a safe and efficient manner, often at a reduced cost in comparison to using manned aviation, but this technology must be implemented thoughtfully to ensure success.
---
About the author
Major Christian Quinn is a veteran law enforcement leader who recently retired as Commander of the Cyber & Forensic Bureau with the Fairfax County Police Department in Fairfax, Virginia. Mr. Quinn holds a Master of Forensic Sciences Degree from the George Washington University and is a graduate of the FBI National Academy.

Request product info from top Police Accident Reconstruction companies
Thank You!