PRESS RELEASE
FARO® Introduces VR-Enabled FARO ZONE 3D 2018
---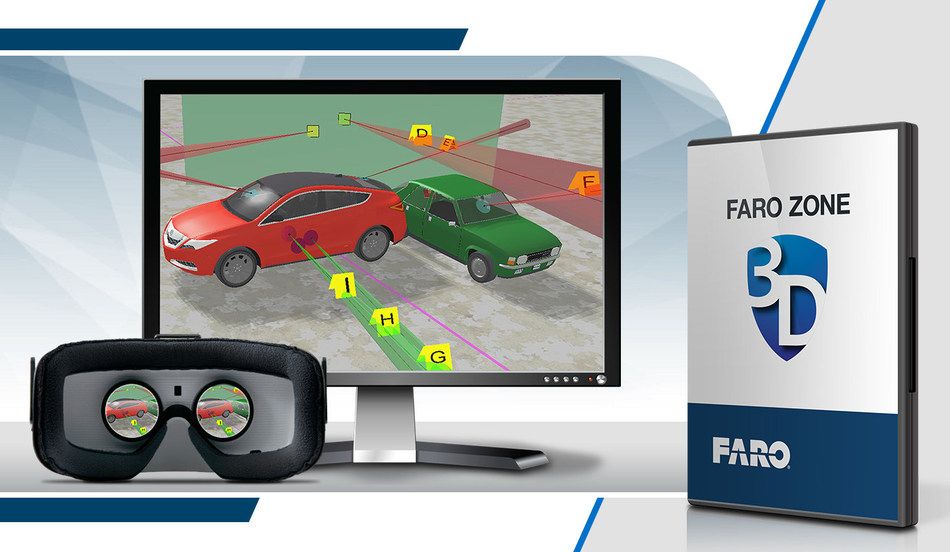 LAKE MARY, Fla. — FARO® (NASDAQ :FARO ), the world's most trusted source for 3D measurement and imaging solutions for factory metrology and public safety forensics, announces the availability of the next generation of the FARO Zone 3D software platform (https://www.faro.com/products/public-safety-forensics/faro-zone-3d/), FARO Zone 3D 2018. The FARO Zone 3D platform is specifically designed to enable investigators and security professionals to enhance the quality of site and evidence capture, documentation, reconstruction, and analysis, for crime, crash, fire, and security applications.
FARO Zone 3D 2018 is the first VR-enabled software solution for law enforcement and forensics professionals that provides a comprehensive platform for documenting, analyzing, and reconstructing scenes that includes powerful forensic analysis, 3D diagramming and animation tools.
Additionally, with integrated virtual reality, FARO Zone 3D 2018 enables a completely immersive first-person environment. Users can now revisit and walk through the scene, analyze the events leading up to the scene and create full animated reconstructions of the scene just as if they were there when it happened. 
Virtual Reality Analysis
Build a repository of training scenarios by turning every scene into a real-world training environment
Visual Impact
Create stunning diagrams and animations with new smoke, fire, and explosion animations, shadows, moving wheels, and trailer articulation
Create dynamic videos with Total View, a unique presentation tool for fly-throughs and walk-throughs of scenes that are ideal for courtroom presentations, classroom training, and security debriefings
Advanced Smart Tools
Dramatically increase productivity with the enhanced Blood Spatter Analysis Smart Tool that detects edges of blood droplets and automatically creates trajectory lines through FARO Zone 3D's artificial intelligence engine
Automatically generate courtroom ready reports detailing each trajectory with the enhanced Bullet Trajectory Smart Tool that makes bullet trajectory analysis easier than ever, now featuring elliptical trajectory cones and the ability to extend trajectory lines beyond the plane of impact
Extensive Training Support
Optimize the beneficial use and return on investment of FARO Zone 3D through unlimited access to live instructor-led online training as well as self-paced training modules through the FARO Academy learning management system
Sharing and Collaboration
Easily share 2D, 3D, and 3D point cloud scenes and videos in the courtroom, across the street, or around the world with the new free, stand-alone, FARO Zone Viewer application
"FARO Zone 3D represents another step forward in our focus to create complete solutions for investigators in the crime, crash, fire, and security markets," stated Jeff Ruiz, Vice President Public Safety Forensics. "Integrated virtual reality makes investigators' analysis more powerful, more persuasive and more real than ever."
About FARO
FARO is the world's most trusted source for 3D measurement, imaging and realization technology. The Company develops and markets computer-aided measurement and imaging devices and software for the following vertical markets:
Factory Metrology - High-precision 3D measurement, imaging and comparison of parts and complex structures within production and quality assurance processes 
Construction BIM-CIM - 3D capture of as-built construction projects and factories to document complex structures and perform quality control, planning and preservation 
Public Safety Forensics - Capture and analysis of on-site real-world data to investigate crash, crime and fire, plan security activities and provide virtual reality training for public safety personnel 
Product Design - Capture detailed and precise 3D data from existing products permitting CAD analysis and redesign, after market design and legacy part replication 
3D Machine Vision - 3D vision for both control and measurement to the manufacturing floor through 3D sensors and custom solutions

Request more info from FARO Technologies
Thank You!