PRESS RELEASE
Metro Vancouver Transit Police deploy the SceneDoc mobile platform to drive efficiency
---
VANCOUVER, British Columbia - SceneDoc, public safety's first all-in-one mobile software for data collection and retrieval, today announces that Metro Vancouver Transit Police Service has selected the SceneDoc mobile platform for data collection and retrieval, to increase productivity, save time, and improve its overall data sharing capability. Metro Vancouver Transit Police is the only transit police service in Canada. The transit system crosses 21 municipal boundaries, one First Nation Reserve and 17 distinct municipal police jurisdictions. Transit Police is a multi-jurisdictional policing agency dedicated to the provision of policing to the transit system in Metro Vancouver.
"We recognize how mobile technologies like SceneDoc will positively impact our productivity on a daily basis, both in the field and with supervisors. SceneDoc empowers our officers with a critical toolset necessary in this digital age. We also gain from the ability to share information in real time, both internally and with our local partners in the lower mainland,' said Chief of Police, Doug LePard. SceneDoc represents a tremendous evolution for public safety and provides our officers who are so used to using smartphones in their personal lives a means to leverage those same devices to do their work," continued Lepard.
"SceneDoc gives Metro Vancouver Transit Police officers right in the palm of their hands a mobile tool that will help them securely and rapidly document and report, all at the point of need. This is particularly valuable when a high percentage of their officers are outside of a police vehicle and walking," said SceneDoc Chief Operating Officer Adrian Bubalo.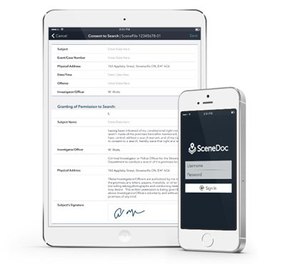 SceneDoc recently won the coveted "Motorola Solutions Award for Public Safety Technology", named for a leading Canadian innovator of public safety solutions that helps build safer cities and thriving communities.
About SceneDoc
SceneDoc is public safety's first all-in-one mobile software for data collection and retrieval. By modernizing with SceneDoc, agencies operate with higher levels of clarity and control, with fewer moving parts, capturing data and reporting at the point of need. SceneDoc is saving agencies an hour of paperwork per shift on average, resulting in less time reporting and more time in the community so officers can do what they do best. Agencies can share information and collaborate in near real-time, from any internet connected device, so potentially lifesaving intelligence is only a tap away. See why 90% of our customers are advocates at www.scenedoc.com.

Request more info from SceneDoc
Thank You!