PRESS RELEASE
Two law enforcement agencies use FARO® Laser Scanners to slash time during crash and crime investigations
---
Brought to you by FARO Technologies
Challenge
The Oxford Police Department (Alabama) and Morgan County Sheriff's Office (Indiana) were experiencing severe challenges due to using old-fashioned methods to map crash and crime scenes. They needed to reduce the time investigators spent at every scene and improve the process used to capture measurements.
Solution
When investigators saw how much evidence and scene preservation could be gained with a 3D laser scanner, while spending less time at the scene, both agencies purchased the FARO® Focus3D X 130 Laser Scanner. Oxford Police Department also acquired the FARO® Freestyle3D X Handheld Scanner.
Results
FARO Laser Scanners are cutting the time needed for scene investigations while digitally preserving crime and crash scenes in their entirety. Added to these benefits is the cost savings that results from needing fewer officers at the scene and the ability to capture 3D evidence that makes gripping and irrefutable courtroom presentations. The advantages of using a 3D laser scanner are increasingly making this technology an essential and compelling tool for law enforcement to document crash and crime scenes. Laser scanning is changing the way investigators are able to document a scene and present their evidence in court. The time saved at the scene and the comprehensive 3D evidence documentation that a scanner captures makes laser scanners an obvious choice over other measurement methods.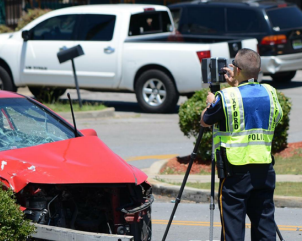 Mapping Time Cut, Entire Scene Recorded
Time saved at the scene of an investigation is a big reason why laser scanning appeals to law enforcement agencies. A laser scanner can be used to document a scene in much less time than with traditional measurement methods by capturing the entire scene as a 3D point cloud. This kind of efficiency and speed is a huge benefit to investigators. "A total station only allows shooting one point at a time," noted Lt. Donald Ridley of the Oxford Police Department in Alabama. "You have to manually pick out what points you want to shoot, but you may later realize that once you're putting your scene together, you forgot to shoot some important points. Everything a laser scanner can see within its range is captured," Lt. Ridley continued. "You can quickly get everything you need."
Oxford Police Department uses a FARO Focus3D X 130 Laser Scanner, a FARO Freestyle3D X Handheld Scanner (for hard-to-reach parts of a crime or crash scene), and FARO SCENE software for processing the captured data into a complete point cloud.
Time Savings Equals Cost Savings
The time savings gained from using a FARO Laser Scanner translates to savings in manpower resources for police departments. It is a major reason why the Morgan County Sheriff's Office purchased a FARO3D X 130 Laser Scanner. "We wanted a way to save time and manpower, and to build integrity for any case," said Captain Brent Worth. Prior to adopting laser scanning, It used to take three to four hours for us to document a scene with a total station.
The accuracy of the data captured with a FARO Laser Scanner is well validated and has been accepted in many court cases. Oxford Police Department decided to formally test its FARO Focus3D X 130 Laser Scanner. Forensics scientists, Mark Hopwood, MSFS, MPA, and Shane Golden, MSFS, CCSII, at Jacksonville State University's Center for Applied Forensics, performed tests to validate the use of a point cloud to analyze blood spatter patterns. Lt. Ridley explained, "We knew going in where the blood originated, but we were curious to know if we could duplicate that data using the scanner and FARO SCENE software," the lieutenant continued.
The FARO Laser Scanner can perform a scan in five to six minutes, operated by one person," Captain Worth said. Depending on settings, a typical 360-degree scan is completed in 5 - 8 minutes.
Most scenes require the scanner to be placed in a few strategic positions to capture all the details. To capture another part of the scene, they simply pick up the scanner and move it to the next position, maintaining some overlap of points. "We can usually capture the entire scene in well under an hour and have a lot more evidence captured than with previous methods," the captain noted.
Such dramatic time savings allows Morgan County's investigators to concentrate on other evidence at a scene, and to measure a crime or crash scene much faster than they could do with other tools. Captain Worth brought up another benefit of spending less time at a scene, "Officers are available to respond to more calls for service instead of being tied up at one scene for several hours."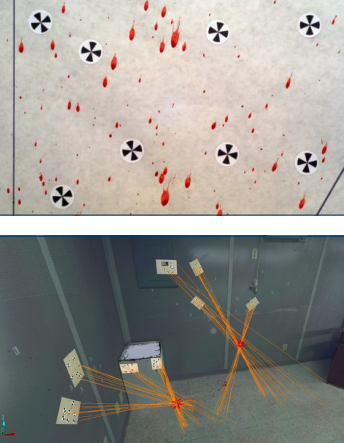 No Critical Evidence Left Behind, Superior Mapping Accuracy
Perhaps the biggest advancement with laser scanning is the vast amount of evidence it captures and how valuable this is for investigating cases. Without scanning, critical evidence may have been missed while mapping a scene. Photographs are a good example of this problem. "The photos make you wonder what evidence might have been outside the picture," Capt. Worth observed. "With the laser scanner, you capture everything in range of the laser scanner". It does a more efficient job, gathers more evidence, and later you can take measurements from the scan that you were not able to get at the scene," Capt. Worth added.
Once the lieutenant scanned the pattern and processed the point cloud in SCENE, he used a special software feature to outline several of the blood spatter droplets. SCENE then used the shape of the outlines to calculate the blood spatter's trajectory. "It (SCENE) did successfully plot the blood spatter back to its point of origin—almost dead-on. It was pretty amazing," Lt. Ridley said.
Important Scene Perspectives
One of the most significant benefits of having 3D representations of a crime scene is the ability to show various perspectives from within a scene. Lt. Ridley uses occupant kinematics to explain the motion of occupants inside a vehicle during a crash. The comprehensive data captured with a scanner helps the investigator match up bodily contact and injuries relative to the damage inside the car. "If somebody was trying to dispute whether or not they were driving a vehicle, I would use occupant kinematics to put them behind the wheel," Lt. Ridley explained. "Having a thorough scan of the inside of the car that shows the dash, steering wheel, and so on, is very beneficial."
Lt. Ridley also uses FARO's Crash Zone software to create diagrams for his investigations. Crash Zone has unique tools to locate specific points in a point cloud and snap to them to create accurate, 2D and 3D, diagrams of the scene. Since each point was measured by the laser scanner, the accuracy of the data points is ensured. Users can hide unnecessary points from view, change the size of points, and change the contrast to make points more visible. Only the display of the point cloud is modified; the actual data points are never changed, so the integrity of the evidence is maintained.
More Convincing Courtroom Presentations
Nowhere else does laser scanning have such an important role as in a courtroom. It is in court where evidence is not only scrutinized but often harshly questioned or contested. For example, a defense attorney may claim there is evidence that was not captured when a case is presented in court, but which still could have been part of the crime scene. "The scanner eliminates this uncertainty because it captures everything in the scene," argues Capt. Worth of the Morgan County Sheriff's Office. "This resolves any counterclaim of missed evidence."
Oxford Police Department's Lt. Ridley points to another valuable tool associated with presenting laser scanned evidence in court: FARO's WebShare 2Go software. WebShare 2Go is a point cloud presentation tool that can be loaded onto a USB flash drive. It allows the point cloud data to be accessed on any computer, such as in a courtroom or for jury deliberation. "You can use this tool so that jurors and prosecutors can walk around inside the scene and see exactly how it appeared at the time of the scan," Lt. Ridley said. "During your testimony, you can show measurements and place text and markers throughout the scan to identify certain evidence.
Conclusion
Investigators from both the Morgan County Sheriff's Office and Oxford Police Department agree that use of a FARO Laser Scanner has significantly improved their scene documentation. They are saving time at every crash and crime scene, using the FARO Focus to capture millions of data points in less time and with less human interaction than was needed with previous measurement methods. Now, investigators can focus on other details, while the scanner measures the entire scene.
These agencies are also delivering more compelling courtroom presentations using point clouds captured with their FARO Focus and Freestyle Scanners. The point cloud reveals the entire scene in 3D, eliminating possible questions about missing evidence. When displayed with FARO's WebShare 2Go presentation software, an investigator in the courtroom can digitally walk the judge and jury through the scene and show exactly how it appeared when the scans were captured. They need less time at the scene but they can still deliver the "CSI effect."
About FARO Technologies
FARO is the world's most trusted source for 3D measurement technology. The company develops and markets computer-aided measurement and imaging devices and software. Technology from FARO permits high-precision 3D measurement, imaging and comparison of parts and compound structures within production and quality assurance processes. The devices are used for inspecting components and assemblies, production planning, documenting large volume spaces or structures in 3D, surveying and construction, as well as for investigation and reconstruction of accident sites or crime scenes.

Request more info from FARO Technologies
Thank You!