Review: Why 5.11's All Missions Pack may be the only backpack you'll ever need
These backpacks come ready for individualization – they are designed to be anything from a camping backpack, range bag, "go bag," or even a laptop carrier
---
It's no secret to anyone in law enforcement that cops are tough on equipment. However, that does seem to be a secret among some of the manufactures who market their wares to us. Only those companies who understand our spectacular ability to break things are able to overengineer their products with that in mind and keep our business in the long term. 5.11 Tactical is one of those companies.
5.11 introduced its All Missions Packs (AMP)  at Shot Show 2018. As implied by the name, these backpacks come ready for individualization. They are designed to be anything from a camping backpack, range bag, "go bag," or even a laptop carrier. Model designations 12, 24 and 72 represent the pack's size and the intended duration of its mission (or camping trip) in hours. For example, the 72-hour bag is large enough for a three-day trip.
Mount equipment at 12 different angles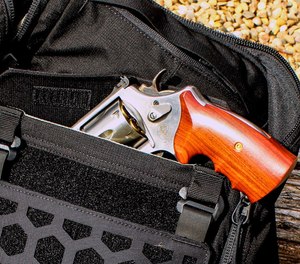 One particularly interesting feature is AMP's Hexgrid load bearing system. It's a web platform that can accommodate MOLLE attachments. The "twist" with Hexgrid is that pouches or equipment can be mounted at 12 different angles, rather than only four as with traditional MOLLE gear. The Hexgrid panel can be removed and mounted inside the pack, leaving a hook and loop panel for the user's choice of gear, pouches and/or the ever-popular morale patches.
Too many pockets to count
This thing has more pockets than a pool hall. This 32-liter pack has a fleece-lined eyewear pocket on the top, a padded laptop/hydration compartment, a cascading row of internal pockets with an extra one hidden between them, an administrative pocket and, of course, the main compartment. I didn't count, but I think that's most of them.
The hydration/laptop compartment has a rigid shell that provides protection for the contents and lumbar support for the wearer's back. The administrative compartment has elastic loops for pens, markers or anything else the writer/firearms instructor might need for negotiating the crowded aisles at SHOT Show or teaching a live-fire class. The "CCW" pocket is large enough to easily hold my four-inch barreled .44 magnum and has a webbing strap for a holster. Though I generally don't recommend off-body carry, some will find this useful as belt holsters can interfere with a backpack. The AMP 72 even has a compartment that will accommodate and secure a folding carbine up to 24" in length.  
Tactical adjacent
Any law enforcement officer out of the academy should know that the first component of off-duty personal security is not being recognized as a cop. As I looked at the AMP 24 compared to my other packs, it is much more functional, but less overtly "tactical." The Hexgrid functions as MOLLE, but doesn't give off a, "Check it out…there's a gun in here…I'm a cop" vibe.
Backpacks are not just for high school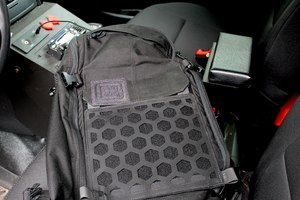 I was a latecomer to the backpack fad. Until recently, I thought backpacks were for hiking or high school. Now I have one configured for hiking, one for camping and one for teaching classes. I may have wasted money buying three packs as the AMP would have fulfilled all those roles. Granted, the last thing I thought I would use a backpack for is a laptop case. After stuffing everything from my old laptop case into the AMP 24, I've changed my mind. My laptop has a large screen to compensate for the increasingly blurry world. It measures 14.9" by 10.2". It will not fit in the laptop/hydration compartment. It will, however, easily fit in the main compartment, which is where I would keep it anyway.
A cop-proof pack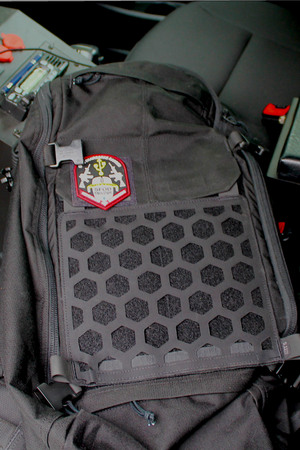 The first thing I noticed when I received an AMP 24 for review is the solid construction to which we've all become accustomed to from 5.11. Quality materials, zippers and double-stitching are standard issue with 5.11 bags. I kicked around with the AMP 24 for a few weeks between ranges, classrooms and the office without so much as a tear or ding. This thing may not only be cop proof, but it may be Warren proof, which is saying something. I can break almost anything as long as I'm not trying to. I have a box of inferior packs, pouches and other gear in my closet to prove it.
Delivering what cops need
5.11 Tactical has employees who research what cops need and how best to deliver it to them. That research includes not only communicating with cops, but including them in the development and testing of their gear. That's obviously no exception with the AMP series of backpacks.  
SHOT Show 2019
Check out 5.11 Tactical SHOT Show 2019 in booth 13162. Police1 will be attending SHOT this year, so look for near real-time coverage on our SHOT Show page. If you are going to SHOT Show, please drop by the Police1 booth 6601 to say hello, learn how we've secured over $150 million for departments through our Grant Assistance Program, and pick up some P1 swag.

Request product info from top Police Apparel companies
Thank You!