Gifts for cops that give back
This holiday season, perhaps you'll consider buying gifts from companies that have committed to donating monies to LE-related charitable foundations
---
It's the holiday season, which is my favorite time of year. I get a chance to play with all the cool products and accessories in the industry — the best part of that enterprise is compiling a list of recommendations for Christmas gifts. If you look around, you'll find that many companies are marketing their products based on their "environmental friendliness." My product selection this year is based on law enforcement and military friendliness. That is, companies which generally participate in supporting organizations founded to further law enforcement and military causes.
Foremost on this list is one of my favorite all-around companies. If anyone is interested, absolutely any product in the new Spyderco OpFocus catalog would be and appropriate gift for me. This is a collection of mission-oriented products for law enforcement, emergency services and military users. Spyderco's LE-friendly offering is the C11FBLM. This is the Delica4 flat ground, blue, law enforcement memorial model with a 2.88" blade. A portion of the proceeds from the sale of this product goes to the National Law Enforcement Memorial Fund. I carried a Delica before I switched to a ParaMilitary2. Your LE loved one would love getting this for a gift.
Oregon Holly of St. Helens (Ore.) is donating 10 percent of their retail sales to C.O.P.S. — Concerns of Police Survivors. This is the organization that supports families of officers who ended their watch in the line of duty. Oregon Holly is a pocket-sized company who makes wreaths, garlands and other natural decorations and ships them just abut anywhere. I am a very big fan of garlands in the house this time of year because I love the fragrance of pine boughs.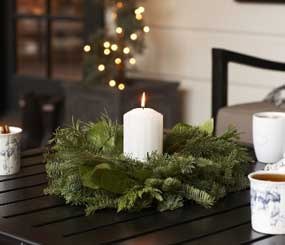 Magnum partnered with Quartermaster, MilitaryBoots.com, U.S. Cavalry, and DutyBootShop.com, for donations with Operation Gratitude this year about the same time I began testing a pair Magnum's RD pants in desert sage. Operation Gratitude is a campaign of care packages shipped to our troops. The companies listed here "do the right thing" for our troops regularly. The RD Pants are engineered for mobility. They are made of 5.6 oz ripstop and have pockets that hold useful things, like magazines and cell phones. The pockets are strategically placed to protect the wearer when low crawling and climbing fences. I liked the ventilated gussets where they are really needed as well as the fact that my Glock mags don't beat me up when running or while shooting prone. This is a great pair of pants for low profile or off duty.
CRKT has made several donations throughout their history, but I like their recent support of the Fallen Trooper Memorial for the Oregon State Police. I have been testing a CRKT Tao Pen, designed by one of my all time favorite knife makers Allen Elishewitz. The Tao Pen is a very reasonably-priced tactical pen that takes pressurized refills. It's a little thicker than many of the tactical pens on the market right now. All right, it's a lot thicker, which is all right by me.
This holiday season, Revision, the folks who make the Sawfly, is sending care packages to deployed troops; and you decide where they go. All one has to do is go to their website and fill out the fields. Revision does the rest, including picking up the tab. The Sawfly exceeds the ANSI Z87.1-2010 standard for protective eyewear. These are very capable products for law enforcement and every LE officer should wear eye protection, regardless of whether they wear glasses.
Finally, training is the best LE gift out there. I'm an NRA member and the NRA and Friends of the NRA continues to make LE firearms training free for LE. The National Rifle Association's Law Enforcement Activities Division (LEAD) has a lottery for their armorer and shooting schools in Fairfax, Va. My membership fees go toward this cause, of which I am very proud. They also offer instructor development classes nationwide. My local range is NRA sponsored. The NRA also offers comprehensive training programs, which your agency can host. Not a member? Annual membership has many LE benefits. The membership card fits into any stocking.
Merry Christmas to all!