Product Review: Original S.W.A.T. Chase Series boots
Original S.W.A.T. Chase Series 9" zipper-side boots are like Pirelli racing tires for your feet
---
Up until very recently, I had a specific "favorite" type of boots: the 1152TAN 9" zipper-side from Original S.W.A.T. I've owned two or three pairs, and I've loved them — they're lightweight and comfortable, and quite simply they fit my feet better than any other boots I've tried.
Well, I now have a new favorite: the Original S.W.A.T. Chase Series 9" zipper-side boots.
I first learned about these boots in January during SHOT Show 2012. I met up with a couple folks from Original S.W.A.T. at their booth and got the basic low-down on what would be new, as well as when they would become available (March).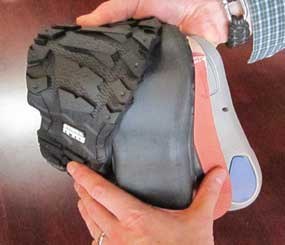 Where the Rubber Meets the Road
About one month ago, I got two pair to test out — the black leather and the tan suede — and the timing could not have been better. During January and February, we had a pretty dry "rainy season" here in the San Francisco Bay Area, but as March arrived so did the wet weather. That's good because the feature I was most interested in putting to the test was the zig-zag pattern of grooves across the sole similar to what you'd see on 'boat shoes' like Topsiders. 
Few things are more unsettling than when you're humping it across whatever terrain and suddenly slipping because you hit a patch of water or some other slick substance.
The new Chase Series address this issue in a big way. 
Each element to the sole which contacts the pavement has those tiny little zig-zag grooves cut into the rubber. These tiny grooves force water away from the interface between the wearer and the water. 
They're like Pirelli racing tires for your feet. 
For the past several weeks, I've deliberately sought out surfaces that I would have subconsciously avoided in the past.
I intentionally strode across those metal grates in the sidewalk where water pools up and becomes as slick as a mossy stone. I ascended and descended a wet fire escape in a pouring rain. In the grocery store parking lot — the best place on earth to find slick patches of oil and water left beneath the engine blocks of poorly maintained vehicles — I made a concerted effort to make these treads fail. 
It was me who failed, because these boots didn't even budge. Not once. Awesome.
Lighter than Air (Travel)
While the soles on these boots are amazing, that wasn't even the biggest surprise during my evaluation.  My "original" Original S.W.A.T. boots were super-lightweight.  The Chase Series are even lighter.  I didn't think that was possible, but apparently it is, because I have slippers which seem heavier than these boots.  The weight on the black Chase boots is 39 ounces (1120 grams) and the tan suede version is 40 ounces (1150grams). 
The only difference between them both is the black is leather and the tan is suede — the construction and design are identical. 
The Chase Series boots have a unique four-layer sole, with a layer for electrical hazard protection, an airport friendly Texon stability platform insole, a PORON cushioning pad for added comfort, and finally, that quiet rubber outsole with the slip-resistant zig-zag pattern of grooves for increased traction in wet conditions.
I now choose to wear these Chase Series boots for air travel because they're so comfortable.  There's also the added bonus in the speed of your boots-off and boots-back-on time — shortening the TSA experience considerably.
A water-proof (no zipper-side) version will be available in September, and a low-cut version available at some point down the road too, although the exact dates on those are not yet known to me. The MSRP of the Chase series is $84.99 for the low version, $109.99 for the 9" black or tan version, and $119.99 for the waterproof black version.