Product review: Protect & cool your feet with 5.11's A/T HD boots
Good traction with a heavy-duty outsole can make a boot hot to wear – the folks at 5.11 have a solution
---
5. 11 was recently announced as the winner of the 2022 Innovation Award in the footwear category for its A/T™ 8" HD Boot from The Network American Association of Uniform Manufacturers & Distributors (NAUMD). 5.11 won the footwear category for its A/T 8" HD Boot for its ability to distribute weight, improve stability, and return energy to provide all-day performance while also offering protection from heat and the sun.
An often-overlooked piece of gear for law enforcement officers is the boot. Footwear is all that stands between you and whatever hazard or just plain nastiness is on the ground. Anyone who's been in law enforcement for a substantial amount of time knows what I mean. I don't care to remember how many times I had to go to the carwash and hose off my boots and floor mats after a call. A quality boot is imperative to a cop's health and safety. Boots must be functional, durable, comfortable and provide a high level of protection from chemicals and ankle twists.
Boot functionality
Every working law enforcement officer should be wearing a quality boot that provides support for the ankle and sole of the foot. Boots also must have good traction with a heavy-duty outsole. Usually, accomplishing these goals means the boot will be hot to wear. That was just something we had to live with in the interest of safety. However, 5.11 may have come up with a solution for that. The 5.11 A/T HD boot (HD stands for heat deflecting) accomplishes structural goals while protecting the foot from excessive heat.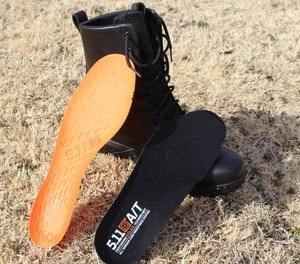 Let's break down some of the boot's features:
ISO 20347:2012 OB FO HRO SRA certified: Those numbers and letters above mean the A/T HD meets the standards set forth by the International Organization for Standardization for protective footwear in the following areas:
An outsole that is oil and fuel resistant
An energy-absorbing heel
A heat-resistant outsole.
Heat deflecting: In addition to the heat-resistant outsole, the HD has a perforated tongue to allow breathability. This allows airflow that is critical for cooling. The HD uses a heat-resistant strobel sock, which reflects heat from the ground away from the foot. If you're wondering, strobel is a type of "lasting" (the process that sets the final shape of a shoe) that is most commonly used in athletic shoes due to its comfort and durability.
ATLAS: The structure of a duty boot is one of its most important qualities. The nature of law enforcement work requires officers to stand for long periods and run without a warm-up period.  The HD boot has the ATLAS All Terrain Load System that provides stability for the foot and ankle. The HD also has a removable ATLAS plate between the outsole and insole to support the heel, arch and forefoot.
Polishable upper: The days of cops wearing dress shoes on duty are – thankfully – long over. That said, there is something to be said for appearance. We know from interviews with cop murderers and at least one study, appearance is a significant factor in officer safety. The 5.11 A/T HD's polishable upper is made with infrared refracting leather that keeps its surface temperature down while still allowing a professional appearance.
High-traction: Footwear without ankle support and slick soles are dangerous for those in our line of work. The HD has an outsole made of multi-directional lugs and an Ortholite Achilles pad and footbed for optimal heel hold and traction.
Comfort: The HD's comfort doesn't stop at heat deflection. The Dual Density PU midsole with 5.11 Echo high rebound foam in the forefoot and 5.11 Force foam shock-absorbing foam in the heel will help make those long shifts a little easier. You can really feel the difference.  
Review of the A/T HD boot
I've been wearing these boots for a week now. It took a bit to break them in, which is normal, but I never experienced any discomfort.
The boots have an outstanding appearance. The leather holds a shine well and doesn't scuff or scratch easily. The sole has clean lines and mates perfectly with the upper.
It takes a little effort to get these boots on, but once they're on, you immediately notice what the fuss is about. The first feature that struck me was the heel hold. The A/T HD boot gives outstanding stability to the foot. The sole also has outstanding traction on pavement, grass and dirt. I didn't have the opportunity to test them in mud, but I'm confident the HD would perform well.
Lastly, they do, indeed, feel cooler than my other boots. Today was 80 degrees and sunny. Partially for the test and partially for my sanity, I left my office and walked around outside for about half an hour and the HD performed exactly as advertised.
If you're looking for a new duty boot that will perform well without exposing your feet to excessive heat, seek out the A/T HD. You won't be disappointed.