How First Tactical incorporates real officer feedback into product design
By incorporating feedback from actual cops, one company finds a winning strategy
---
The following is paid content sponsored by First Tactical
In the constantly-changing world of law enforcement, how do you meet law enforcement officers' demand for state-of-the-art gear to keep them safe? By working with them every step of the way.
First Tactical, whose tactical gear includes gloves, belts, knives and pants all specifically made for police officers, designs their tactical gear from the ground up with feedback from those who are on the beat each and every day.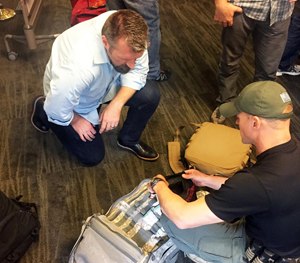 Listening to cops' needs
First Tactical's team of designers has spent over 15 years developing products for the law enforcement and public safety industry. They begin each product design process with an idea of what they want to create, often drawn from a conversation with real cops. From there, they create a concept and then a prototype, aiming to improve the product every step of the way. Once they've come up with an initial prototype — whether it's tactical pants or patrol bags — it's time to bring in the cops and see what they think.
"We learned early on to be good listeners — we do not tell officers what they need, rather we listen and give them what they ask for," said Cory Nykoluk, who is Vice President of Merchandising at First Tactical.
This "listening" phase primarily consists of collecting feedback through product development meetings — two smaller ones held each month, while three larger ones are held each year — in which the company brings in prototypes of what they're working on and presents them to groups of federal, state, and local police officers all across the country. From chiefs to rookies and tactical team operators to patrol cops, every level of law enforcement has influence in what goes into the company's products.
From there, the team will make adjustments to their designs — incorporating the critiques cops and other first responders provided in the development meetings into the products.
A rigorous process
A perfect example of how the development process (which can range from six months to two years) works for each of First Tactical's products is the Tactix Series Pants.
"After years of hearing top brass complaints about traditional tactical pants, we saw the need for a tactical pant that was acceptable in the office and on the range. We wanted to bring the 'pro' back in to 'professional,'" Nykoluk said, "and bring a polished look."
"Common tactical pants are so overbuilt, from the aesthetics to the construction. We are bringing both performance and refinement into this pant. The pocket flaps are laminated for elimination of dog-earing and a longtime professional appearance. Three of the belt loops are fortified by rivets to the side and back seams, which allow it to be tied into the pant for stronger belt interaction. Running gussets are added for comfort and product longevity," he said.
Out in the field
The next phase of the company's process is field testing. First Tactical provides their products to a select group of testers in different corners of the country and asks them to take the products out and tear them up.
"It's important to see how things will perform in various assignments and different climates. Each officer who is part of our Field Testing program submits a form and sends the samples back to us. We review each for wear points and follow up on each piece of feedback," Nykoluk said.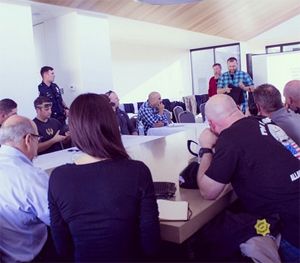 Cops play a crucial role every step of the way. (First Tactical Image)
This phase of development has resulted in changes as simple as tweaking the fit and pocket placement to more extensive alterations. One such change was the addition of side handles to an upcoming tactical bag — the result of field testing with the rifle sleeve that revealed an east/west carry style was needed in the product.
Built to serve those who serve
What all of this amounts to is a company that thoroughly tests their products — from fabric testing in a lab to make sure the color won't fade to making sure pocket placement is perfect and will stand up to the rigors of work in the field. And from the initial design to the moment the product is ready for purchase, police officers play a critical role.
"We have heard officers are looking for functionality and management is looking for a professional look. We are building our products to serve both needs," Nykoluk said.
For more information about First Tactical's products, or for a chance to be involved with their field testing program, sign up at firsttactical.com/pages/ourstory.jsp.

Request information from First Tactical
Thank You!