Gloves For Professional Annouces the Sponsorship of Mike Seeklander
---
use if there is a picture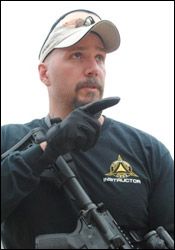 end picture
GFP, Gloves For Professionals an industry leader in providing gloves to law enforcement, military, hunting, and shooting sports, for close to 100 years is excited to announce the sponsorship of Mike Seeklander.
In addition to being a nationally ranked competitive shooter Mike also has significant military and law enforcement experience. A combat veteran of Desert Shield and Desert Storm, Mike also worked in the law enforcement sector as a patrol officer and an investigator for the Organized Crime section. He was also a Senior Instructor at the Federal Law Enforcement Training Center in Charleston, S.C, and was responsible for the development, implementation and supervision of all firearms and tactical shoot-house instruction for the Federal Air Marshal Service basic training.
On the shooting end he is currently ranked as a Grandmaster by the United States Practical Shooting Association and serves as Director of Training at the United States Shooting Academy.
Seeklander noted that he was particularly impressed with GFP because they focus on gloves that allow for maximum dexterity, while still providing great protection. "They understand the balance between tactility and hand protection." He also commented that GFP is kind of like a diamond in the rough. The company has been out there for years and is really providing great gloves. I am really excited to be working with them.
Jonah Ufberg VP of Development commented, "It's a real win for us to be associated with Mike. In addition to his robust experience in so many shooting arenas his professionalism and knowledge make him a real pleasure to work with. We are thrilled to be involved with Mike."
GFP, a Finger Fashions Company, has been supplying the highest quality gloves to public and safety agencies market with unsurpassed quality and styles of gloves for nearly 100 years. To see more about GFP check out their website at www.gfpgloves.com.
Mike Seeklander, has spent the last decade life training and instructing full time. He is currently an instructor at the United States Shooting Academy in Tulsa Oklahoma. To see more about Mike please check out http://www.shooting-performance.com/.