Discreet look transforms tactical pants
Vertx keeps a low profile with new trouser
---
By Jeanette Kozlowski
Police1 Contributor

With emphasis being placed more often on discreet wear, tactical pants have undergone a recent metamorphosis. This transformation is most evident in Vertx's latest pants offering.
The Vertx brand began when a federal agency approached David Walsh at Arc'teryx, an outdoor clothing company. The agency sought pants with the strength and durability of BDU (battle dress uniform) pants but appeared to be an everyday pair of khakis. In spring 2008, Arc'teryx partnered with Fechheimer Brothers Company, a Berkshire Hathaway company, to collaborate on the trousers
Launched last July, Vertx's tactical pants ($59.95 MSRP) have been getting a leg up on the competition with a handful of unique features. What makes this brand stand out from the crowd of 5.11s, Blackhawks and Proppers? For one, it's the only tactical pant made with LYCRA, a synthetic fiber. This combination of 2 percent LYCRA and 98 percent cotton gives the pants a slight stretch for comfort.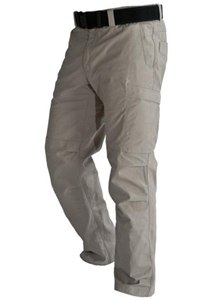 "It doesn't look like a synthetic pant even though it has some of its advantages with the 2 percent LYCRA," said Walsh, now director of brand management/special projects for Vertx. "It's just enough to make it a more comfortable pant. The quality of the cloth itself is higher than most of the pants in the category—it's apparent as soon as you wear them."
Created for the "operational athlete," the non-pleated pants have nine pockets, yet on first glance it appears to only have four. Made out of 100 percent woven cotton, the pockets are designed to keep gear inside without using Velcro or magnetic closures. Pocket insets allow the wearer to conceal carry with ease, Walsh said.
"[The pants] just don't stand out," Walsh explained. "They don't have a very signature look to them. They're very discreet."
With a 9-ounce fabric weight, the trousers are .5 ounces heavier than most tactical pants on the market today. Available in law enforcement black, desert tan, khaki, navy and OD green, Vertx is the only tactical pant offered in MultiCam, the multi-environment camouflage pattern. Cut for mobility and comfort, the trousers boast a lower rise than others. Its crotch construction touts a gusset that is said to reduce bulking at the seams and increase the range of movement.
Moreover, the pants come in odd size increments including 33 and 35 on a 32-inch seam.
"We actually tried to fit a particular size across body types and made sure it fit all of those body types correctly, which was a big challenge," Walsh said. "And we think we nailed it."
Another body type Vertx wanted to accommodate was the female figure. To accomplish this, the company tossed out the men's pant and started from scratch on a distinctive cut. Working directly with women police officers, they built the women's trouser from the ground up with a lower rise and a finished length.
"Female pants are harder to pattern than men's," Walsh said. "I think that in the market place female officers are kind of left behind in a lot of cases, and they get basically a men's cut."
You can find Vertx tactical pants for sale at tacticalpants.com.
Jeanette Kozlowski is a writer for Cat5 Commerce, a niche retail operator. She spends most days monitoring the wires for new and exciting developments to share on Tactical Pants Blog, an information hub for the law enforcement and public safety industry. Most recently, Ms. Kozlowski completed research on The Ultimate Guide to Tactical Pants.