5 questions to ask before purchasing a tactical robot
A tactical robot is a long-term investment. Make sure you make an informed choice.
---
This article, originally published on June 15, 2015, has been updated with current information.
The following is paid content sponsored by Robotex.
By Police1 BrandFocus Staff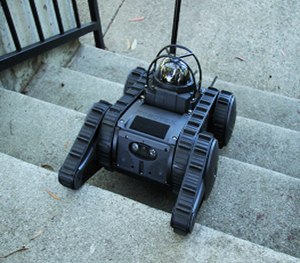 Tactical robots have long since transcended the realm of sci-fi movies to become standard operational tools for SWAT teams, much like firearms and body armor. Robots of all types have proven to be indispensable to SWAT teams, particularly in their ability to safely capture video and audio for improved situational awareness.
Before choosing a tactical robot for your SWAT team, ask these questions to ensure you're getting your money's worth.
1. Does it provide two-way voice capabilities?
One of the most important features of a tactical robot is its ability to not only capture audio of an incident, but also to enable SWAT officers to communicate with suspects using two-way communication, said Sgt. Chris Boyd, Carlsbad (Calif.) Police Department. Boyd also is an onsite trainer for Robotex's Avatar II, a self-propelled mobile surveillance and two-way communication tactical robot used at his police department.
Boyd said it is critical a tactical robot has two-way communication systems as it helps the officer clandestinely gather audio intelligence while an incident unfolds and then intervene with voice commands once the situation is assessed.
His department's tactical robot has a two-way communication system that uses wireless, short-range communication to broadcast commands. This lets officers communicate with a suspect based on the situational awareness gathered, ranging from letting the suspect know he or she is surrounded to negotiating terms of surrender.
2. Does it have near-real-time video capabilities?
Video is crucial in helping a SWAT team acquire near-real-time situational awareness without risking an officer's life.
An effective tactical robot lets users control the pan-tilt-zoom camera functions with a remote controller in order to move the camera to look around corners and see the full picture of an incident. Boyd said having a pan-tilt-zoom feature on tactical robots is a game changer for SWAT teams as the officer can stay a safe distance away while still gathering intelligence.
"They can gain situational awareness from a position of safety behind hard cover versus exposing themselves," he said.
3. Can it handle various types of terrain?
Crime doesn't happen in one location. Almost all departments respond to some sort of urban environment—from a three-story apartment complex or a massive skyscraper to a natural environment like a field or a farm.
In fact, good tactical robots are capable of operating in various terrains, including tricky surfaces like sand or grass. Equally important to confirm is whether a tactical robot has the ability to traverse stairs, too.
Boyd said the Carlsbad Police Department likes their tactical robot because it uses its rubber tracks to navigate diverse terrains. It also has high-angle stabilizer bar extensions that attach quickly so the robot can navigate stairs.
"This means you can operate the robot on stairs, in grass, dirt, concrete, marble, tile, on carpeting, and over barriers and obstructions," he said.
4. Does it take long to deploy?
When a SWAT situation is identified, teams need to move quickly. Anything that takes more than a few minutes to deploy can be a real burden to operations.
Boyd emphasized the importance of having SWAT tools that are basically plug-in-play as it is important a tactical robot doesn't hinder the timeliness of getting on scene and gathering intelligence. He said when their department deploys their tactical robot, it takes about a minute to deploy; a user inserts a battery into a side compartment, powers up the remote controller and the robot is operational.
"It is easy to use and ready to go as soon as the SWAT teams get on scene," he said. "There is no delay to operations."
5. Will it hold up?
Our robot was designed and built from the ground-up to withstand heavy-duty wear and tear. Drops, bumps, scratches, rough handling – the AVATAR will keep on going. The robot will even survive a 10 foot drop into concrete, and it can be fully submerged in water for up to 10 minutes with no problem. Our robots are built to last.
Asking these five questions first before making a purchasing decision can ensure you are getting the right tactical robot for your SWAT team.
For more information about tactical robots, contact Robotex.