SHOT Show 2016: KDH Defense Systems' thin, light concealment carrier is perfect for plainclothes
Constructed with incredibly thin and lightweight Nylon fabric, the carrier has a unique design which distributes the weight of the armor across the officer's back
---
During our walkabout at SHOT Show 2016, we came across a new concealment carrier from KDH Defense Systems which caught our attention.
The KDH Fearless Concealment Carrier — constructed with incredibly thin and light-weight Nylon fabric — has a unique design which distributes the weight of the armor across the officer's back, rather than over the shoulders. This is due to what the company calls a "proprietary yoke design" which allegedly spreads the weight more evenly than traditional over-the-shoulder designs. Additionally, the Fearless yoke increases the adjustability and load distribution of the armor, according to the company.
The carrier is so thin and comfortable that company representative Wayne Grimes said that officers are even choosing to wear it under a t-shirt for ultimate concealability. The side-opening design allows for full side protection, with overlapping cummerbund closures, and there are low-profile 7x9 and 6x8 plate pockets on the front and back.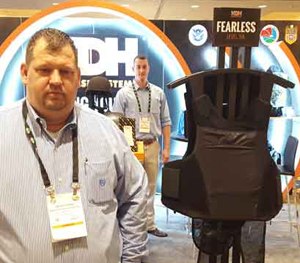 The mesh liner features "DRI-Lex" moisture management technology and Aegis anti-microbial protection. The KDH Fearless Concealment Carrier is also apparently machine washable.
Obviously, the new carrier is designed to be worn with KDH's Fearless line of ballistics, which have been tested to protect against an impressive list of bullets.
If you're in the market for body armor suitable for a plain-clothes assignment, consider checking out the KDH Fearless Concealment Carrier.