Blackhawk releases new duty belt harness
Suspender system specifically designed for law enforcement
---
By Jeanette Kozlowski
Police1 Contributor
As duty belts have become heavier and heavier through the years, the risk of injury has become that much greater. Neuromuscular injuries from too-heavy duty belts have taken some officers off the streets, while others continue to use belts that cause these injuries simply to avoid a desk job.
Blackhawk offers a solution to this pressing issue with its new Ergonomic Duty Belt Harness ($79.99 MSRP). Using grant money provided by the National Institute of Justice, Blackhawk developed a suspender system that brings weight off the hips to the shoulders in order to ease discomfort and prevent injury. While the system is similar to past innovations, it has two major differences setting it apart.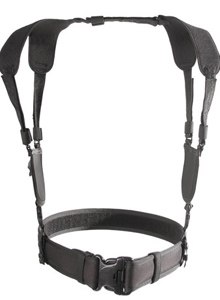 First, the suspenders on the new system are strategically placed underneath the uniform shirt—keeping it out of reach from any potential attackers. In order to attach the hidden straps to the belt itself, the duty shirt must be slightly altered to include two oversized button holes near the bottom seam. Two belt loops then pop out of the holes and attach the shoulder system to the belt itself.
In addition to the concealment, Blackhawk widened the shoulder straps. Utilizing thicker straps prevents it from digging into the skin and allows weight to be evenly distributed to a larger area. The adjustable straps also let officers determine how much weight to take off the hips, which can be altered throughout the day. The system can be worn over body armor, a T-shirt and either under or over a modified duty shirt.
"Basically what we came up with was a variation on the suspender system that had been around for a long time but nobody used," said Chuck Buis, Blackhawk's Director of Business Development - Public Safety.
Two agencies in Long Beach, Calif., and Norfolk, Va., already gave the belt positive reviews after a field test, according to Buis. In fact, one agent who suffered from chronic back pain found it so beneficial he refused to return the belt after the trial period.
He said, 'I'm going to have to apologize, but I'm not giving this back,'" Buis said. "'You can charge me for it; you can complain to the department; you can write me up; you can do whatever you whatever you want to do, but I'm not giving this system back.' So, we were able to make an exception for him."
Meanwhile, word has spread about the new belt and Buis says dozens of agencies are now lining up to give it a test run. You can find the harness for sale at http://www.tactical.com/ergonomic-duty-belt-harnesses.html.
Jeanette Kozlowski is a writer for Cat5 Commerce, a niche retail operator. She spends most days monitoring the wires for new and exciting public safety developments to share on Tactical Pants Blog, an information hub for the law enforcement and public safety industry.