PRESS RELEASE
Join the virtual IACP conference to have a chance to win a $250 Visa gift card
---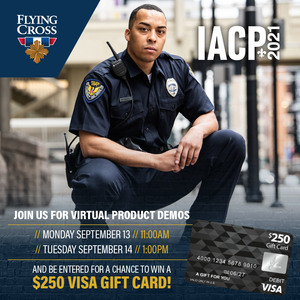 CINCINNATI, Ohio – Flying Cross, a leading brand in public safety uniform apparel released the first line of their stretch uniform collection, FX S.T.A.T. last month. This collection is designed to offer a more modern fit on the classic daily duty uniforms. S.T.A.T. an acronym for Stretch, Tenacity, Athletic, and Technical allows the uniform to enhance performance by providing durability, comfort, and lasting stretch.
The FX S.T.A.T. line which is available now is a made of premium 5.8 oz. 65/35 PolyCotton Mini Rip-Stop stretch fabric. FX S.T.A.T. Uniforms provide the resilience of Polyester, natural soft hand of Cotton, and strength of a Mini Rip-Stop weave, all while maintaining a professional appearance. The second line within this stretch collection is the Core S.T.A.T. line. Core S.T.A.T. is constructed with a modern Polyester (96%) and Spandex (4%) blend. Core S.TA.T. Uniforms match your work ethic through stretch fabric, durability, and superior color retention. Treated with a Durable Water-Resistant finish, this uniform has excellent moisture resistance qualities preserving a clean and crisp appearance wear after wear. Engineered with performance fibers for lasting stretch, Core S.T.A.T. Uniforms match movement for movement, flexing with you for unparalleled range of motion.
Even though the IACP conference is virtual this year, you still have the opportunity to learn more about our S.T.A.T. collection and participate in a giveaway! Visit our IACP page (https://flyingcross.com/iacp), to sign up for a time slot to briefly learn about our new innovative products. After signing up we will provide you with a link to the session you chose. Visit the session and answer some trivia questions correctly for a chance to win a $250 Visa gift card!

Request more info from Flying Cross
Thank You!